If you are into exploring the outdoors a Dryrobe is a must. Whether it is open water swimming or you're looking to go camping then a robe is a great addition to help keep you warm and dry when returning from your adventures.
Instead of being cold after a great day of your favourite activity you can stay warm and get changed underneath this robe without you showing yourself to everyone else. 
Read on for everything you need to know about these quality coat like robes that will enhance your outdoor experience.
No. 3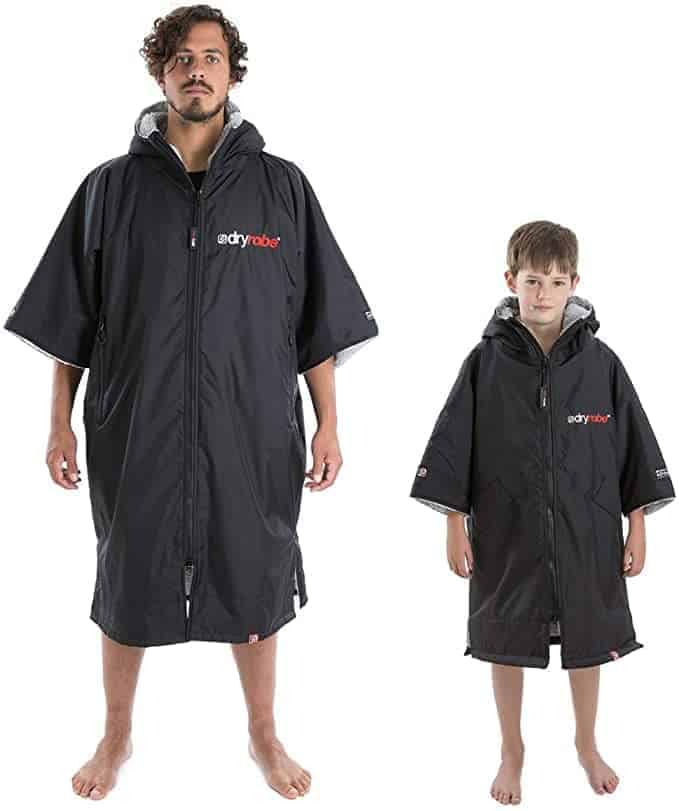 The DryRobe Advance is a quality changing robe that made it second in our top changing robes list – find which DryRobe Alternative beat them. 
Why do I need a Dryrobe advance?
DryRobes are needed for anyone into the outdoors to keep you protected from the elements. It doesn't matter what the activity is that you love to do whether that is outdoor swimming, hiking, or just a day at the beach a Dryrobe will come in useful. They are easy to purchase online and you do not have to be waiting long to get the delivery. You can then say goodbye to the miserable elements of your hobby.
Staying warm
No-one enjoys being cold after a cold water swim or big hike and thanks to Dryrobes you do not have to anymore. This  well known changing robe allows you to get warm and dry quickly no matter if the sun is shining or if there is rain. The super warm fleece lining made from synthetic lambs wool will keep you warm no matter what. It has a tender soft feeling to the inside that makes you feel like you are getting a hug, which is needed after shivering for a while.
Getting dry
There is nothing worse than wearing the same clothes whilst travelling back home. This versatile changing robe allows you to get dry quickly thanks to the fleece lining on the inside of the robe. This company have mastered staying warm and getting dry with these amazing garments. But that's no surprise, they are renowned worldwide as a leading outdoor changing robe brand.
If you're looking for a stylish DryRobe alternative then check out a favourite of mine in the Seashell Robe (read my full review). If you want something at half the price then check out Gorilla Robes.
No. 1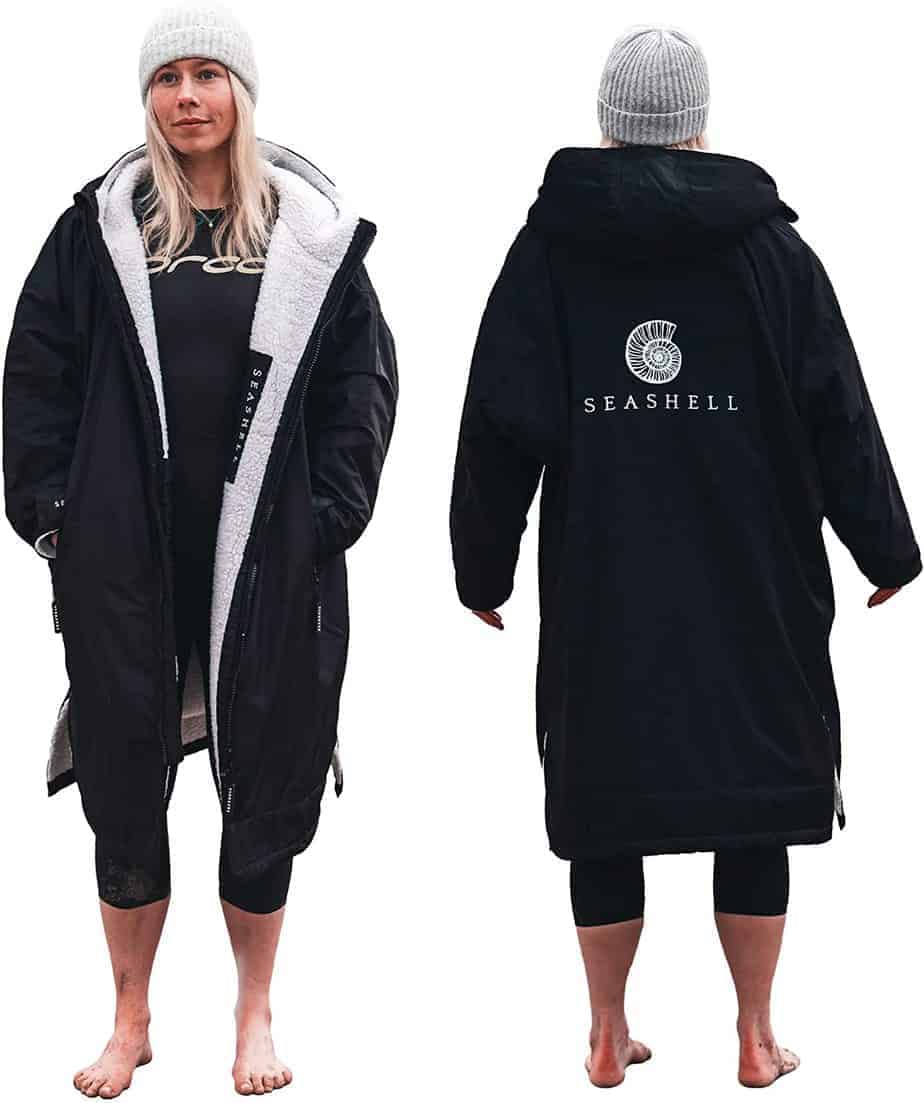 Seashell Robe
Get free delivery when you click through this link and purchase directly from Seashell's website!
Pros:
100% recycled materials

Great fit

Beautiful design

Snug inner material
Cons:
Isn't cheap but it's quality
Check Price at Seashell
Check Latest Price
We earn a commission if you make a purchase, at no extra cost to you.
BUDGET RECYCLED OPTION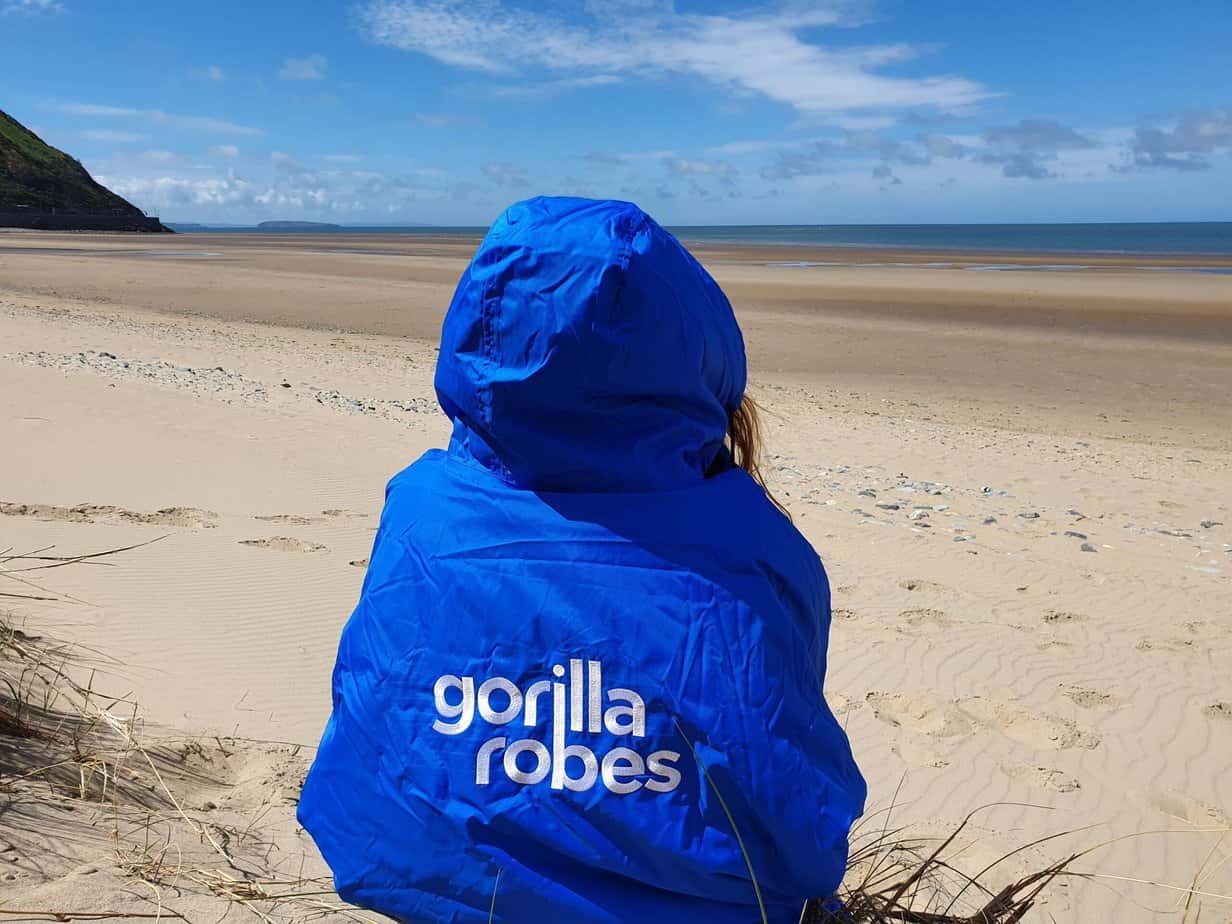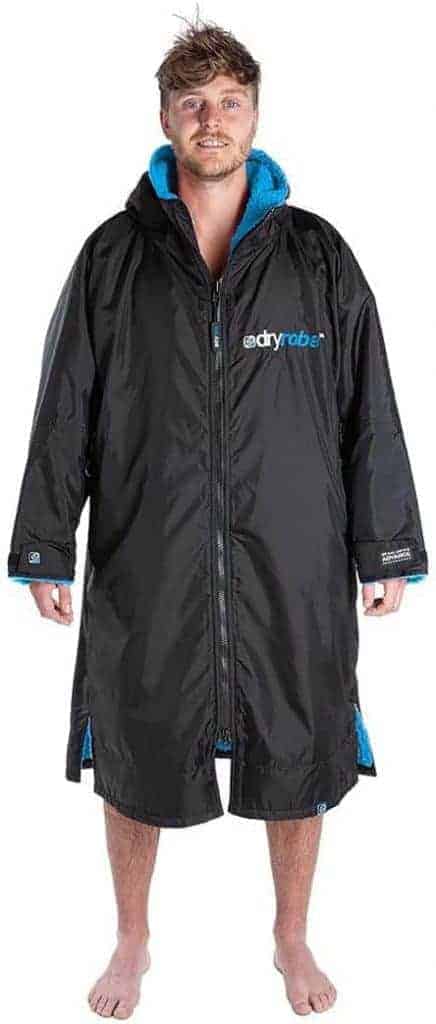 Shall I get short or a long-sleeved Dryrobe advance?
This would be personal preference but they will both keep you protected and are both great options for changing robes. Both cover most of your arms, even the short sleeved one believe it or not.  In fact, if you're pretty small like me, you may prefer to opt for the short sleeved version. 
The advance long sleeve Dryrobe will give you that little more protection on the arm. They will both offer warmth and protection whilst giving you enough room when changing out of your wet clothes if that is what your after. Alternatively you can downsize and buy the one that's not big enough for you to change in.
Dryrobe advance features
The Dryrobe has numerous great features such as being waterproof and windproof, large internal pockets, and a two way YKK zip. Read on for more information about these great features.
Waterproof and windproof outer shell
The outer shell is waterproof and windproof to enhance your outdoor adventures without the robe being too bulky. It's argued that it is one of the best products on the market from around the world. To be fair, you will find it hard to find fault with this company as it has everything you need to get the most of the outdoors.
Internal pockets
The robe has two pockets that can help you keep your valuables dry when out in harsh conditions. The one pocket is a huge A4 soft lined poacher pocket (perfect for storing any important paperwork you need to keep dry) and the other is a waterproof zip pocket so that you can keep your phone and wallet dry and safe. The last thing you want after being out all day is loosing your valuables.
Full length two way YKK zip
The two way zip makes it easy for you to get in and out of the robe, especially after all that sea swimming, hiking or cold water diving and your hands are freezing. It is much easier to operate the zip from the inside when wanting to adjust the robe.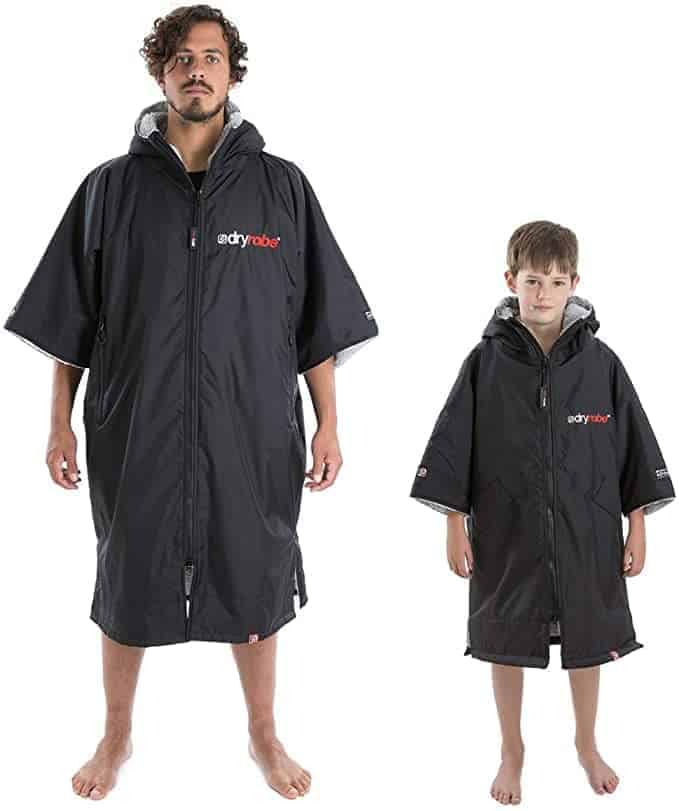 Where are Dryrobe based?
They are a UK based company and have free UK delivery and returns.
Are they a sustainable company?
Dryrobe are passionate about helping the environment in anyway they can. This includes being carbon neutral, utilising plastic free packaging, and using a trusted supply chain. The outer shell is also made with 100% recycled nylon and the inside from synthetic lambswool lining made from 100% recycled polyester. What else can you want from a company.
What size is best for me?
This will depend on if you want to get changed inside the robe or not as it has different sizing options which you can find on the DryRobe website. There are sizes for both adults and kids. Be sure to check the sizing guide out so that you get the right size. Many of the negative reviews are generally from people who ordered the smaller size and did not check the sizing guide.
Can I wash my Dryrobe?
It is best to avoid washing it regularly and wipe it down when it is dirty. As they have a lot of products I recommend going direct to their website and double checking what they recommend you do for each individual product.
Final thoughts
If you are into the great outdoors no matter what the hobby then adding a Dryrobe to the list of things to take with you is a sensible choice. It will ensure that you keep the body warm and protect you from the wind and rain after a day full of adventure. This top end product is second to none when wanting to get warm and dry. A must for anyone wanting to add a bit of comfort to their adventures.
Recent Posts