Finding the right change robe can be tough – some are too pricey, and others lack quality.
If you're searching for a stylish gem that's a little different to the usual DryRobes then you need to check out Voited's latest introduction.
The environmentally friendly robe is made from recycled material, comes in colourful designs and is super-comfy – find out more in my full Voited change robe review and test below.
MADE FROM RECYCLED BOTTLES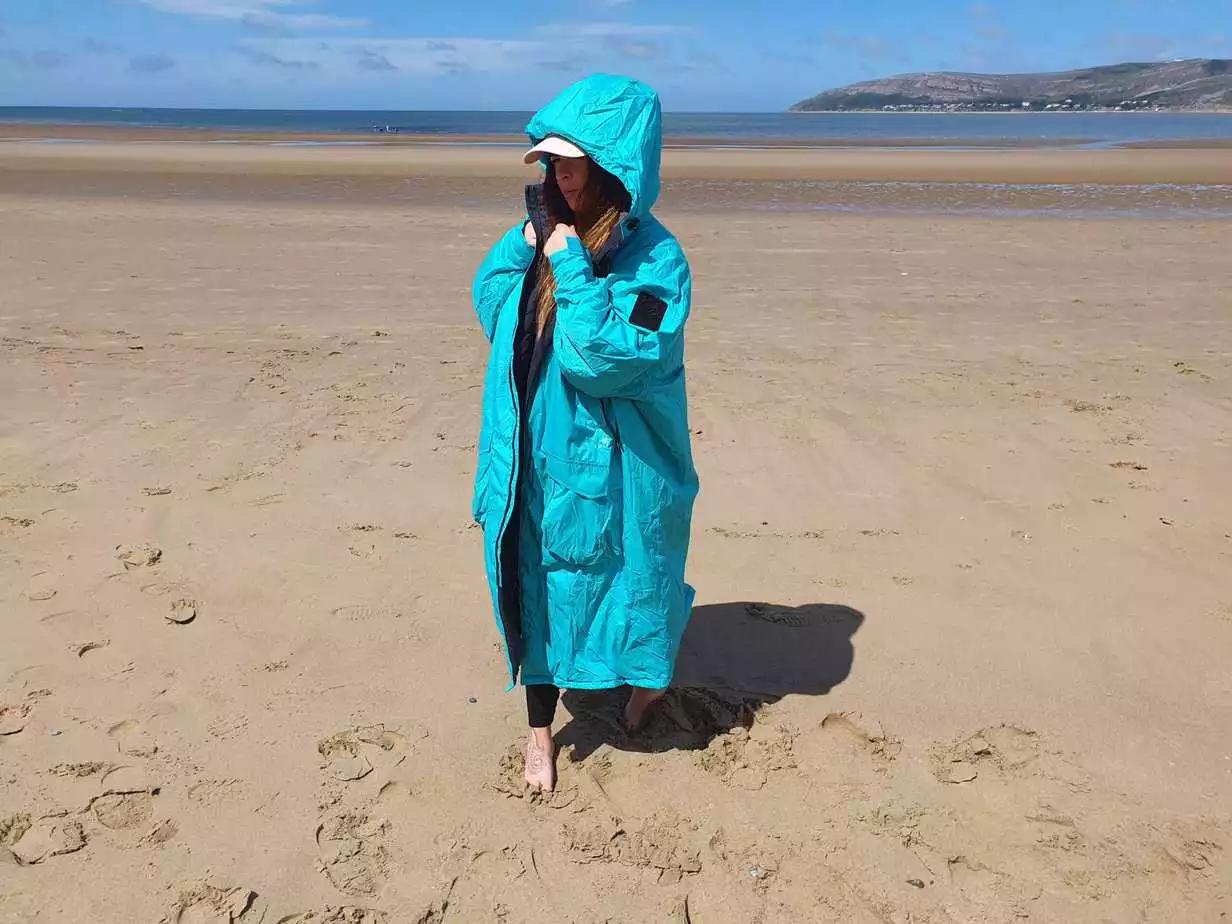 Voited DryCoat
Pros:
100% Recycled Materials

Feels Like a Sleeping Bag

Comes with Pack-Away Pouch
Check Price at Voited
We earn a commission if you make a purchase, use the above "Check Latest Price" button for 15% off your order (this will be automatically deducted at checkout).
Spending time outdoors requires a little bit of planning, especially where the UK weather is concerned. One of the best must-have products is a changing robe.
The VOITED Outdoor Change Robe Drycoat has excelled in all areas, from its environmental impact during production and post-production, to the comfort and performance expected of changing robe to keep you warm and dry.
I tested this robe out on a camping trip in Angelsey, North Wales. It's the ideal bit of gear for camping and wild swimming, and I even doubled it up as a sleeping bag.
But the market is swimming with dry robe alternatives and changing robe brands – so what makes VOITED one of the best? Read on to find out…
I've taken a look at all of the robes and their sales – the Voited brand is currently showcasing the most exciting Seasonal Sale – get 50% off their blanket ponchos and robes here. 
Use the code FEELGOODKATY for 20% off!
Why Do I Need a Voited Outdoor Change Robe Drycoat?
When I'm not diving, I enjoy wild swimming, whether that be lake, ocean or river. There are only so many layers that you can pile on after exiting from the water to warm up. This is where the VOITED Outdoor Change Robe comes into use.
As with any changing robe, they are here to keep us warm, help dry and allow us to change out of our wet clothes in a discreet and gracious manner. But let's take a closer look at the VOITED Outdoor Change Robe Drycoat and it's performance in these three key areas.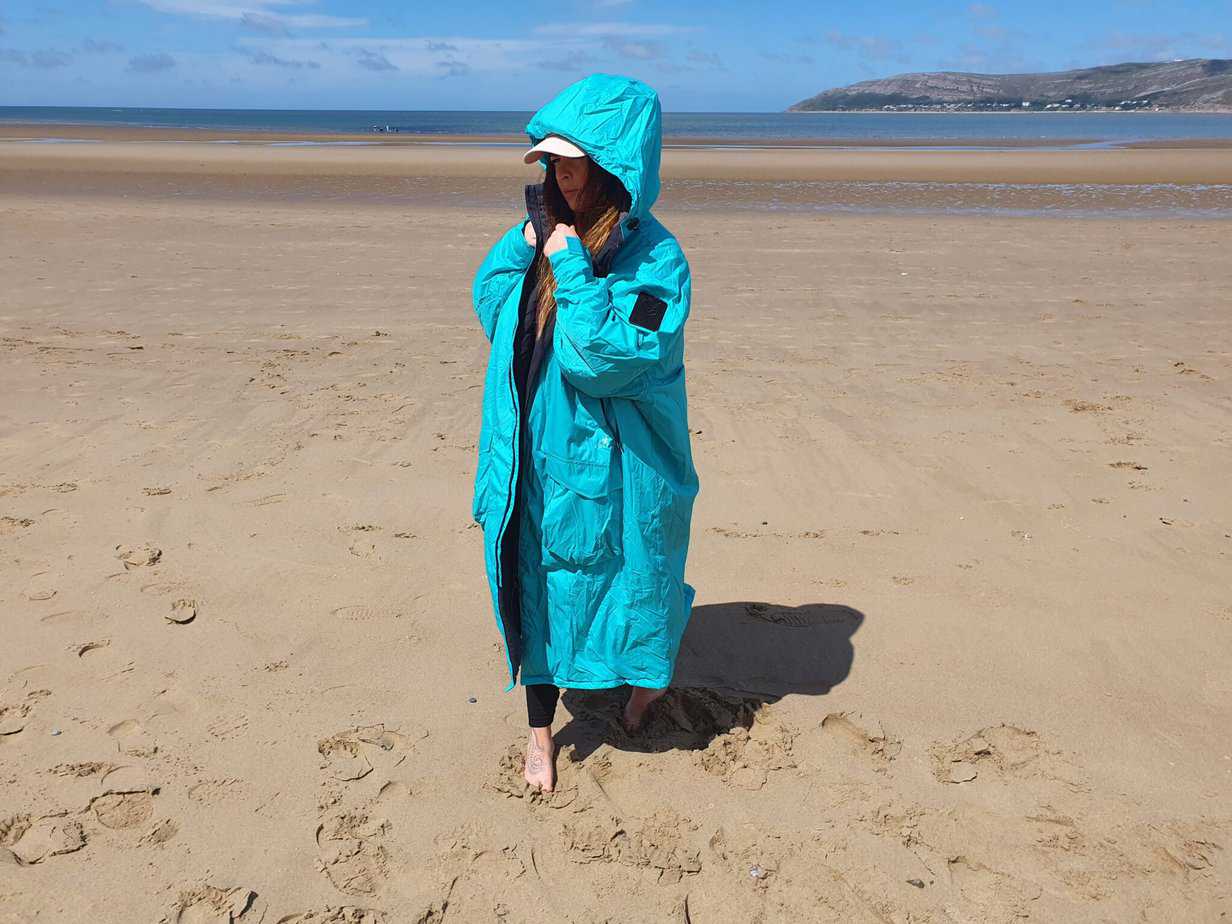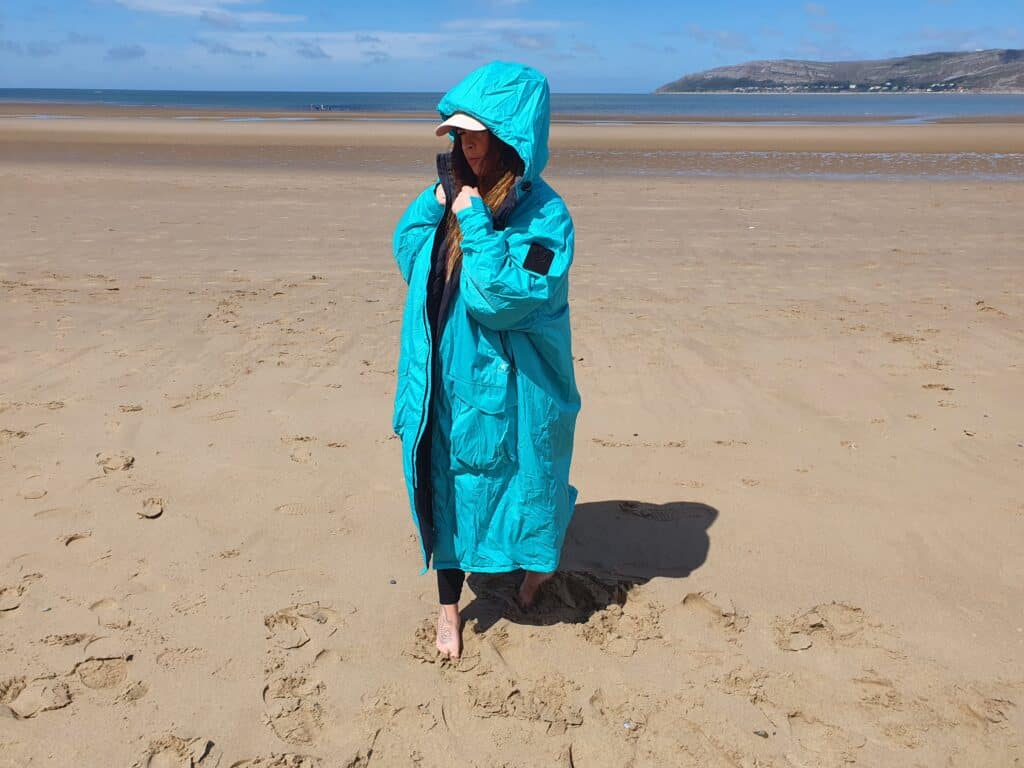 For its extremely lightweight feel, this robe can certainly keep you warm. The temperature on my camping trip dropped down to around 12 degrees celcius on the evening, and even wearing just shorts and t-shirt underneath it managed to keep me nice and toasty.
Imagine a sleeping bag that got turned into a coat. This is the VOITED Outdoor Change Robe Drycoat. It's fleece lined hood ensures that your head remains just as warm as your body and it has a beautifully soft, added warmth insulation panel inside which sits on your back, keeping that core area extremely warm. This particular panel boasts the soft sheerpa fleece lining that is seen in other brands of changing robe.
Along with it's waterproof outer shell to keep you protected from the rain (more on this below), this changing robe is fitted with a brilliant absorbent microfiber fleece lining. After our wild swimming, I was dry within just a few minutes, even in the cooler conditions that North Wales offers. For a towelling robe, the VOITED Outdoor Change Robe Drycoat is a high performer. We have no need for a beach towel anymore.
The Outdoor Change Robe Drycoat also did not feel wet inside for long. I've noticed that some other changing robes can feel a little damp inside once they have dried you, but thanks to the inner liner microfleece body paneling, the moisture doesn't hang around, but instead gets absorbed really quickly.
Changing inside the VOITED Outdoor Change Robe Drycoat after a lovely wild swimming session was very easy. It's oversized body fit allows for lots of room inside to move around. It also comes with a full length 2 way reversible YKK zip, so that you can use the zip from the inside too for easy changing.
I went for the Medium size, but I think at my height of 5 foot 4 inches, I could have opted for the Small. I've only really felt this because the long sleeves are particularly long and although it has adjustable velcro wrist straps, even when they are fully tightened up, they still aren't secure around my wrists. It's not a major issue, just one to be aware of.
There is quite a gap between the end of the zip and the end of the VOITED Outdoor Change Robe Drycoat, which I've read that some people struggle with when changing and remaining covered up. However, I can see that having this gap allows a wider range of movement within the robe when changing. If the zip went right down to the bottom part of the robe, it would restrict your movement quite a bit.
If you are looking for something with a bit less material, head on over and check out the VOITED Outdoor Poncho – I love this product too, and it packs down so cleverly into it's front kangaroo pocket.
Click through my "Check Price at VOITED" button above for 15% off your order!
Other Dryrobe Alternatives
VOITED Change Robe Features
So, let's take a closer look at the features of the VOITED Outdoor Change Robe Drycoat and see what makes it stand out from the rest.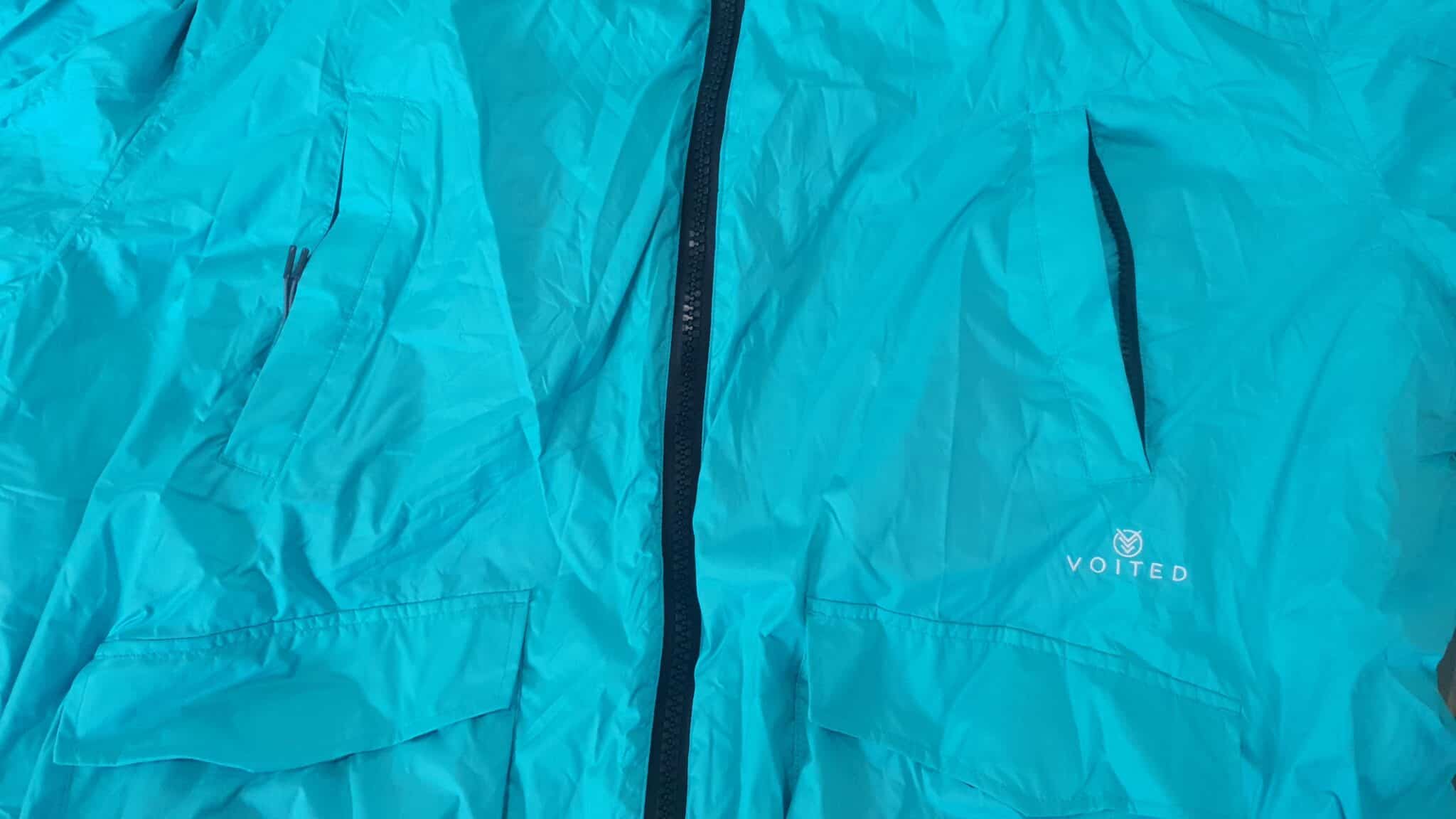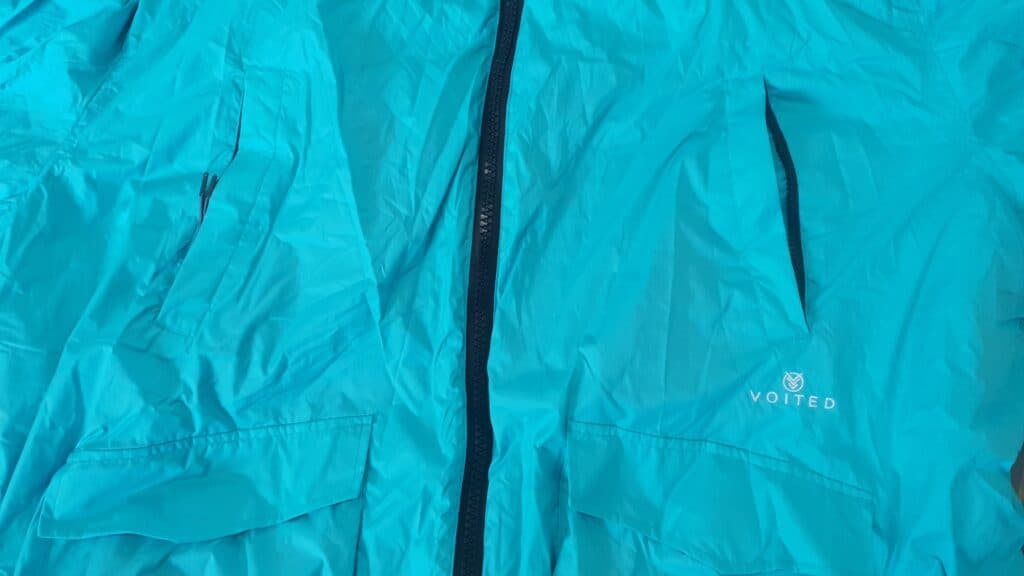 The product is made from recycled materials, these raw materials are plastic bottles making it more than just a great product. The Outdoor Change Robe Drycoat has gone above and beyond to ensure that it's production process has minimal environmental impact.
This is probably my most favourite feature that I have refrained from mentioning until now.
The breathable outer shell is made from a non fluorinated fabric treatment called EcoElite – developed by Teflon. It's an eco fluorine free coating, the first of it's kind that's a renewably sourced, plant based fabric treatment. They are really ahead of the game here and I expect this technology to be utilised by other brands in the future. But for now, they have this super unique selling point to shout about!
Oh, to make this even better, the outer layer of the VOITED Outdoor Change Robe is made from approximately 94 recycled bottles! It always blows my mind when brands work with this technology – you would never guess by the touch of it, it really feels like virgin materials.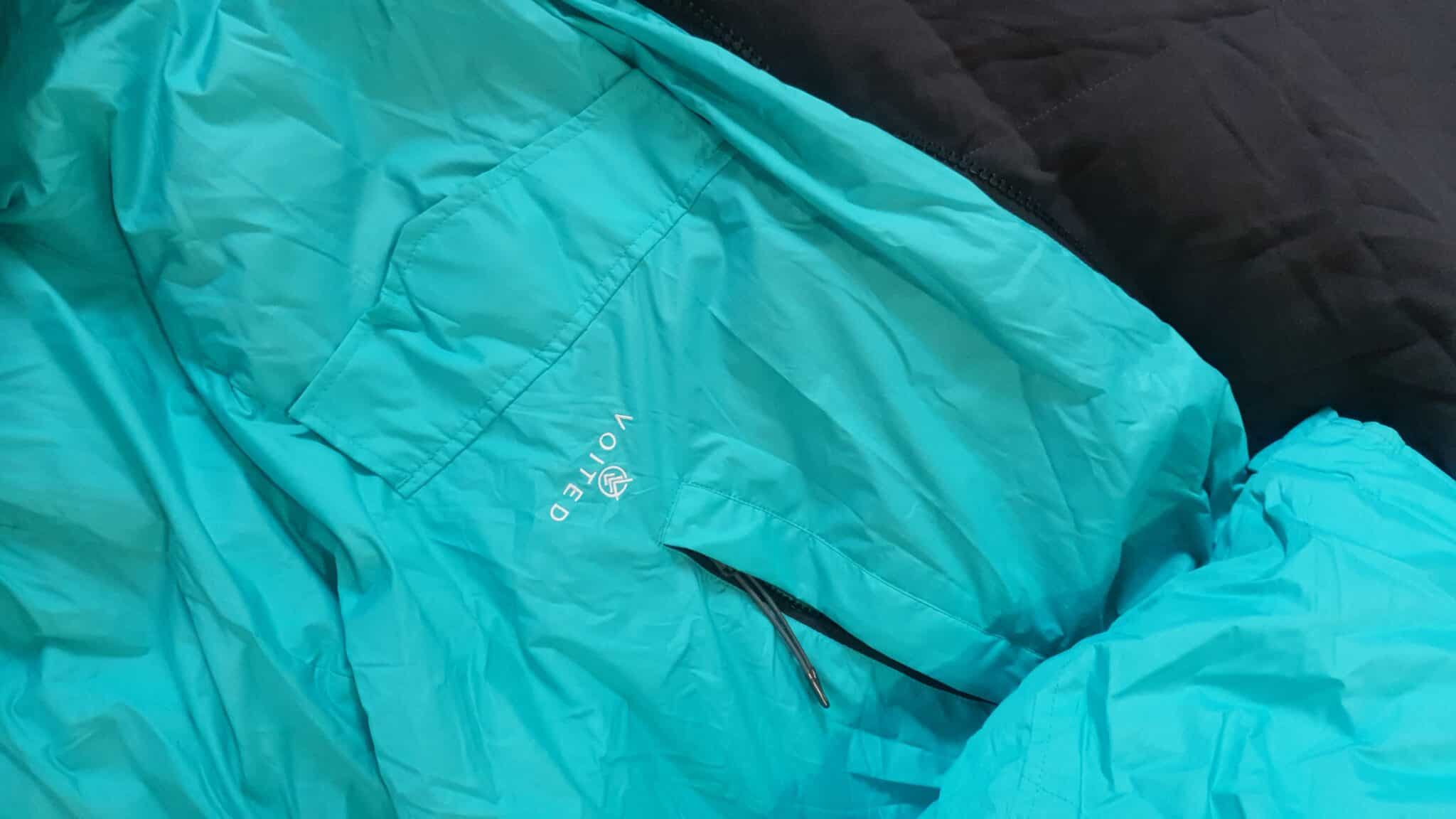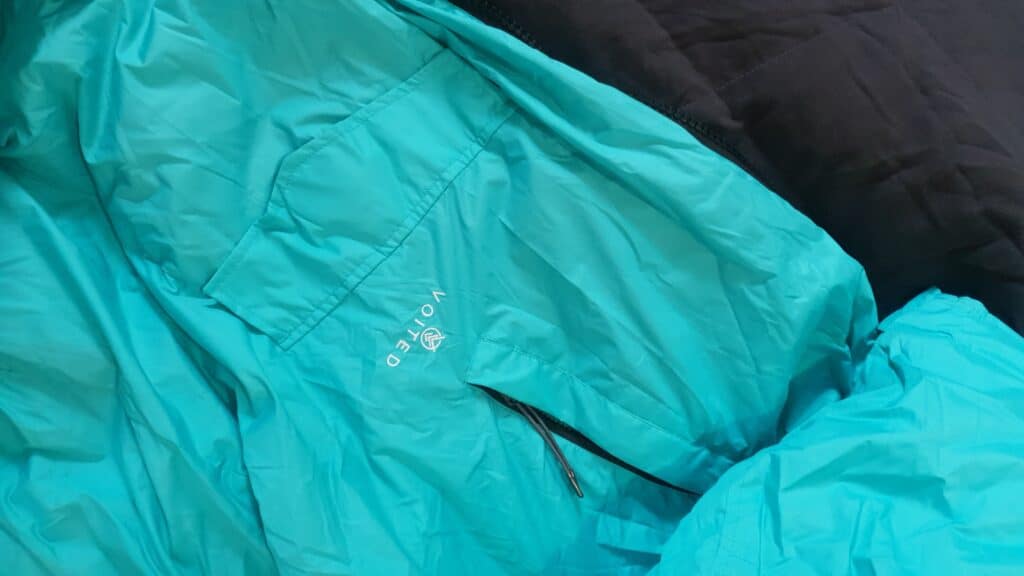 Something I always look for in a changing robe is good zipped pockets, and plenty of them. The VOITED Outdoor Change Robe Drycoat has a zipped waterproof chestpocket with inner liner, a large internal stash pocket and two front flap cargo pockets that are nicely sized.
The internal zipped phone pocket was perfect for storing my car keys, phone and dry clothing in whilst wild swimming. In fact, they are some of the biggest internal and exterior pockets out of the Dry Robe alternatives that I have tested.
This internal zipped chest pocket and has accessible storage whilst you're out and about, making it easy to protect your valuables and still have them at hand.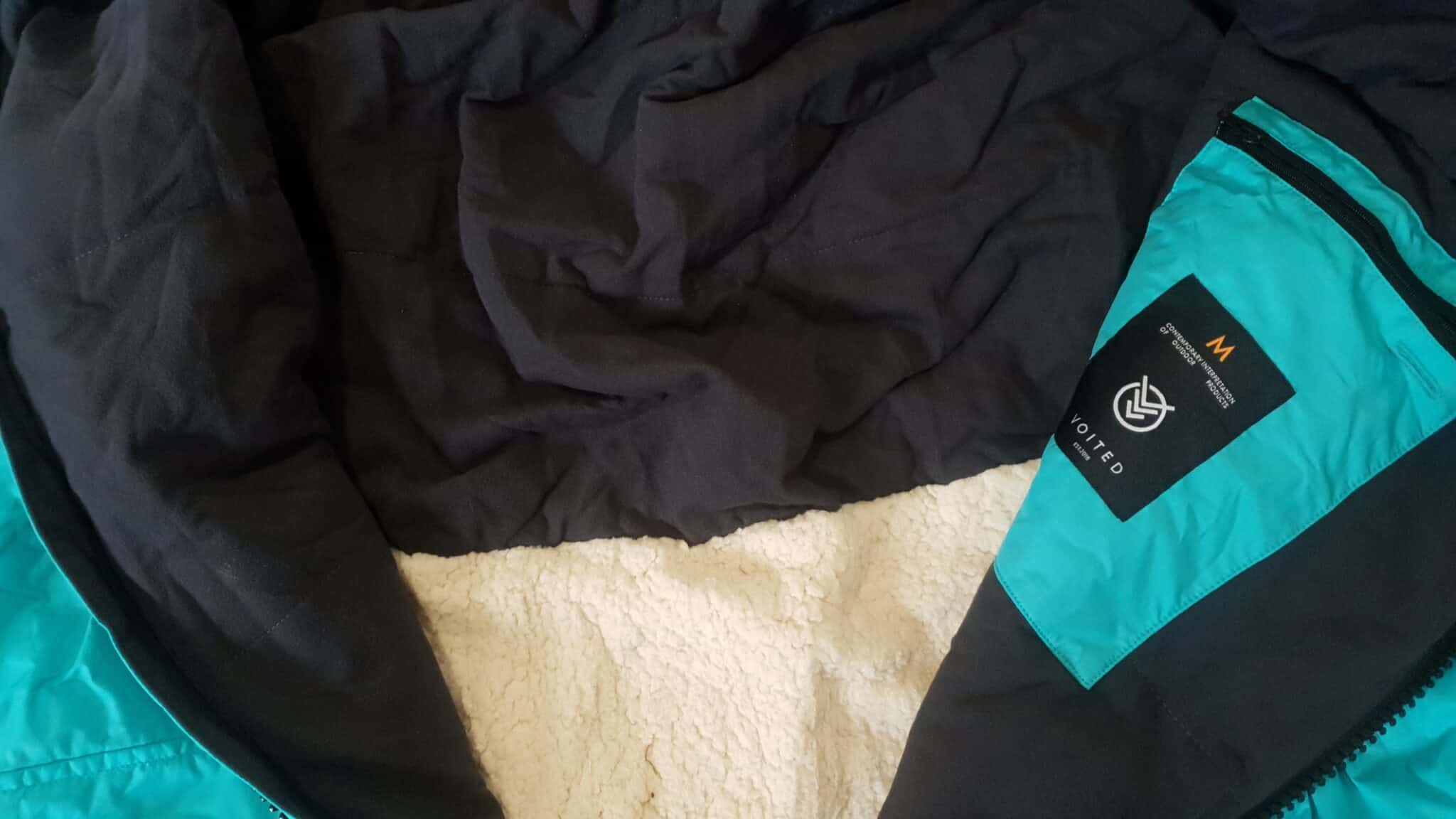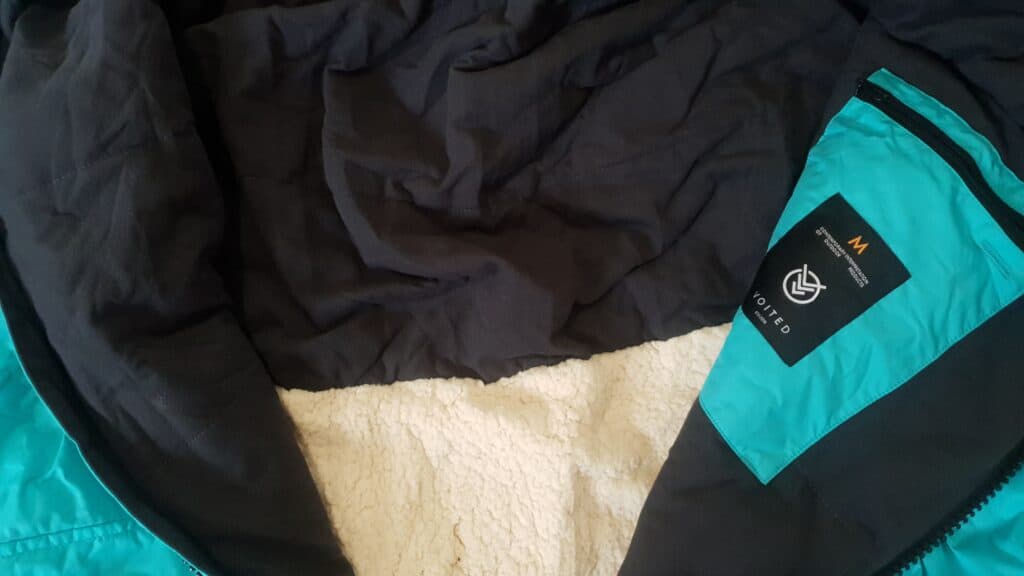 For a lightweight piece of kit, I was very surprised at the warmth that the VOITED Outdoor Change Robe Drycoat provides. This is all thanks to the cleverly thought out panels on the inner lining which includes an added warmth insulation panel made with sherpa fleece lining.
My ears are always the first thing to suffer in the cold, especially when it's windy so the polar fleece lined hood is also a gift from above! Not only do we have the fantastic lining, we also have adjustable bungee cords that allow you to tighten it around your face for that extra protection.
There are some other similar change robes to VOITED, so I recommend taking a look at the Pro Change Robe Evo  and the Gorilla Robe for a deeper insight into other options on the market.
These are not as lightweight as the VOITED Drycoat, but they are a bit cheaper.
The VOITED Outdoor Change Robe Drycoat comes with a lightweight, thin material bag (a bit like a sleeping bag bag) so that you can roll up the robe and pack it away nice and neatly. This has been such a great addition to my wild swimming sessions, allowing you to simply throw the bag over your shoulder when on route to your wild swimming location.
There aren't many other changing robes that have this option, so if you are looking for a Dry Robe alternative that is super easy to transport – the Outdoor Change Robe Drycoat is the one for you!
VOITED are an esteemed outdoor change robe drycoat brand that also specialise in the VOITED Soul Slipper, the perfect slipper for outdoor adventures.
Other Cheaper DryRobe Alternatives
Voited is one of my favourite DryRobe alternatives but there is no shortage of options – you can check out some of the cheaper DryRobe alternatives below. 
CHEAPEST ROBE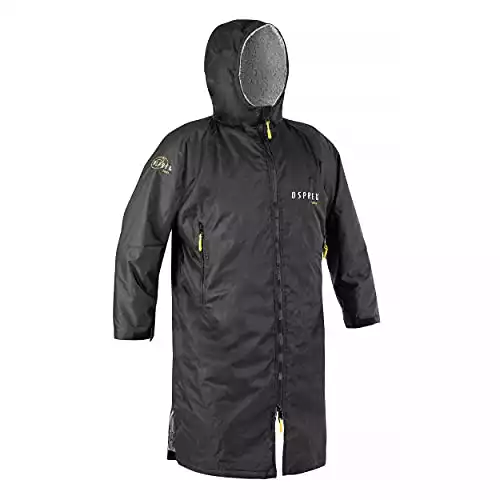 Osprey Robe
Pros:
Incredible value for money

Well-known surf brand

Dries quickly
Cons:
Only one colour

If you are happy to pay a bit more money, there are more environmentally friendly robes out there.
Check Latest Price
We earn a commission if you make a purchase, at no additional cost to you.
09/22/2023 12:57 am GMT
BUDGET RECYCLED OPTION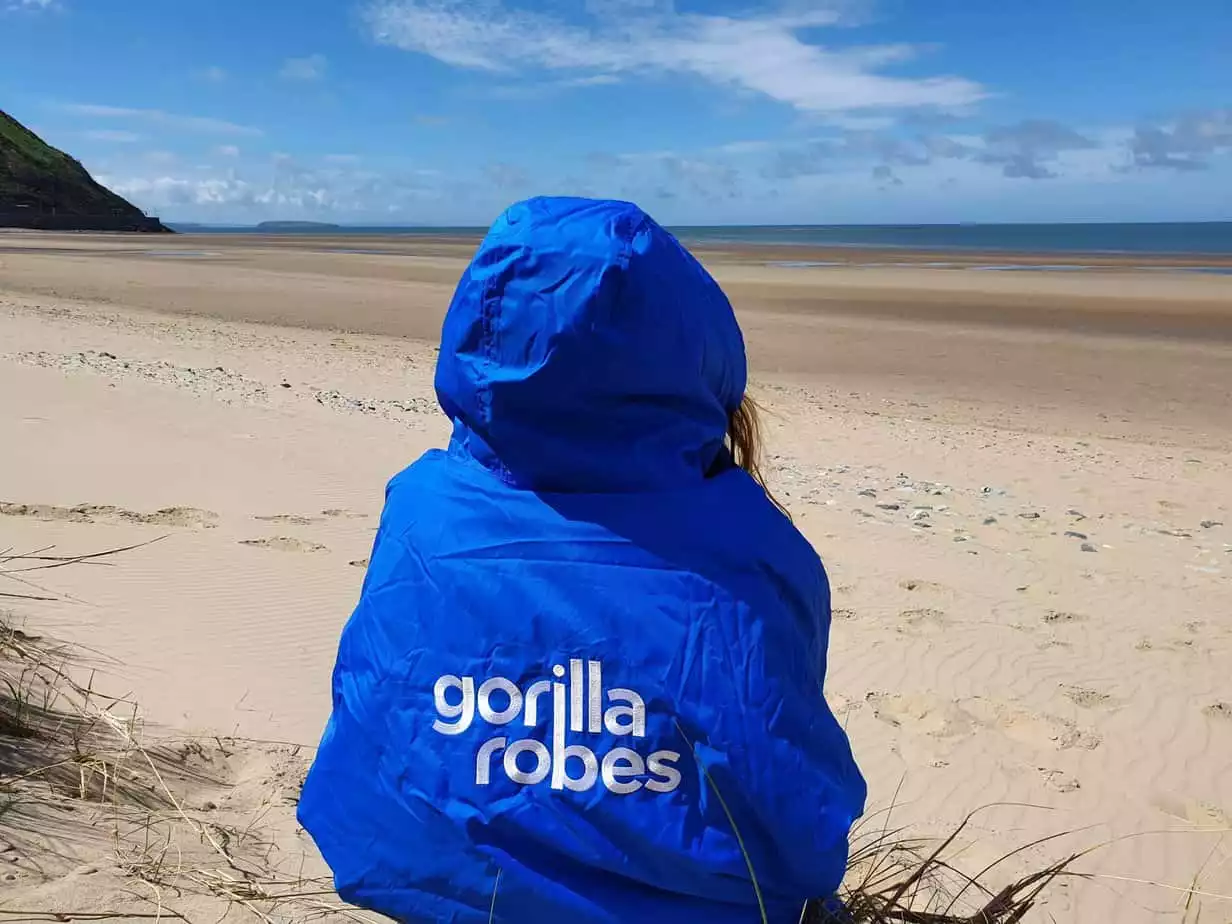 Voited changing robe is an alternative to the famous DryRobe, but there are some key differences.
The most noticeable difference is that Voited is more of a stylish design that looks almost like a coat. They're renowned for providing the 'VanLife' and wild swim markets with essentials.
Whereas DryRobe is known as a hardy outdoors brand, their robes are noticed and renowned. The Voited product could appear to many as a sleek everyday coat, but it's still durable and stands up to all outdoor environments.
Find out how they compare with the full DryRobe Advance review.
VOITED have a guarantee that you can trust. They are that certain in their products, that they will offer you a free return of an unused product within 30 days and return your full amount. You can shop with less of a worry knowing that returns are quick and easy when you purchase directly from their site.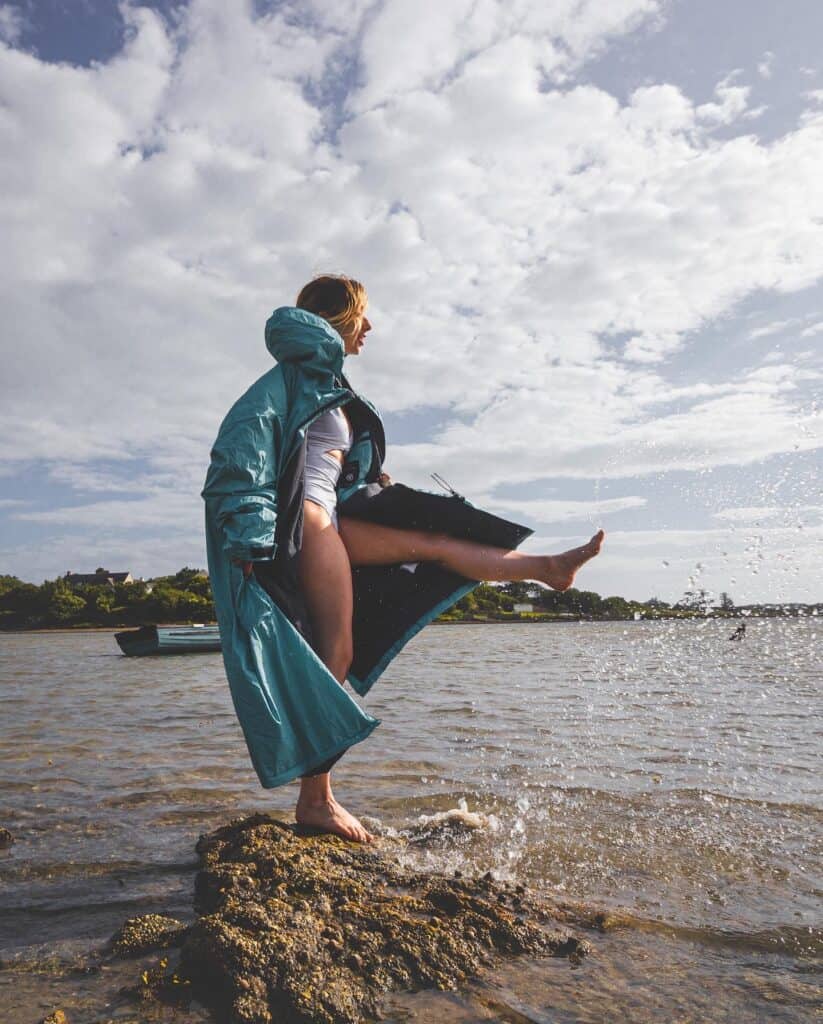 I love how VOITED collaborate with various individuals to bring a special twist, a unique angle to their products. From artists to influencers, they also work with organisations to help strengthen their efforts and protect and preserve areas of land with important conservation status. Just take a look at their Save Our Lands blanket for not only a beautifully designed bit of gear to keep you warm, but for an insight into the funds they raise for these vital locations.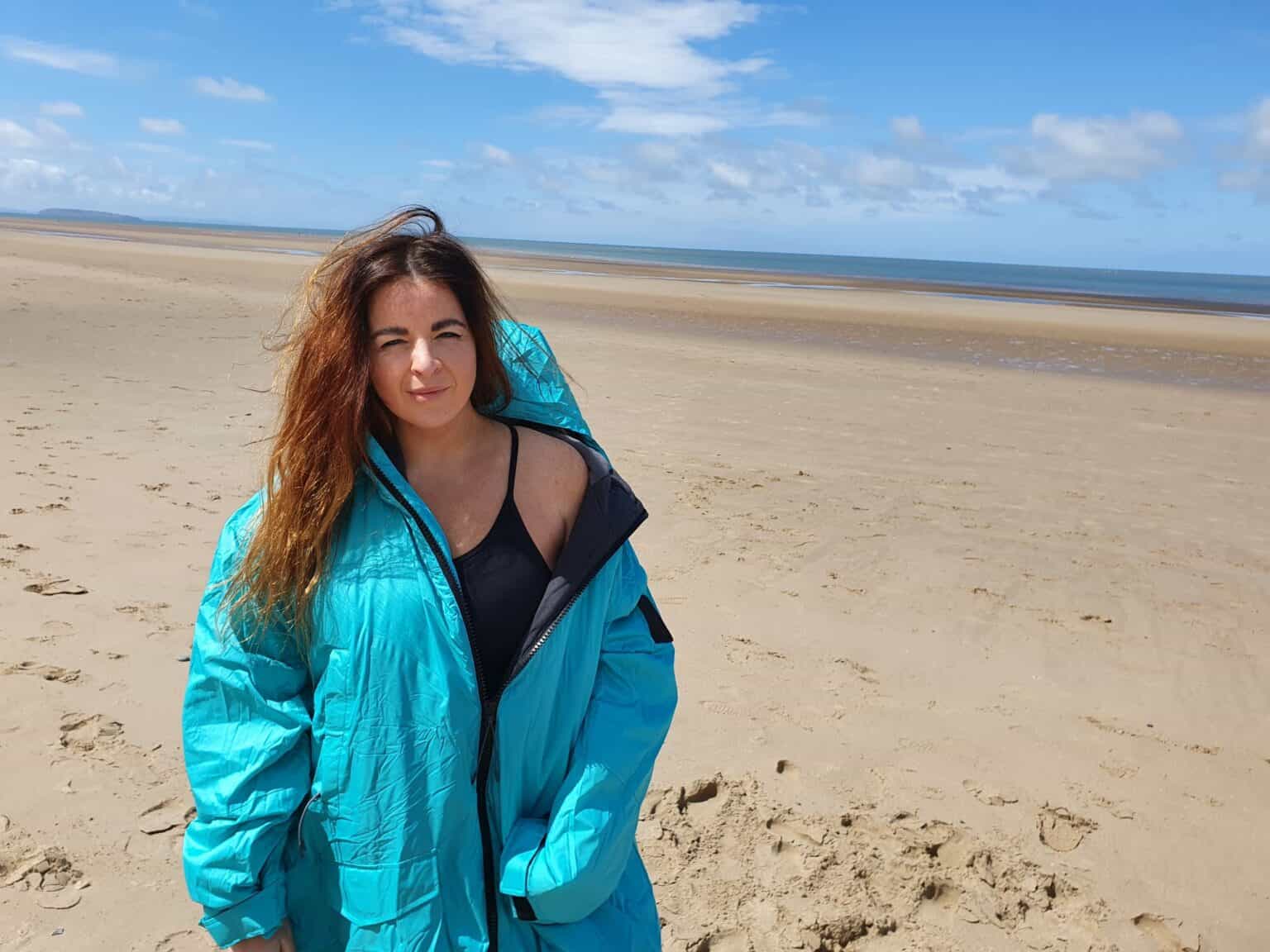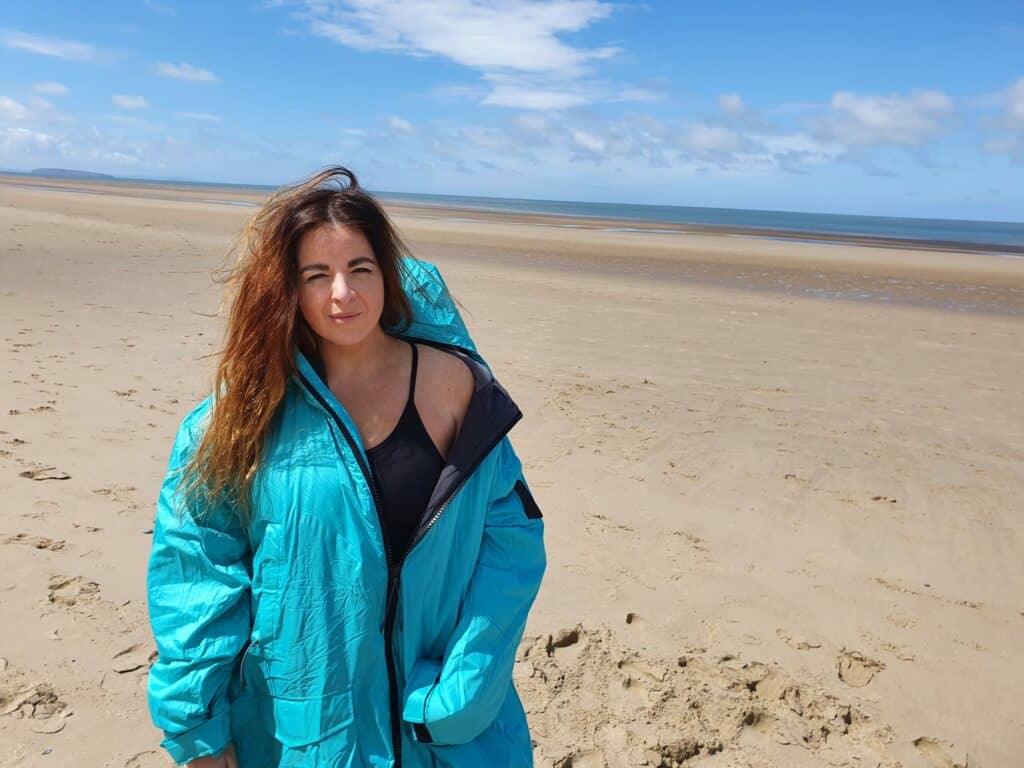 First off, can I just say how not only this is one of the best post swim coat I have, the VOITED customer care team are incredible! They are really helpful answering any questions, particularly about sizing, the max length and making sure you are getting exactly what you expect. It always helps when a great product has great customer support to match.
The fact that these changes are made from recycled plastic bottles and developed with an eco fluorine free finish is such a positive straight off. It really is fantastic to see big brands take note of their environmental impact and work to reduce their harm to our planet by developing and trialing new and innovative materials.
You can tell that they have really considered the layout of the inner lining with not only a layer of synthetic insulation but also the polar fleece lined hood, Microfleece liner and the extra CloudTouch insulation around the lumbar area. This is just one of the things that makes the VOITED Outdoor Change Robe Drycoat stand out from the rest.
The outdoor change robe drycoat can also double up as a coat and an additional personal shelter whilst out on the boat. It's versatile, I use it for wild swimming and scuba diving whereas others consider it an excellent dog walking coat.
MADE FROM RECYCLED BOTTLES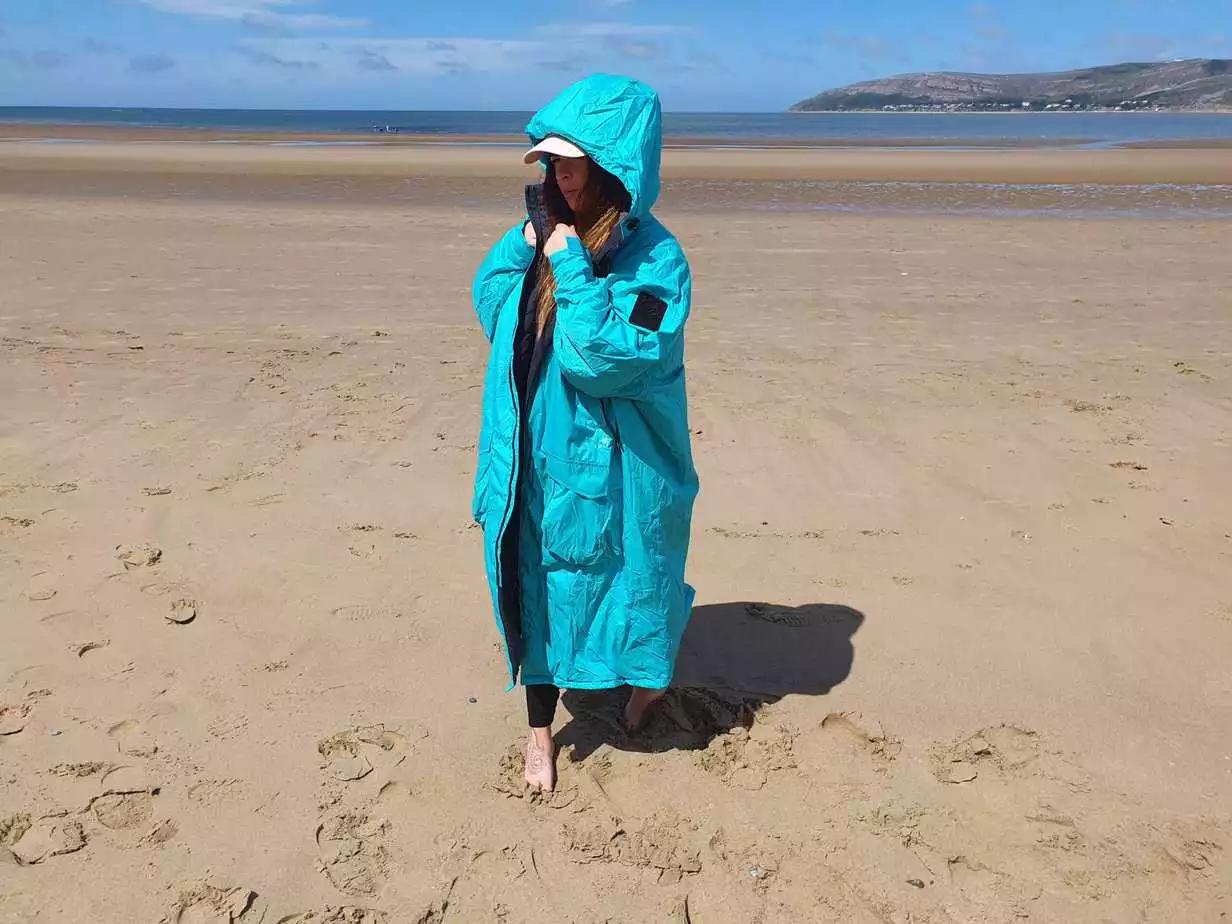 Voited DryCoat
Pros:
100% Recycled Materials

Feels Like a Sleeping Bag

Comes with Pack-Away Pouch
Check Price at Voited
We earn a commission if you make a purchase, use the above "Check Latest Price" button for 15% off your order (this will be automatically deducted at checkout).
Recent Posts