Red Equipment have been on the scene for a long time now – since 2008 to be precise, providing the perfect equipment for water based activities.
Changing robes are on the up for outdoor lovers at the minute. If you are into the outdoors and want to keep warm, dry, and comfortable after a day exploring then they are a must.
The Red Original Pro Change Robe Evo will offer you extra protection from the elements of the great, but often grueling, outdoors. It's here to easily enhance your experience of the outdoors and make it much more enjoyable after you have finished swimming outdoors or hiking those amazing mountains.
Keep on reading for everything you want to know about Red Equipment Paddle changing robes.
No. 10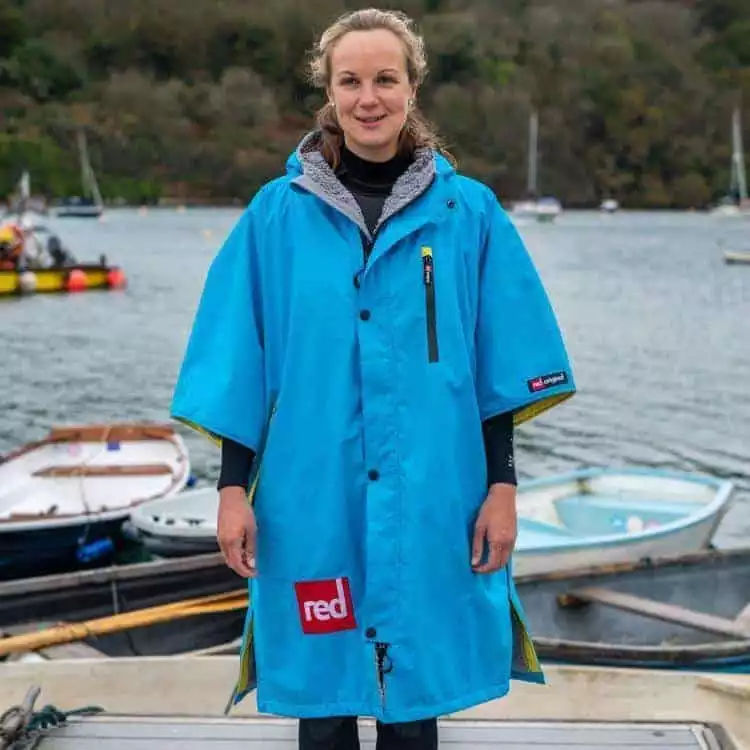 The Red Pro Change Robe is a good quality robe that made our top changing robes list – find which DryRobe Alternative beat them. 
Why Do I Need a Red Equipment Robe?
There are only a few watersport brands that have remained at the forefront of the market for such a long time. And what I like about this robe is that they don't stop refining it. If there is an issue with the design, or feedback from users, Red take this into account and continuously update the Pro Change Robe Evo.
These robes are versatile whether you want to use them for after a wild swim, a hike or simply for everyday use, it is up to you. You won't want to take it off once you have used it, the fleece lined robe will make you want to only have the clothing item in your wardrobe.
When adventuring out into the outdoors, whether it is in extreme conditions or not, you will find some use for this robe. Think about that uncomfortable feeling you have after a cold dip in the early mornings the first thing you want to do is get warm- the Pro Change Robe Evo is here to make you feel better!
You can tell that Red Paddle are well versed with producing quality products to keep people enjoying the water – no wonder this is one of the best robes on the market. I was impressed with the warmth provided by this inner lining – it's such a lightweight product too, the warmth given off when zipped up inside the robe exceeded my expectations. The fleece lining will keep you warm no matter what the conditions are.
Just picture it. You are tired from the big day of fun but now you are soaking wet trying to put dry clothes on either in the rain or, very awkwardly, in the car. The oversized fit of the robe ensures that you have plenty of space to climb inside, zip yourself up let the robe do the hard work of drying you. The Evo robe, one of the premium robes from the line of changing robes that Red Equipment offer, will have you dry in no time and hassle free. What a life.
I tested this robe after a session of paddleboarding (on board a Red SUP, in fact!). It was quite a warm day, so I did dry off quicker than normal. However, I could tell that the moisture wicking fleece lining is the perfect addition to keep the inner layer dry, moving any moisture away from my body and into the fleece. The slightly damp patches inside the robe didn't hang around for long, they quickly disappeared.
Changing behind a towel hoping no one sees you whilst your partner is keeping a look out so you can change is not the greatest look. Whether you decide on the long sleeve or short sleeves robe, you can have confidence when changing the robe has got you covered, including the bits you don't want anyone to see.
I love how they have utilised two stretchy side panels that allow for that extra bit of maneuverability. You also have a choice of purchasing either a short sleeve pro change robe or long sleeve changing robes. At my height of 5ft4, the sleeves on the short sleeved size medium were actually just the right length for me. I think the longer length sleeves may have been a bit too long for my liking.
Pro Change Robe Evo features
The changing robe has some great features including an extremely durable and uniquely breathable outer shell, ultra-lightweight design, a toggle hood, and spacious pockets both inside and out.  
You can get dry and warm quicker than ever with this robe that has a breathable outer shell and waterproof advanced fabric technology. Red Equipment have gone that little bit further and added some unique features, like the 5 popper wind baffle, that you don't get in other dry robes. They've thought outside of the box.
There are other brands that are only water resistant whereas this robe is waterproof. Why risk a water-resistant robe when you get that added feature of these waterproof changing robes.
Lets face it, no one wants to carrying around loads of extra weight. This robe is compact and lightweight that fits into a 10l pack away bag. You will need to buy this separately though – it's called the stash bag. And this is only a good thing, not carrying tons of extra weight leaves you with more room for snacks.
Personally, the lighter the changing robe, the better. Many robes on the market don't have the ability to be packed away for easy transport, but Red have pulled in their extensive experience here and recognised how important this is.
Toggle hood and adjustable cuffs
As mentioned earlier, Red Paddle keep on evolving the features of this robe – and a toggle hood is the latest edition to the line up. The new toggle hood allows you to wear the robe during the tough seasonal elements, reducing the gaps where cold, wind and rain could enter. For that added extra protection from the elements of the cold and wet, the adjustable cuffs give you the option to adjust whenever you want if the weather keeps changing its mind.
The changing robe has easy hands free changing with multiple pockets with both inside and outer pockets. The large internal stash pocket allows to keep your valuables safe from the wet and you can remember where you have kept them even after hours in the outdoors.
The waterproof chest pocket gives you quick access to your phone to take a quick snap of the stunning views. Of course, life is easier when it is easy to locate valuables, no one needs that moment of panic when you think you have lost your phone or keys.
The zips are tough and I'm a fan of the robust zip pulls too. I'd expect the features on this changing robe to last years, and the zip is probably the most important feature that we require to last!
Do They Have Many Colours Available?
You're in luck – Red have a total of 7 colours to choose from! Not many other changing robe companies have a wide variety of colours like these do.
They have the standard grey and black beautifully lined with their signature red colour which is pretty stylish. If you are after something a little slicker then go for the contemporary fuchsia pink or men's Hawaiian blue.
Other Dryrobe Alternatives
You can also check out some of the other changing robes that I've reviewed.
If the outdoors is your thing, then a changing robe is a must. The pro change robe evo is one of the best on the market and although quite expensive it is worth the money. The toggled hood gives the robe a good addition as you can adjust the hood depending on the conditions. Whether you want the longer length sleeved robe or the shorter is personal preference, both do a good job in keeping you dry and warm. 
The professional construction makes the robe comfortable to wear paddleboarding, hiking, after a wild swim or simply for everyday outdoor use. The two internal pockets are a great addition as you can store away valuables. The subtle reflective logo gives it a slick finish.