Changing robes and DryRobes have become a must-buy for lovers of the outdoors, they are sure to keep you warm, dry and comfortable.
Seashell Robes have the best robes on the market and they're growing in popularity, that's because you can seamlessly change waterside before and after diving, wild swimming, ice bathing or enjoying other outdoor pursuits.
Read on for everything you need to know about this comfy outerwear with this full Seashell Changing Robe Review.
Most Popular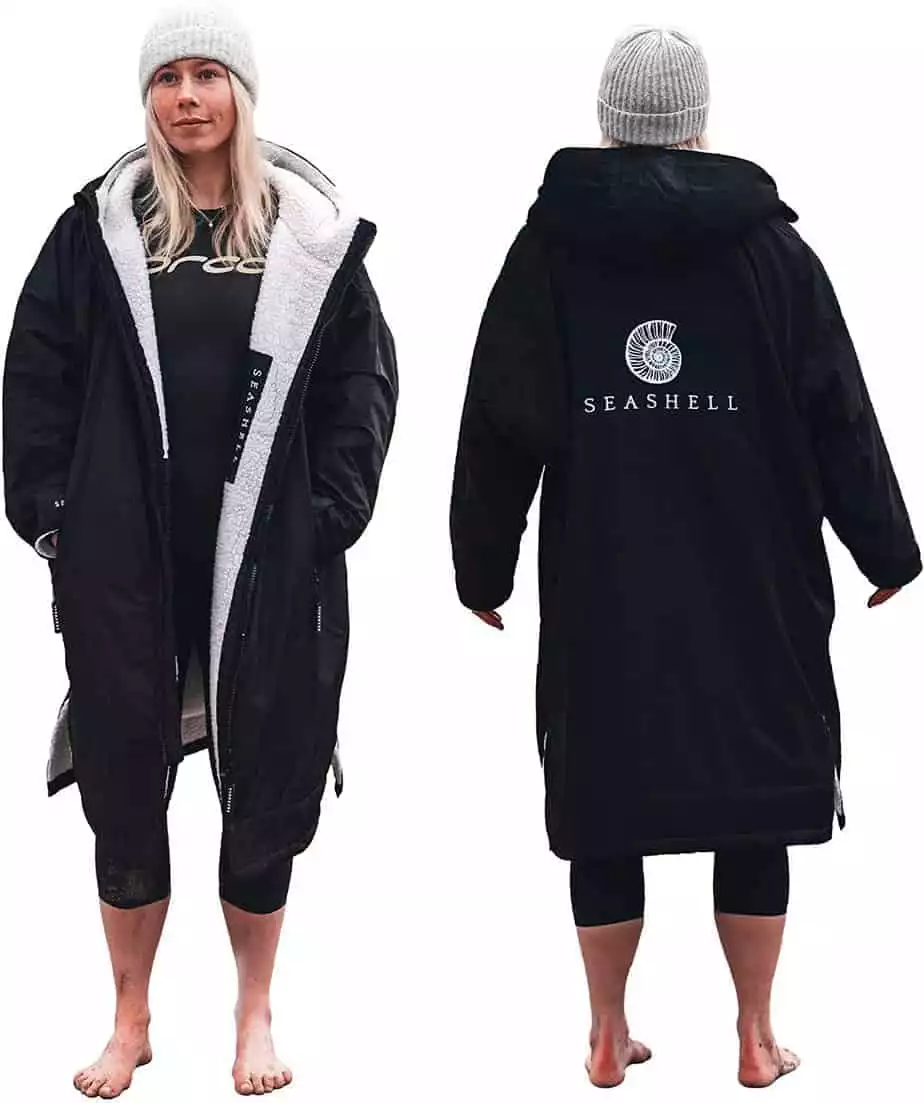 Seashell Robe
Get free delivery when you click through this link and purchase directly from Seashell's website!
Pros:
100% recycled materials

Great fit

Beautiful design

Snug inner material
Cons:
Isn't cheap but it's quality
Check Price at Seashell
Check Latest Price
We earn a commission if you make a purchase, at no extra cost to you.
Not only do Seashell make waterproof changing robes, but they also have their own community. Seashell practice what they preach and put their products to good use in wild swimming and fitness community events up in Scotland.
Why Do I need a Seashell Dryrobe?
Seashell changing robes are perfect for many wild-swimmers, scuba divers and outdoor adventurers. They can be used as a jacket to keep warm but also to dry after leaving the water. Staying dry has been made simple with the waterproof and windproof shell and inner fleece lining.
Staying Warm
It does not matter if you are not an adventurer who needs to get warm after a big hike or dip in cold water, the robe is very versatile. Many people choose to use the robe to stay warm when out in any harsh conditions. The fleece soft fleece lining will ensure that you stay warm whatever you choose to use the changing robe for.
Getting Dry
Robes make drying effortless, get into your swim robe and let the fleece lining absorb the water in no time.
One of the worst parts of getting out of the cold water or finishing a big day in the mountains is getting dry after. The long sleeve robes not only allow you to get warm but get dry quickly with their fast and easy entry. The last thing you want is a drive home in wet clothing and ruin the amazing day that you have had.
Changing Discreetly
It is not an elegant look having you're friend or partner holding a towel so you can change out of the wet clothes and into clean clothes. This cosy robe eliminates all that and has you looking forward to changing into without the embarrassment and worry of other people seeing you change. Even the colder weather won't stop you from venturing out and persisting with your hobbies.
Other Dryrobe Alternatives
There are no discount codes currently available, but I will keep my eye out and update where possible.  However, if you buy through my link above, you can get free postage!
Worried you may change your mind? Seashell offers a 28-day refund policy when purchasing on their website.
Items Similar to SeaShell Robe
Check out cheaper alternatives with Gorilla Robe or the recycled Voited DryCoat.
MADE FROM RECYCLED BOTTLES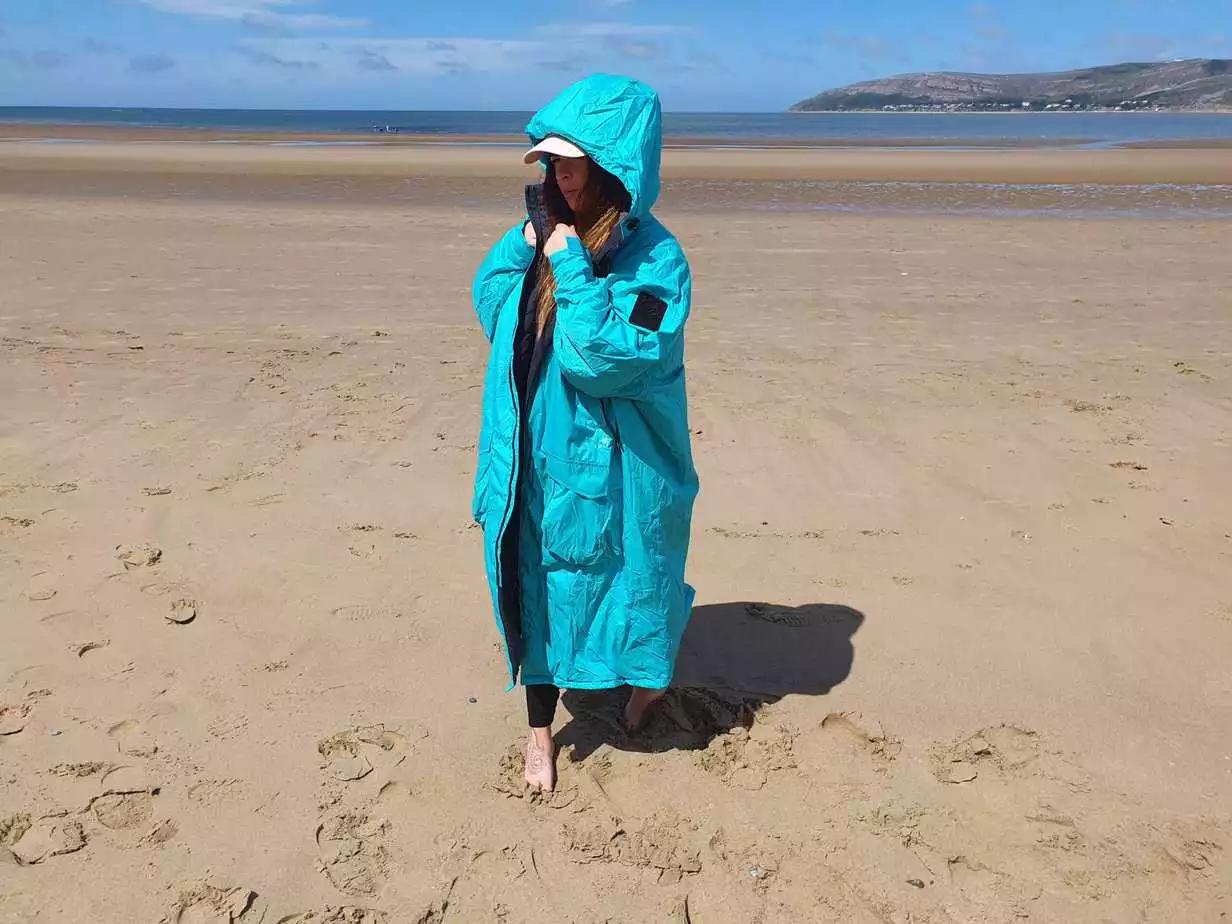 Voited DryCoat
Pros:
100% Recycled Materials

Feels Like a Sleeping Bag

Comes with Pack-Away Pouch
Check Price at Voited
We earn a commission if you make a purchase, use the above "Check Latest Price" button for 15% off your order (this will be automatically deducted at checkout).
BUDGET RECYCLED OPTION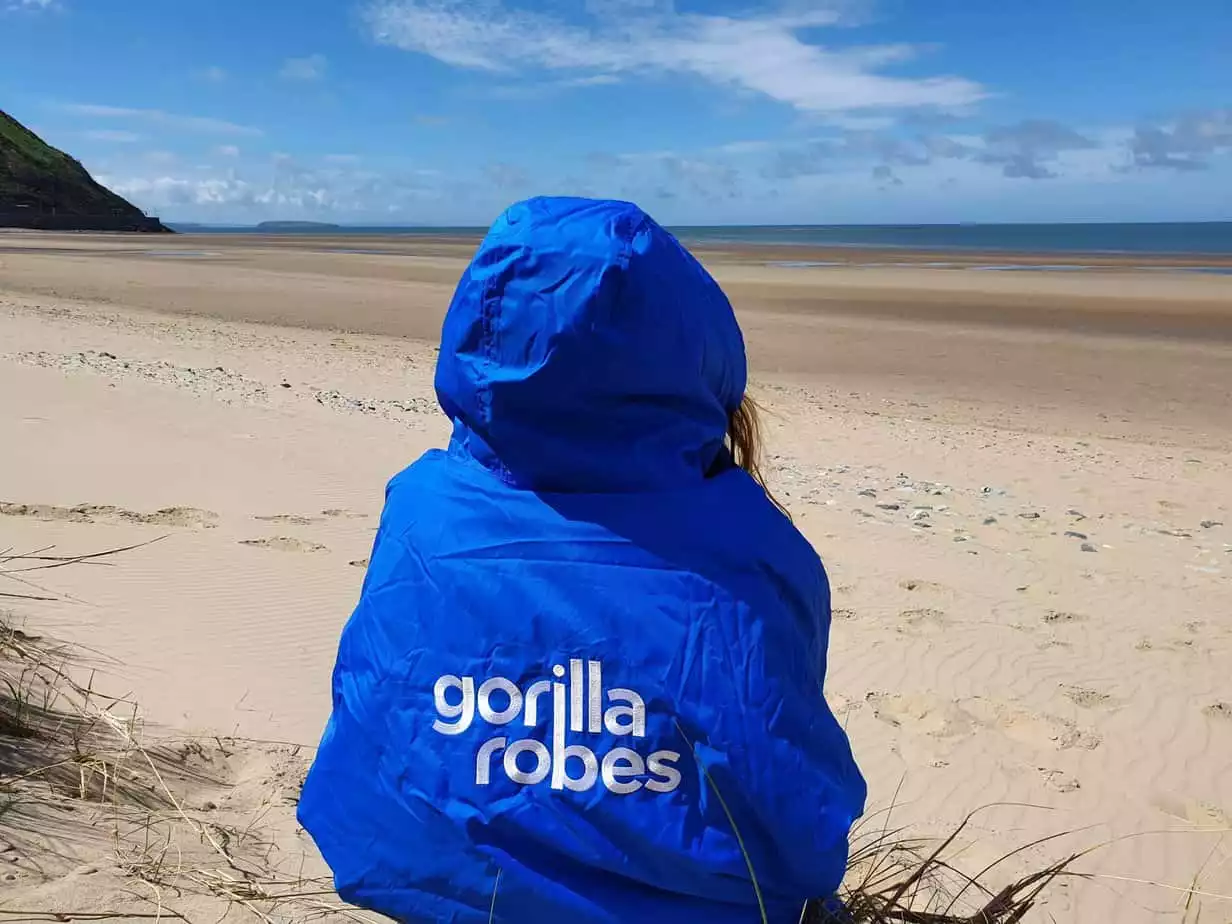 Seashell Robe Features
The changing robe has some great features including an inner fleece lining, waterproof and windproof shell, and a zip that works from the inside and outside to help you get in and out more efficiently.
I used this robe whilst out on a recent camping trip and I actually ended up falling asleep in it! It is simply a fantastic changing robe which I am recommending to all my friends, family and blog readers.
It is perfect for keeping toasty on surface intervals.
Some of the other changing robes I have tried are great, but there is always one thing that I'm not too keen on. This ranges from sizing to the type of fleece lining, to the general look. However, Seashell have smashed every aspect when designing this changing robe – kudos to them!
Inner Fleece Lining
The cosy Sherpa fleece lined makes it comfortable for anyone wanting to add to their experience of the outdoors. The fleece lining is also in the hood of the robe and the long sleeves to ensure that the whole body is kept warm and dry. It feels like a hug in a robe, just what is needed after a day outdoors. It is made with synthetic lambswool lining.
Waterproof & Windproof Shell
The outer shell is waterproof and windproof. It is one of the best waterproof changing robes on the market that will ensure that you stay dry. No matter what the weather you can head outside in the waterproof long sleeve robe and enjoy no worry about the rain and wind.
The sleeve length is perfect too, which is one of the downfalls of other changing robes I have tried. Arm length in other robes seem to be really long, and even when I use the velcro adjusters, it's still difficult to secure them in a comfortable position. Maybe I just have really short arms and small wrists?
2 Way YKK Zip
The 2 way YKK zip allows entry and exit of the changing robe from either outside or inside. This makes it easier for you to get in and out of the water. The last thing you want in the cold weather is standing around messing with a zip.
Pockets
The changing robe has pockets inside and on the outer shell. The outer pockets are spacious, fleece lined and well designed to keep your hands warm after that refreshing dip. Of the two inner pockets, one has a zip so you can keep your valuables safe and dry whilst being in the outdoors.
Design
The classic seashell embroidery is of high specification. It is designed to allow you change within the robe so changing becomes easy and efficient. This waterproof changing robe is designed to be a oversized fit to aid with comfort and maneuverability.  I'm 5ft4″ and went for the S/M sizing.
And can we just take a moment to appreciate the beautiful nautilus shell embroidered onto the back?  It's an exquisite addition to an already beautiful robe. I have a little soft spot for the nautilus shell shape, and had this tattooed onto my ankle many years ago!
Most Popular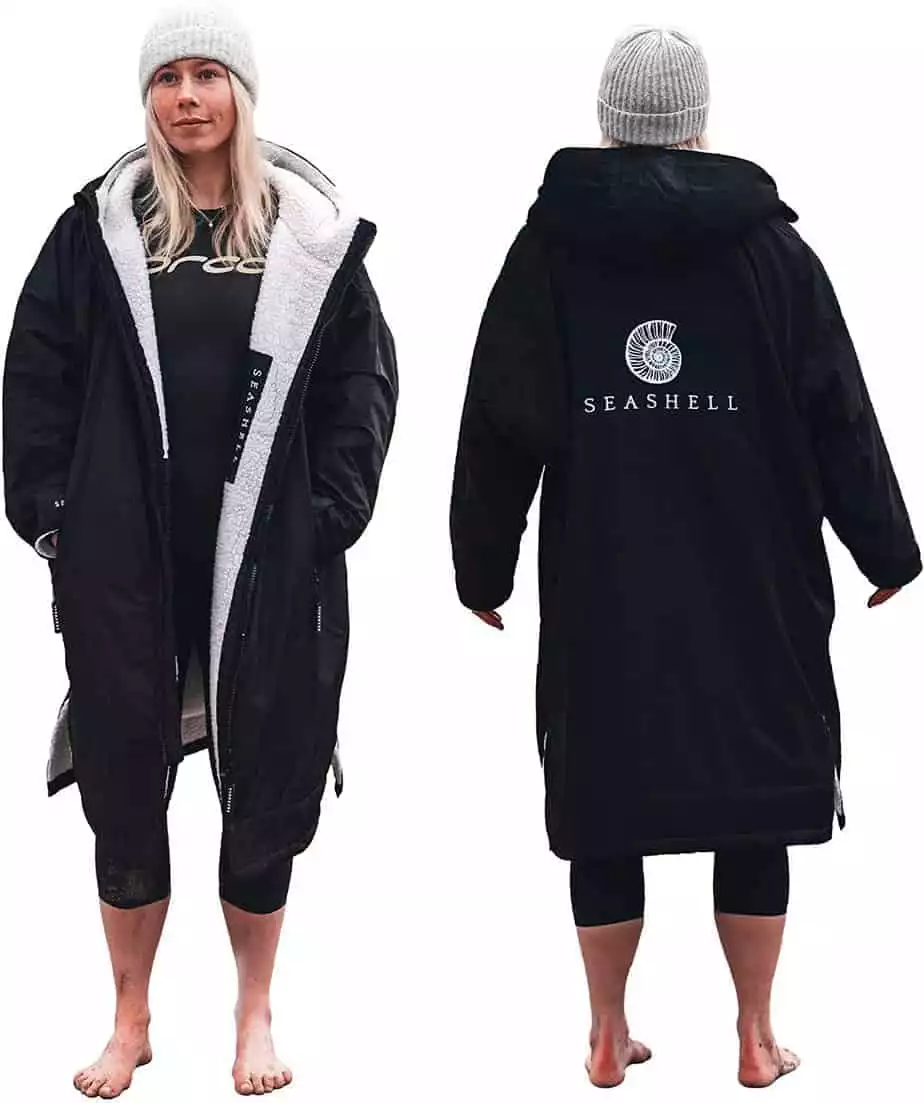 Seashell Robe
Get free delivery when you click through this link and purchase directly from Seashell's website!
Pros:
100% recycled materials

Great fit

Beautiful design

Snug inner material
Cons:
Isn't cheap but it's quality
Check Price at Seashell
Check Latest Price
We earn a commission if you make a purchase, at no extra cost to you.
What's in the Package?
You can see as soon as you open the package how comfortable and warm the changing robe looks. It makes you want to put it on a walk around the house in it -in fact, I did do this when I was testing mine. You notice instantly the quality of the product with excellent stitching, velcro cuffs and soft lining inside. The changing robe is available in both a black and sand colour so up to you what clothes you want to match it with.
Should I Wash My Seashell Robe?
The changing robe is machine washable but should not be washed regularly.  Try and hand wash it instead! When the robe does need to be washed, 30 degrees is the maximum to use and remember to turn it inside out.
To keep the changing robe fresh, Seashell recommend hanging to dry and airing it out in between uses.
If you absolutely love the outdoors and tired of being cold then this robe will be a great investment. 
You won't need to worry about bringing a waterproof coat as the robe will have you covered. It will be a great addition to your sports gear and will come in handy for all of your colder weather activities. 
And what makes them stand out from the rest is the special community that is being built around the brand. They advocate spending time outdoors, meeting new people and improving your health and wellbeing. They often arrange outdoor meet-ups, fitness work outs and wild swims – if only I lived closer!
Yes, it is one of the more expensive robes out there but it is one of the top brands out of all the changing robes. Think about all the things you need to pack when planning a day in the cold water or in the mountains, now you will only need one robe that has easy entry and exit – and boy does it look the part! Everything about it is just simply elegant yet offers substantial durability and versatility.
I used to be able to say one negative thing about this robe.  Their first generation changing robe wasn't made from recycled materials.  However, Seashell have seen 2023 in with a bang and released a stunning new colour as well as ensuring that all of their new robes that are made from 100% recycled materials.  They certainly are on the right path!
Don't be afraid to reach out to them via their Instagram account, they are super helpful and will be more than happy to advise on sizing.
Recent Posts