You'll be telling friends and family about this life-changing experience for a long time to come.
Liveaboards are truly magical but finding the right one can be time-consuming, and more often than not, there's no best option, but there's always one that best suits you.
BEST FOR CAMARADERIE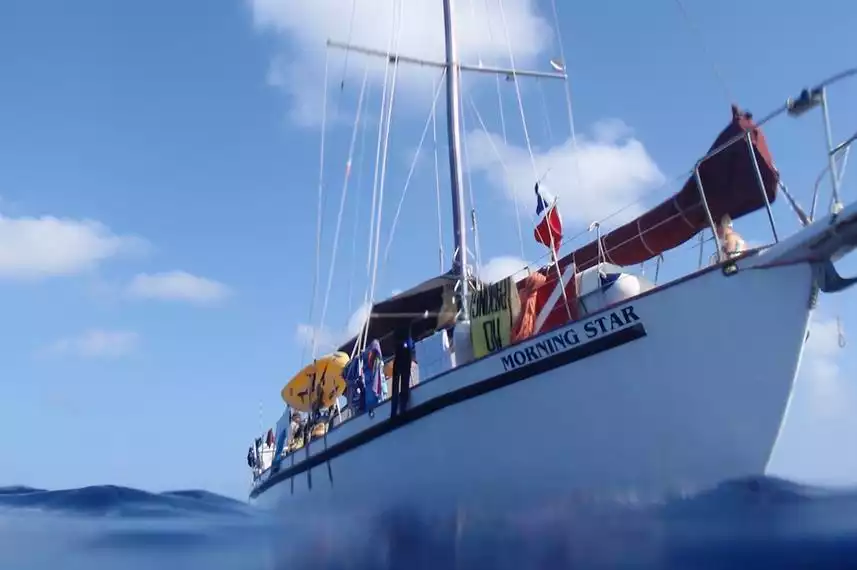 The camaraderie on Blackbeards Liveaboard is untouched – think camping at sea
Blackbeard's Morning Star liveaboard is a favourite amongst divers, and that's because although it provides reality-shifting experiences, it comes at half the price of most other fleets. Thus, the All-Star Liveaboard motto of "twice the fun, half the cost".
If you're searching for at least a week's worth of scuba diving on a budget, then you'll want to read on – you can also check out my full list of Bahamas liveaboards.
It's worth noting that the Blackbeard's Sea Explorer is the identical twin sister of this cruise, and they are interchangeable for bookings.
Blackbeards Morning Star Overview
The blackboard fleet comprises the Morning Star and Sea Explorer, which are used interchangeably.
They are sailboats, often adding to the fun on windy days. There are 18 dormitory-style cabins on board that can sleep 22 people.
The famous budget cruise has a wealth of experience, hosting millions of amazing diver holidays and offering its service for over 35 years.
The traditional vessel is 65ft/20m and has 1 Ford Lehman engine size. It also comes equipped with all the safety features such as a radar, depth sounder, GPS and first-aid trained staff.
Read on for everything you need to know about your dive vacation.
Whether travelling by land or sea – the Bahamas is a beautiful place with no shortage of dive spots.
Here are some of the diving locations you can expect on the Blackbeards:
Experienced captain Jim and the other captains are known for their knowledge of the area and they often pick the best dive spots based on the conditions and weather at the time, thus, there's no set itinerary. Poor weather means that the captain can call off dives.
You can expect to enjoy washing machine dives, blue holes, high-speed drift dives, shark dive spots, drift diving and much more – as the Bahamas liveaboard trips are known for being abundant in diverse scuba experiences.
The Bahamas Islands are often celebrated because of the range of different species that can be seen on dives.
You can expect to see the following marine life during the Blackbeards Liveaboard:
Hammerhead Sharks

Nurse Sharks

Lemon Sharks

Bull Sharks

Caribbean Reef Sharks

Tiger Sharks

Grouper Sharks

Squid

Rays

Angelfish

Butterfly Fish

Whale Sharks

Sting Rays
There are three dormitory style cabins on the Blackbeards Morning Star liveaboard, each room has either a single or double bed with your own privacy curtain. The cabins are compact, with a low ceiling and modest living space but all come with air-conditioning.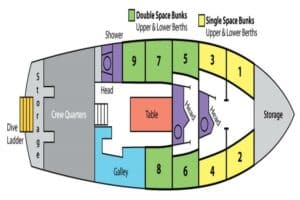 There are 18 bunks in total – sleeping a total of 24 guests. These berths provide accommodations for single travelers and couples alike.
All cabins come with air conditioning. Cabins 6 & 8 are lower double berth rooms, upper double berths are cabins 5, 7 and 9.
7,8 and 9 are the least private accommodations with dorm cabin. 1 & 2 cabins upper and lower berths are perfect for single passengers.
If you were hoping for something a little more stylish, spacious and comfortable, then check out the double cabins on the Bahamas Master. 
Three shared bathrooms
Dive deck
Outdoor dining
Air-conditioned saloon
Separate rinse for underwater camera
Bahamas Liveaboard Comparison
Blackbeard's Morning Star Case Study -Q&A
Check out our case study – Neysa is a recent adventurer of Blackbeard's Morning Star where the cruise catered for veterans on a dive including amputees. 
Find out more with Blackbeard's Morning Star's case card
Diver Profile
Details
Food
Crew
Dive Sites
Rooms
Diver Profile
Name: Neysa
Liveaboard Activity: Scuba Diving
Facebook: Deep Sea Valkyries
Instagram: DSValkyries
About: Neysa reports back on her exciting liveaboard trip in Bahamas. Neysa works closely with a worthwhile veteran dive charity too – check out all the tabs for more.
Details
Food
Crew
Dive Sites
Rooms
What Impact Did the Blackbeards Dive Have on Neysa's Life?
"We chose this vessel for our program for very specific reasons. We take Veterans on week long trauma counseling/scuba retreats. This boat immediately generates a sense of camaraderie with everyone and a great group dynamic.
None of our Veterans know each other prior to arriving and the crew immediately puts them at ease. Their own love of life at sea is infectious and I love how they are all willing to teach and explain aspects of their jobs to those who ask. When we began our program I was AOW and am now a DM, I even worked as a DM on one of the other AllStar boats this summer. My knowledge, experience, and love of diving continues to grow thanks to this group and we will be diving with Blackbeard's for years to come and it just keeps getting better!"
What is the Food like On-Board of Blackbeards Liveaboard?
The Blackbeards Liveaboard Dive Boat is renowned for its fresh, local food. They have a plethora of different foods and even catch some of their food during the dive expedition.
They catch fish and lobster for you to eat. They also have chicken, fresh fruit, dessert and more. Blackbeards is also famous for it's delicious rum punch.
The cook only has a small space to prepare food but it's unbelievable to see what they create in the kitchen and how they cater for all dietary needs.
There are vegan, vegetarian, gluten-free, kosher and all other dietary options. They have lots of drinks with wine, beers, tea, coffee, rum punch,, Coca-Cola, Sprite, Soda water and drinking water too.
What Types of Dives Can I Expect on the Blackbeards Liveaboard Trip?
The Bahamas is known for the variety of different dives – if you love scuba diving, it really couldn't get any better. Enjoy shark dives, blue hole dives, wall dives, smuggler planes, shipwrecks, deep dives and caves; there's so much fun to be had with a diverse range of days planned.
One of the most memorable dives during the dive trip was the shark feed dive – many shark teeth can be found on the ocean floor after a feed. Enjoy scuba diving at some of the best dive sites with lots of Exuma Cays and Bimini Island dives.
Our full guide will discover more about the best diving trip in the Bahamas.
What Dive Experience is Required for the Blackbeards Dive Cruise?
Those who wish to dive alone will be required to have a solo dive certification. To get the best out of the trip, you should have intermediate dive experience – meaning over 10 dives before booking onto this liveaboard.
There will be a dive guide on every dive.
Experienced divers will also enjoy lots of stunning and fairly challenging dives.
BEST FOR CAMARADERIE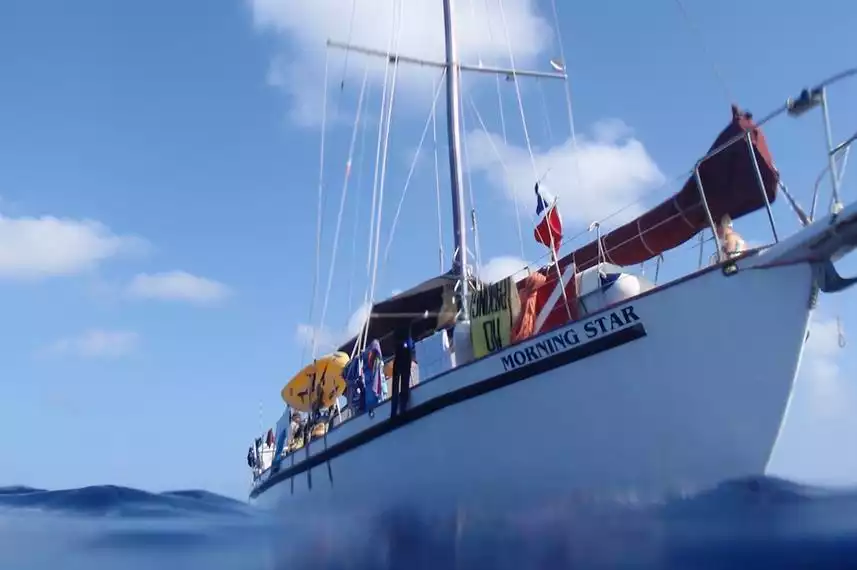 Blackbeards Liveaboard Covid
COVID-19 testing to enter the Bahamas has been eliminated. You can seamlessly travel to the Bahamas.
Divebooker is known for being easy to communicate with, although they're not obliged to refund you or re-book your trip, if you message the travel provider as far in advance as possible, they have been praised for their helpfulness and even going out of their way to come up with a plan of action.
Is the Blackbeards One of the Most Affordable Liveaboard Boats?
The Blackbeards liveaboard diving boat is known for its affordability; if you are on a budget, then this is your choice. On the other hand, if you're looking for luxury, then you may wish to look elsewhere.
Check out the Bahamas Aggressor for something a little more lavish. You can also take a look at the Aqua Cat for other exciting liveaboards sure to promise an amazing time on a budget.
What About Single Travelers?
There are spacious berths for single passengers – the single space bunks allow for extra room, they aren't as private, but it allows you to enjoy the camaraderie on board.
If you're travelling alone – then fear not; there are plenty of single travelers that go on trips of this kind, in fact, the majority on board will be single travellers opting for the single space bunks. You will get to meet lots of like-minded fellow divers.
Each diver will need a dive buddy – so if you're travelling alone be sure to make friends with other scuba divers on-board the Blackbeards Morning Star.
Dive Certificates & Courses on the Blackbeards Morning Star Liveaboard
You can enjoy specialities and certificates during the trip. Here are Blackbeards scuba diving courses you can take:
Advanced Open Water Certificate

Deep Diver

Under Water Naturalist

Boat Diver

Night Dive Certificate
How Many Dives a Day do you do on the Blackbeards Liveaboard?
The Blackbeards liveaboard provides 3 to 4 dives a day, including night dives. This is as long as the conditions permit. You can rack up almost 28 dives in a 7-day period.
Can Non-Divers Join the Blackbeards Liveaboard?
Non-divers can also enjoy the Blackbeards liveaboard – there's snorkeling, sunbathing, fishing, land excursions, and visiting of beaches all as part of the diving package. But with that said, the trip revolves around the snorkel and diving activities and not necessarily island hopping.
There are shore excursions, but they're at the captain's discretion.
Blackbeards Liveaboard Reviews - What They're Saying
Here's some of the reviews about the All Star liveaboards:
Blackbeards is a sailboat and is one of the most affordable liveaboard options – it's been described as camping at sea. Known for its camaraderie and overall spirit, it has forged many life-long friendships.
It's a great way to dive and is awesome for those diving alone. You're guaranteed beautiful dive spots and an all-around fantastic experience.
It's ideal for those looking for a first liveaboard experience or those looking to enjoy basic living and great diving at an affordable price.
You'll get a full board meal plan, soft drinks, alcohol, snacks and VAT in the price. Port fees, airport transfer and hotels are additional costs. The dive insurance will also be an additional cost unless you book with DiveBooker.
If you want dive insurance included from DAN then you'll want to book through the Divebooker links.
Recent Posts