Dry robes may not seem to be the most essential diving gear, but they can definitely make your experience all the more cosy and safe. Trust me, I've used a few during my diving over the years. So, I'd argue that dry robes should be a priority when looking for the best diving gear for your children! 
That said, not all brands make children's dry robes, and among those that do, there are, of course, ones that just aren't worth the money. That means more often than not, you're having to do a lot of digging.
Children's Dryrobe Alternatives in the UK
While dry robes tend to be pretty similar across the board – especially when you're looking for the best options for your kids – you'll need to pay extra special attention! 
The best dryrobes won't just dry them off and warm them up after being out in the water. You're also going to need to think about super-functional styles that are easy to get on and off fussy water babies, and that goes without mentioning the fact that kids grow up super-fast… how long is that warm fleece lining going to fit them?!
Here are some of the best children's dry robe alternatives on the market today – along with a few reasons why I think they deserve your attention. Who knows – maybe you'll find your kids love them too!
You'll need to look for robes that are super soft, offer generous sizing, and do more than just keep hands warm. There's a long list of boxes to tick!
But, help is at hand. I've done the legwork for you – here are some of the best children's dry robe alternatives to keep your little ones warm!
No. 1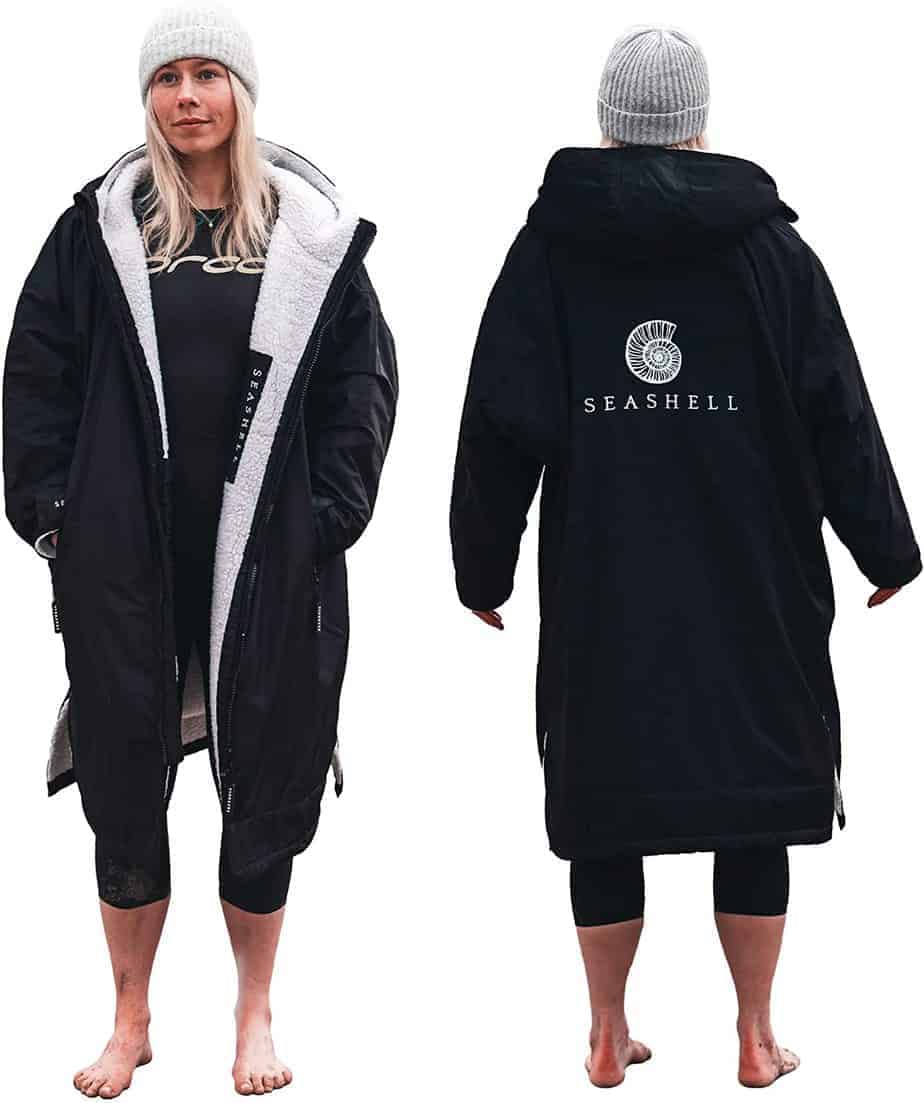 Seashell Robe
Get free delivery when you click through this link and purchase directly from Seashell's website!
Pros:
100% recycled materials

Great fit

Beautiful design

Snug inner material
Cons:
Isn't cheap but it's quality
Check Price at Seashell
Check Latest Price
We earn a commission if you make a purchase, at no extra cost to you.
The Seashell changing robe definitely isn't the cheapest on this list, but you do get what you pay for! The inner lining is incredibly snug, and your kids will love getting inside. It's also got a nice, modern design that makes it fashionable as well as comfortable.
One of the best things about this robe is its heavy-duty 2-way YKK zip. It means that getting it on and off takes seconds, without having to fight with the zip or an impatient child! 
It's got a waterproof outer shell, it's easily adjustable (thanks to the velcro bungee cords), and, thanks to the fleece lining, is fantastic at warming up your kids after a dip in the cold sea! 
Released in 2023, the childrens robes are now environmentally friendly, made from recycled materials but designed to last a lifetime.
Seashell's child-size options offer enough coverage without covering their legs too much. So, your kids will be able to walk around easily, all while warming themselves up!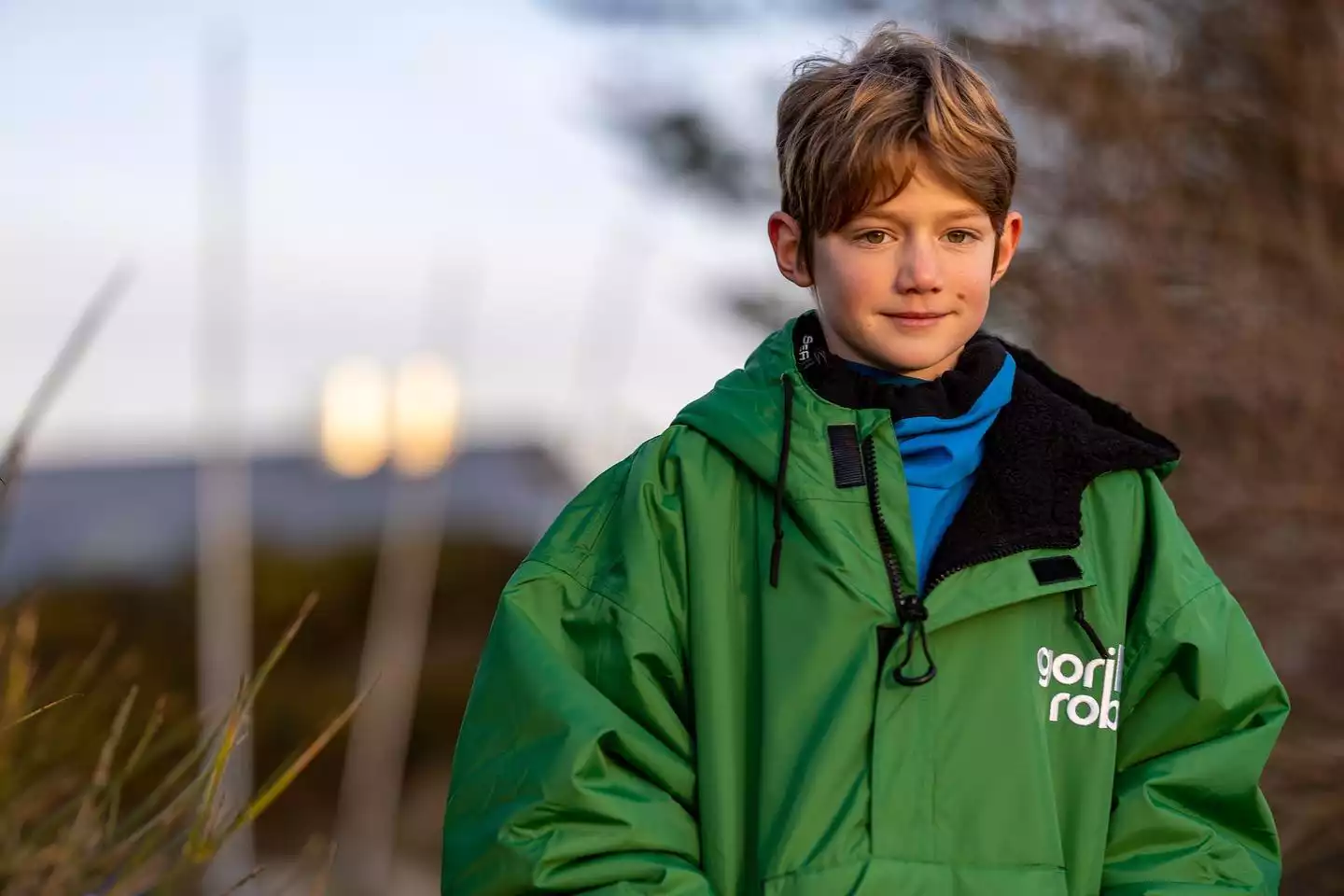 The Gorilla Robe is a great option for most kids if you're trying to keep the budget under £100 (and why wouldn't you?). 
It's also ideal if you're looking to make a more environmentally conscious decision, as this robe is made from completely recycled materials. The robe comes in multiple colours, too, so you're bound to find one that perfectly suits your little one and their evolving tastes.
It's a relatively loose fit, but don't worry about your child getting cold! If the fleece lining isn't enough, you can use the giant pouch at the front to hold a hot water bottle. And, after a long time in the water, that really does make all the difference!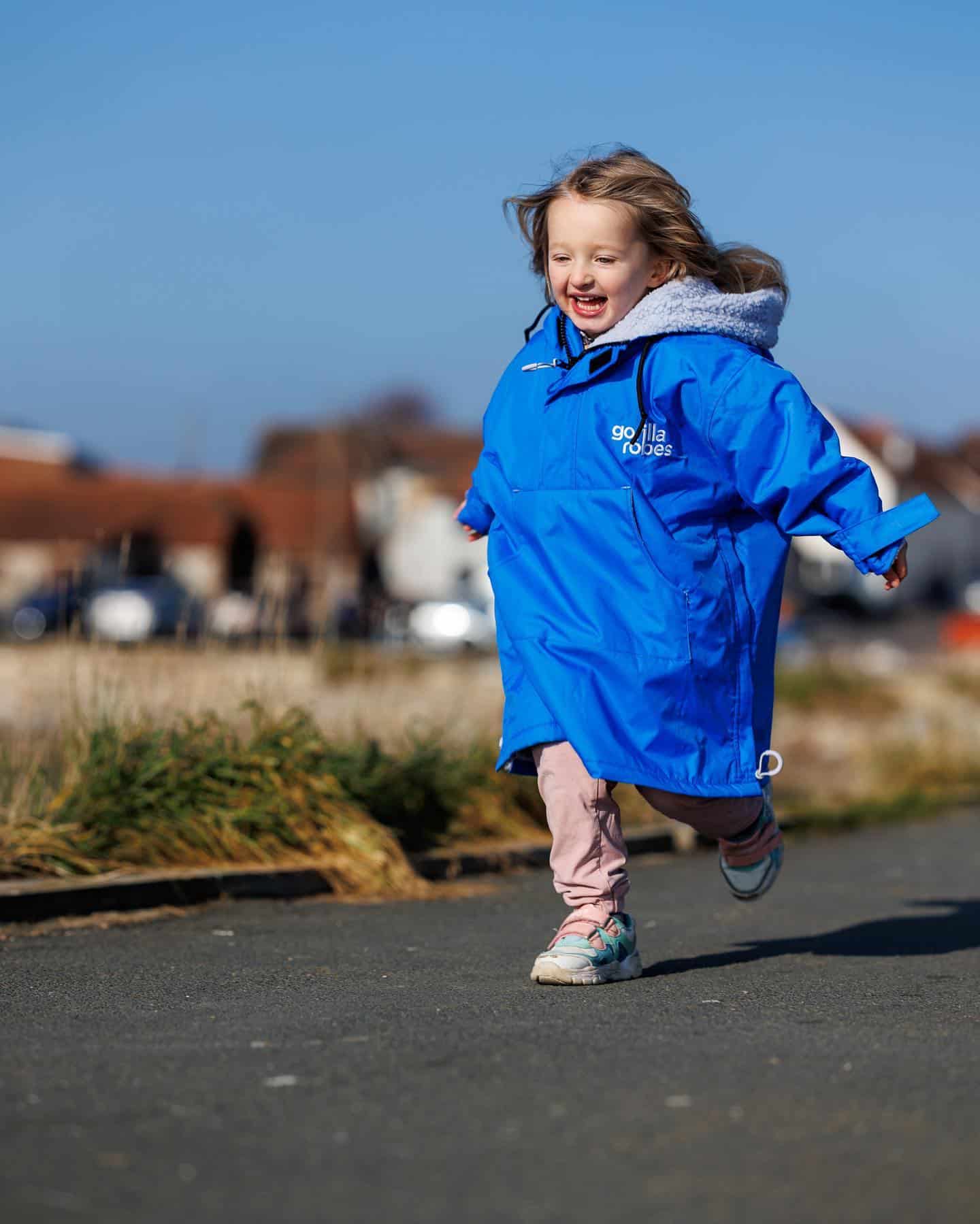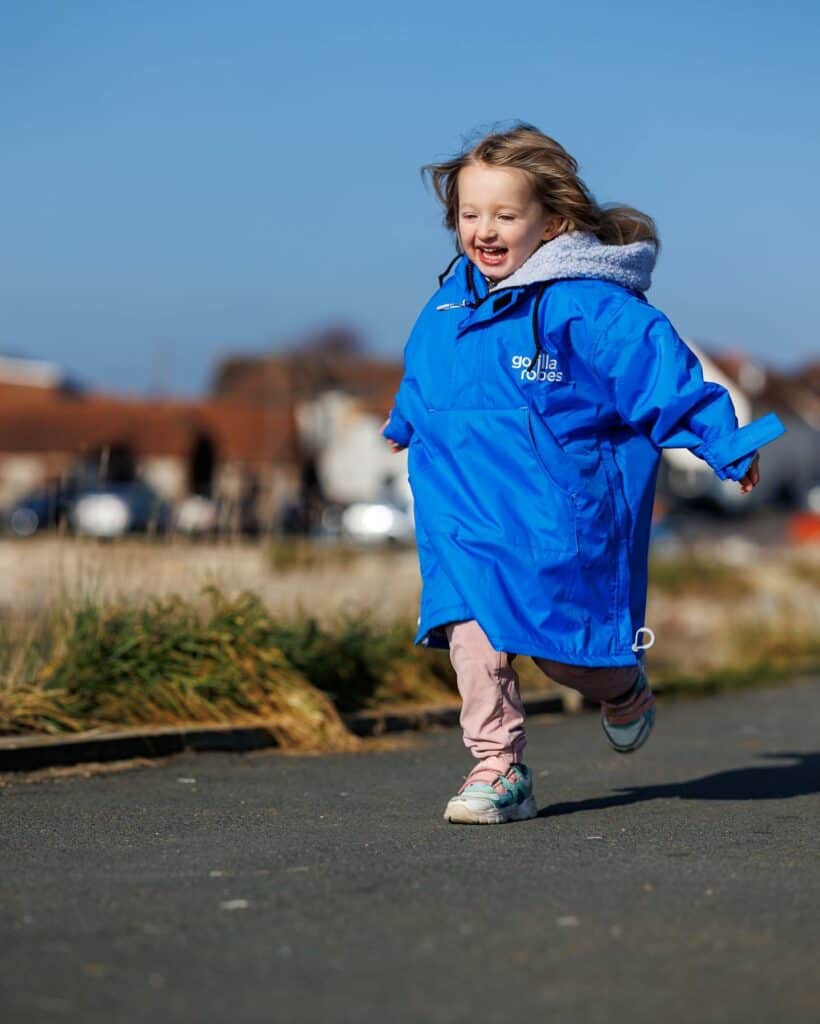 The Gorilla Robe is about half the price of a standard DryRobe and is of great value for money. And, since your child will likely grow out of it within a year or two, opting for high-quality / low-price options is definitely a good idea. The last thing you'll want is to shell out £200-£300 every year on waterproof changing robes (even if you have the money!).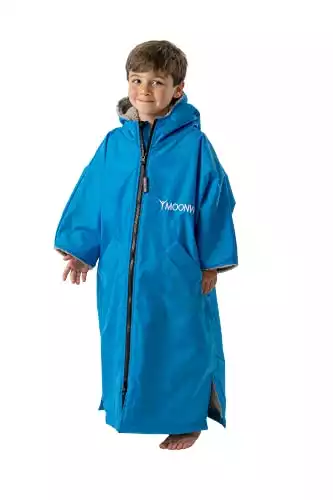 Frostfire is yet another brand that provides quality dry robes for under £100. Their leading changing robe is waterproof, comes with a warm fleece lining, and has multiple sleeve lengths available (although for a child, it's generally best to stick with long sleeves – for reasons that are pretty obvious). 
Long sleeve robes might look a little daft on your kids initially, but trust me – they'll need those sleeves in a year or so.
It comes with two big zipped pockets on the outside, one on the inside, and an easy-to-use zip. 
However, it is worth noting that Frostfire tends to size a little small, so for you're growing child, it might be wise to size up on their dry robe! Look for a waterproof long sleeve robe from the brand, and you're keeping your kids cosy and dry for time to come.
LOTS OF POCKETS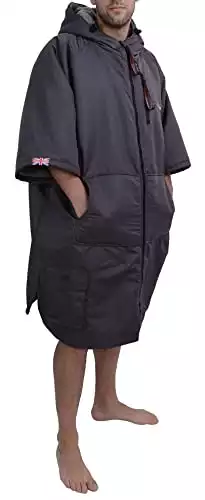 Charlie McLeod Sports Cloak
Pros:
Cheap DryRobe alternative

Super-comfortable

Multiple pockets

Plenty of colours
Cons:
A little bigger than others

More water-resistant than waterproof
Check Latest Price
We earn a commission if you make a purchase, at no additional cost to you.
06/01/2023 08:25 am GMT
Finally, if you're really on a budget, then this Charlie McLeod dry robe is a great option, as it only costs about £60 at RRP! It's very durable and comfortable, comes with a bag, and it can handle a bit of rain and a bit of water. That's all your kids are really going to need from a waterproof changing robe if you go on a few adventures here and there.
However, it isn't completely waterproof, so I don't advise staying in a rain shower in it for too long. For a handful of trips, it's great for wrapping up in after outdoor swimming.
Unlike Frostfire, Charlie McLeod dry robes tend to be a little big, so if you're looking for snugness, then it's best to size down. That said, when you're buying for kids, the extra space is probably going to work in your favour.
It's a great short-sleeve option, but if you need long sleeves, it's best to look elsewhere (such as some of those I've listed above).
What is a Dry Robe Alternative?
Here's where the confusion starts – 'DryRobe' is actually a brand of dry robes. However, the brand is so well-known and known for its quality, the trademark has come to describe the product.
However, DryRobes tend to be on the expensive side. That's why so many of us prefer to look for the same quality but for a much more reasonable price – which, naturally, comes at a few disadvantages. You might end up sacrificing quality for cost, so look carefully.
When it comes to kids' dry robes, you'll need more than just top quality and a great price. You'll need to look for a changing robe that's super comfy, easy to wear (and put on without a battle), lightweight, warm, windproof, waterproof, and appealing to the eye.
Why this last point? Your kids' tastes in fashion matters – or you're never getting that dry robe on them without a fight…
Looking to purchase a changing robe for an adult? 
Head on over to my best dry robe alternative article to find just what you are looking for!
Is it Worth Getting A Dry Robe for my Child?
If you go diving and swimming a lot with your kids, then yes – it's absolutely worth investing in their own dry robe(s).
They are an added expense; as you can see from the products listed above, they're definitely not as cheap as a basic beach towel or a dressing gown. Then again, a basic gown is never going to dry and warm you efficiently enough.
But, here's why you need them. They help to warm your child up quickly and safely after being in the water. It's an extra comfort for them, which is invaluable. 
Although we tend to think of these robes as primarily for diving, they can be used any time your child has been in the water, so you will get the use out of them if you've got beach and swimming holidays booked out for all of next year.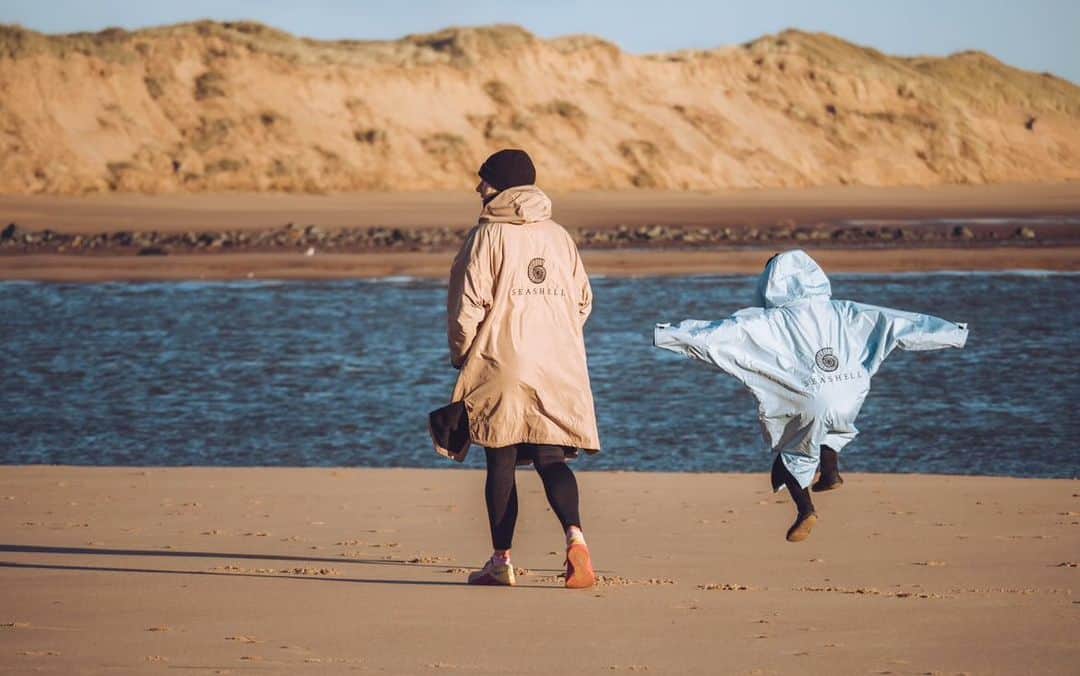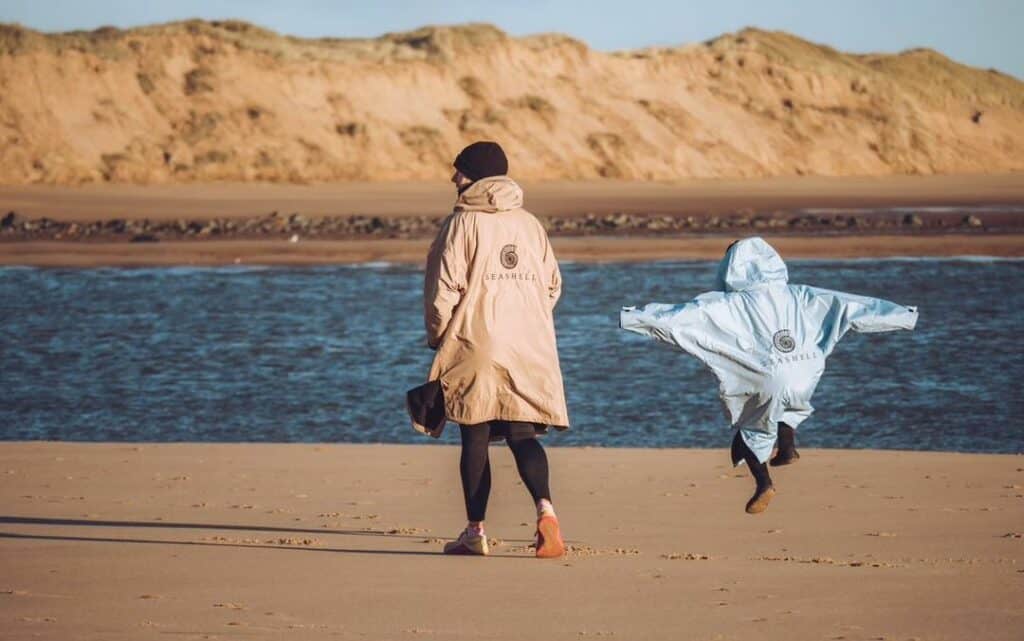 Getting dry and warm after having been in the ocean can't be underplayed. It's easy to wrap a towel around yourself and take care of your own needs. But what about your kids? They're not necessarily going to know how to handle themselves after a dive if they're completely new to the experience. Practice makes perfect – using dry robes is all part of the learning experience. 
That being said, it is definitely worth remembering that while dry robes are an investment, they are also expensive. That's why it's also important to remember that your child will grow! As much as quality and durability are essential, you don't have to go for the most expensive brands to get that.
Invest in a quality, affordable dry robe that you will be happy for your kid to grow out of when the time comes.
What Should I Look for in a Good Dry Robe for Kids?
If your kid is just getting out of the water, you should have four main concerns.
Their safety

Their warmth

Their comfort

Getting them dry
These are the main points you'll want to think about when looking for the warmest robes for your kids.
You'll need something waterproof that won't soak in any extra moisture as your child is getting dry. And, as they'll be using it while still on the water, ideally, you'll also want one that's windproof to help protect them from any chill. 
Any parent or guardian knows that children can be a pain when it comes to clothes. And the last thing you want is to have to chase your child down to get the dry robe on them! So, opt for something so incredibly comfortable they'll want to jump into them! 
Again, always keep your child's sense of style in mind! If they're old enough to dive, they'll be old enough to have strong opinions. Try and buy a dry robe in a colour that they like and in a shape they feel comfortable wearing. They need to be able to move about in it easily, so avoid getting robes that are too long, too boxy, or too tight. 
Don't worry – your kids will tell you if something doesn't feel right!
Once in the dry robe, the chances are your child will be in it for some time while they dry and reacclimatise. That means eating, sleeping, and even playing. So, durability is key. Kids can destroy nearly anything in a matter of minutes, so investing in a well-made garment will save you all kinds of hassle.
Finally, for the main event – heat. An inner fleece lining in a dry robe will make it more comfortable and more efficient at keeping your child warm. You don't always have to look for a thick sherpa fleece lining or the fanciest polar fleece fabric. Just check out what reviewers have to say online.
An added bonus would be pockets – big, roomy ones you can put hot water bottles or heating pads in will always go down well. Try looking for robes with a waterproof chest pocket, or at least somewhere your kids can easily warm cold fingers up.
It's a lot to take in. But it's your children's safety and health we're talking about! And, when it comes to an investment like a dry robe, even if your child only has it for a short time, it's still worth making sure they're comfortable and safe – and you shouldn't ever put a price on that.
Whether they're starting swimming lessons, are old enough to dive or are simply struggling to keep warm on beach trips, a child's dry robe is a great piece of outdoor gear that will serve you well. Staying warm staves off illness – and while you may fancy opting for change robes made from recycled plastic bottles or emblazoned with fancy designs, a good change robe with a breathable outer shell will tick all the boxes you need.
Recent Posts