If you're looking for a luxury liveaboard trip while simultaneously ticking off a bucket-list dive destination, you will want to read on. 
On my recent Galapagos Liveaboard reviews – the Tiburon Explorer made it as my number one for luxury. 
But there's a lot more than what meets the eye, read on for more details on this Galapagos dive boat.
Tiburon Explorer Overview
This new and elegant yacht is 125 ft in length allowing plenty of space for its 16 passengers who are enjoying the fantastic diving on offer.
It has on board 9 air-conditioned rooms for guests to stay cool after they have made the most of their day's scuba diving.
You will arrive on the Galapagos islands from mainland Ecuador before a safety briefing and what to expect whilst on the Tiburon explorer liveaboard. You will have up to five dives a day. Some days it might be less due to longer travel days between dive sites. Here are some features of the Tiburon explorer including dives sites, high quality meals on offer, and marine life you are likely to encounter.
The Tiburon explorer visits some of the most sought-after dive sites in the world including Wolf Island, Darwin Island, and Cousin's Rock (depending on the itinerary). One thing you want from your diving package is great dives sites so ensure you check before hand before committing to a deal.
Each dive site offers different species that you can encounter leaving you just excited for the next one as the first. For those who are interested in doing a night dive then this one might not be for you as under National Parks guidelines night dives and land visits are strictly regulated but there might be a possibility of a night dive.
Surely the main reason you come on a Galapagos liveaboard is to see the amazing marine life on offer. As already mentioned, each dive site will provide you with different animals, meaning one exciting island to the next. Both the Wolf and Darwin Islands have some of the most amazing creatures underwater. 
You will get the opportunity to dive and swim with the likes of schooling hammerheads, sea lions, sea horses, Galapagos sharks, marine iguanas, and the incredible whale sharks plus many more. When visiting Cousin's Rock, you will get the chance to visit the giant tortoises in their natural habitat. Are you excited yet?
After you have enjoyed the day in the water you can sit back and swap stories with the other guests about the animals you have saw whilst basking in the glorious sunset.
All rooms are sharable onboard this 16-capacity yacht so you can get to know other divers or keep yourself to yourself. This majestic explorer has either the stateroom on the main deck or the suite on the lower decks, either way they are both luxurious to stay in. The room has either twin beds or queen beds depending on if you are sharing or not. They are all a private en suite bathroom and are air conditioned.
The main deck cabins and lower deck cabins include fresh-water showers and have windows in every room so you can maximise the views of the Pacific Ocean.
If you do not want to spend the evenings in your room, then you can enjoy the communal space on offer. You can enjoy the air-conditioned salon on the main deck, furnished with dining tables, TV, CD/DVD, and lounge area. There are also sunbathing areas on the top deck which has ample storage space and a hot tub where you can interact with likeminded people about your day. This all sounds like a dream, doesn't it?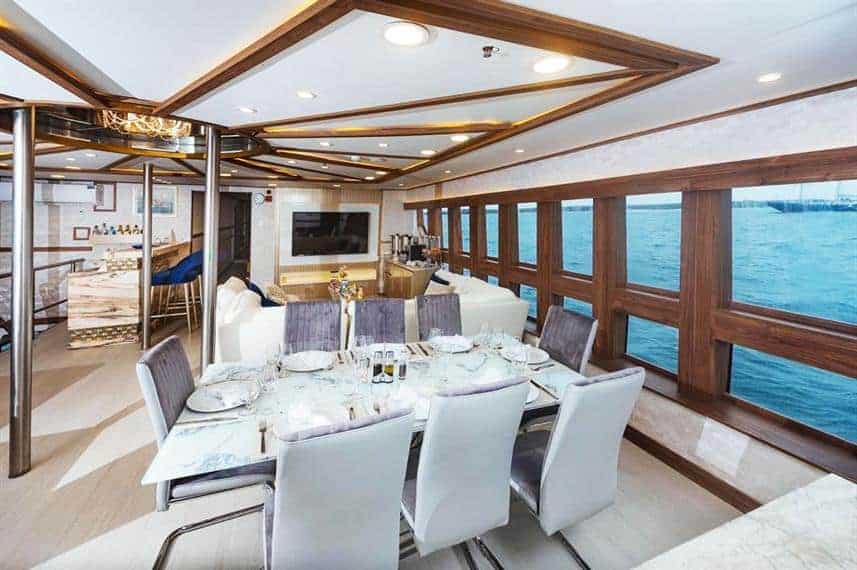 How is the Food on the Tiburon explorer?
Yes, you want to swim with the whale shark, eagle rays, and silky sharks, but you also want to eat great food. Eating tasty food only heightens our experience so let's take a look at what's on offer on the Tiburon explorer.
You will be served three meals a day with breakfast consisting of eggs, cereal, toast, and fresh fruit. Lunch and dinner will consist of lots of salad, potatoes, chicken, pork, and rice to keep you full for the diving. If you have specific dietary needs, then be sure to indicate on your booking form. It does also state that they can find it difficult to find low-fat or soy-based products so this is something you will need to consider.
What Do I Love About the Tiburon Explorer?
I love that the boat is spacious and explores some of the best sites in the Galapagos Islands, even the Northern islands. It has a well-equipped large dive deck outfitted with individual gear bins, air, and nitrox filling stations. The hot tub adds a significant amount of comfort as you get to relax in it whilst on the way to your next scheduled destination.
My favourite part of the diving is without a doubt being about to dive with the whale sharks and witnessing the sea lions. There are many more wild life to see such as coral hawkfish, and blue footed boobies.
Do I Need to be a Good Diver for This?
It is recommended that you have 100+ dives for this as they want divers to be intermediate level as the ratios are 8:1. With approximately 17-18 dives over the week it is best that you are a comfortable diver. You can be provided with a private guide if needed for an extra price.
Not only does the Tiburon explorer liveaboard offer stunning views and phenomenal marine life to swim with, but it also has some great specifications on board. With only 16 guests on board, you will have ample space to enjoy the luxuries on the boat such as:
Tiburon Explorer is a well-known Galapagos Liveaboard that's respected for a reason – this should be one of your considerations but it is on the expensive side. 
All liveaboards in this area will be costly but this particular choice is one that's known for being lavish, thanks to the hot tub and top-class service on-board.
Recent Posts