Raja Ampat is a sought-after destination for scuba divers, but it can become pricey. 
I've already listed all of the best Raja Ampat liveaboards, but here you will find my favorite and affordable ones. 
Check out the Empress II for the perfect balance of comfort and affordability.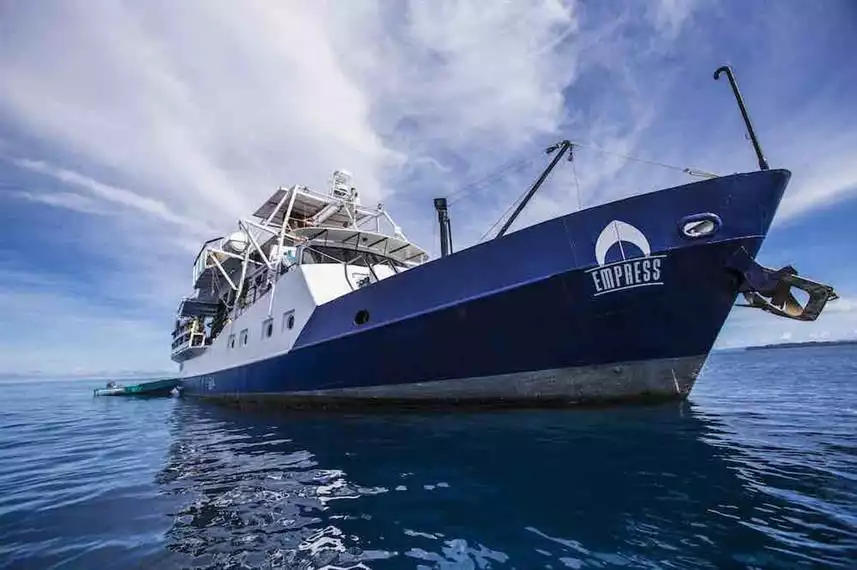 If you're interested in seeing the best of Raja Ampat and dive areas nearby, you could do worse than take a trip on the Empress II. This Liveaboard explores the Komodo National Park, the Forgotten Islands, and Ambon. 
The ship itself is huge and has room for up to ten guests. If you are going alone, you can enjoy one single cabin. Or, you can always share one of the three twin cabins or the one triple cabin, which is great for small groups of friends! 
In fact, as liveaboards for friends go, there's plenty of room, two different sun decks, a spacious living room, and even a shisha lounge! 
And you can get all of this for about £209+ per day (prices will vary depending on the season you travel)
Specifications: 
Camera station 

Daily housekeeping 

BBQ area 

Charging stations 

Renovated in 2016 

Two 8-cylinder diesel MM TD 232 V8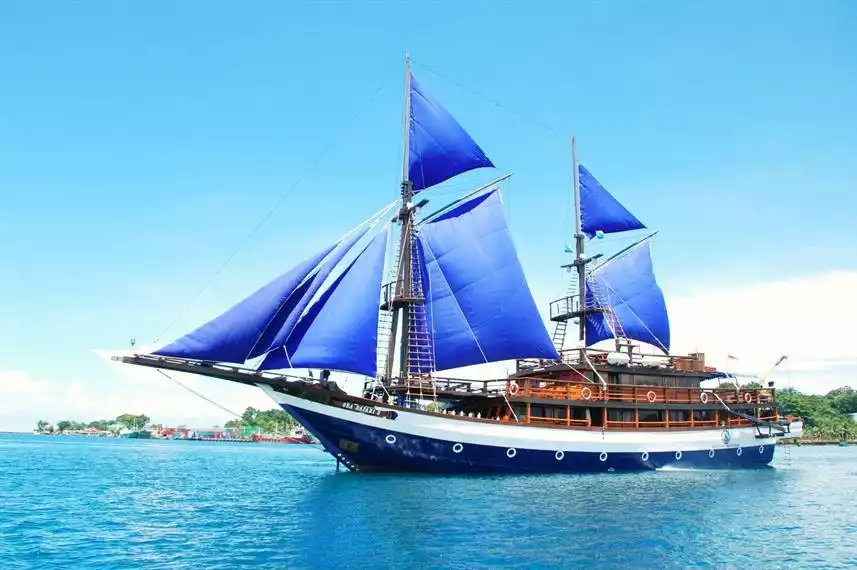 What's a liveaboard without a little style? The stunning Sea Safari 8 hosts 23 guests across 12 cabins.
And, while that may sound like a lot of people for one liveaboard, rest assured that the Sea Safari 8 balances luxury and comfort without making anyone feel crowded. Diving Raja Ampat is affordable and easy, and you've got access to WiFi throughout your trip.
This liveaboard explores Raja Ampat and Sorong and can take you on a three-day, two-night trip or a longer and even more interesting seven-day, six-night trip.
At just £257 per day, you'd be hard-pressed to find a better deal for such a voyage! Again, always check for the latest prices, as these are likely to change.
Specifications: 
Naturalist itineraries 

Ensuite bathrooms 

Renovated every year 

One Cummins KT-19 = 272 KW 1800 RPM 

Boat length: 34.35 metres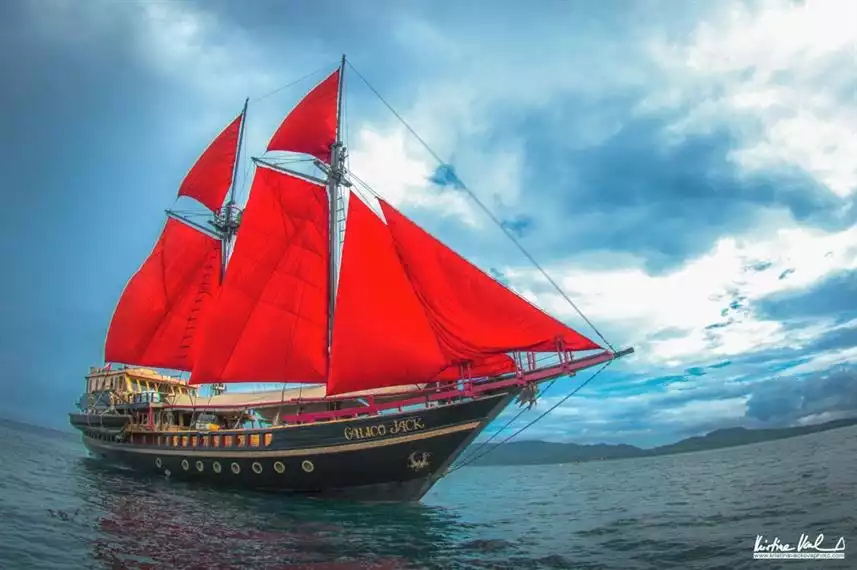 Have you ever wanted to board a pirate ship? But with really good food, a warm, comfy bed, and incredible diving opportunities? The Calico Jack should tick plenty of boxes while you explore some of Indonesia's best-loved dive sites.
This stunning ship can host up to ten people scuba diving for 12 days and 11 nights. During the trip, you'll have the opportunity to explore Raja Ampat and Sorong, with the chance to see marine life such as grey reef sharks and Raja manta rays.
This liveaboard is more than suitable for divers and non-divers alike. So, if you want a relaxing holiday with family or friends, with just a few of you going to explore the world under the sea, you won't have to pay too much for the privilege.
It's also easy to spot thanks to its signature red sails, which make for incredible photos!
However, it is important to note that, while it is still at a very reasonable price, it is still the most expensive liveaboard on this list. It is likely to cost from £250 each day, which definitely adds up on a trip that lasts 12 days! Budget ahead and you'll still have a great time on this Raja Ampat liveaboard.
Specifications: 
Liveaboard built in 2014 

5 cabins 

Two 220 Hp Mitsubishi diesel engines 

Outside showers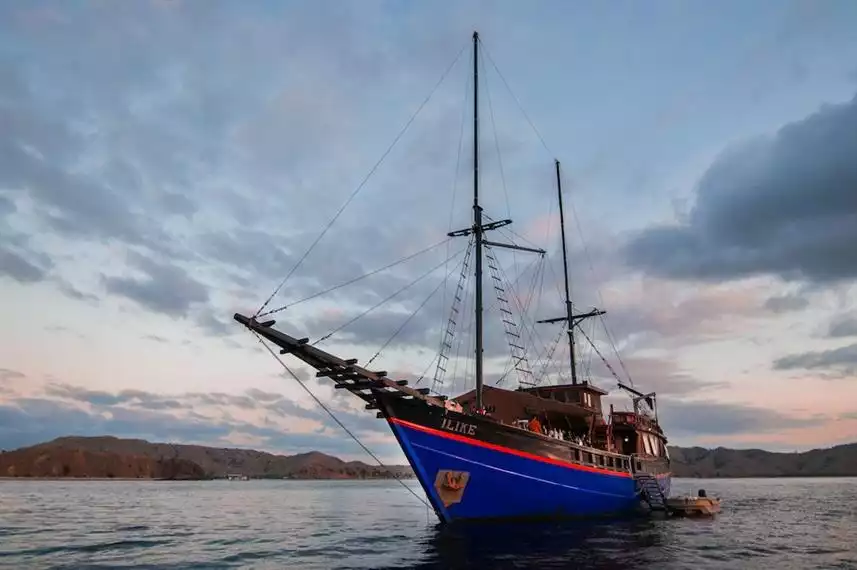 All I can say about this liveaboard is " I Like" (it's aptly named). This particular ship takes dive trips around Raja Ampat and Sorong for up to ten days and nine nights.
This particular liveaboard diving experience runs year-round with its fantastic crew, meaning you can book a trip anytime to suit you!
While the Ilike holds up to 16 guests, you'll never feel claustrophobic onboard. There's plenty of spacious areas and common rooms where you can get to know your fellow divers.
This is perhaps the best Raja Ampat liveaboard on my list when it comes to balancing dive site variety and price. It's often the cheapest of the Raja Ampat liveaboards listed here, but you'll get the chance to explore up to 75 amazing diving excursions across your stay – it's great value for money.
Specifications: 
8 cabins 

Two 320 PS/6 cylinders/11051 ccm 

Observation deck 

Indoor saloon 

Outdoor dining 

Ensuite bathrooms 
Can beginners dive in Raja Ampat? 
Yes, beginners can certainly dive in Raja Ampat! However, it is worth noting which dive sites are best for beginners, especially if you want to work your way up to spotting some gorgeous whale sharks and healthy reefs.
Some of the best dive spots in Raja Ampat for new divers include Fansisco's Peak, Manta Sandy, Mioskun, Frewin Island, and Fam Island. These dive sites are typically easy to navigate and aren't considered dangerous for beginners – whether on day or night dives.
The great thing about the liveaboards mentioned above is that you will get the opportunity to visit an abundance of dive sites. You can easily check with the crew to see which ones are safest, ensuring that you are perfectly suited to the dive.
It is also worth mentioning that Raja Ampat has its fair share of more dangerous dives, too! While it's a great place for technical divers, beginners should avoid diving in certain areas alone. Areas such as Mike's Point, Sardine Reef, Blue Magic, and Cape Kri are all better suited to experienced divers.
Indonesia is one of my favourite diving holiday spots, full stop. Raja Ampat holidays are particularly colourful and memorable, meaning I seriously recommend you check out as many dive sites as you can.
The area is particularly well-known for its great visibility, even under the water. You can easily explore fish life and reefs across the top diving sites in the region without much support. And, if you're fortunate enough to have them on your dive trip, even the night dives prove to be just as easy to navigate. If you have dive guides with you to help, even better!
Raja Ampat is made up of stunning local archipelago scenes and uninhabited islands. Most dive groups do take the time to explore as many islands as possible when they're not scuba diving, as a way of exploring even more of the natural beauty and culture of the area. While the gorgeous coral fish deserve all the time you can offer them, it's always good to get out and stretch your legs.
How deep do the Raja Ampat dives go? 
Depending on the dive site you go to and the liveaboard you dive with, you can explore dive sites that go from about 30 ft deep to about 130 ft deep! It's ideal for beginner divers finding their sea legs, as well as experienced divers who want to try and go a little bit deeper.
The more shallow dive sites around Raja Ampat include Kakatua (up to 18m deep), Manta Sandy (up to 18m deep), and Manta Ridge (up to 20m deep).
Some of the deeper ones include Batu Lima (up to 35m deep), Mike's Point (up to 35m deep), and Cape Kri (up to 40m deep).
However, it is important to remember that depth isn't always an indication of difficulty! Some of the more shallow dive sites have very strong currents and are definitely not great for beginners. That is why it is always best to check the dive sites before going to ensure that you are fully prepared for what's to come.
What marine life can you see in Raja Ampat?
Raja Ampat is rife with beautiful corals and creatures such as coral fish, pygmy seahorses, turtles, manta rays, crocodile fish, and even large schools of grey reef sharks.
You'll also get the chance to meet more amazing marine life such as whale sharks, and some of the most colourful fish you'll ever hope to set eyes on. Whether around the Dampier Strait, Misool Island or Cenderawasih Bay, there's always likely to be a host of aquatic safari sights.
Why not take some time off the sun deck of your chosen liveaboard and take in some colourful fish?
What are the main islands in Raja Ampat? 
While Raja Ampat has over 1,000 islands (about 1,500, to be more precise), there are four main islands in the area. These include Salawati, Misool island, Batanta, and Waigeo.
During your time on the cruise, you will likely get the opportunity to visit some of the uninhabited and populated islands, and they're definitely worth a look! 
When is the best time of year to go on a Raja Ampat Liveaboard?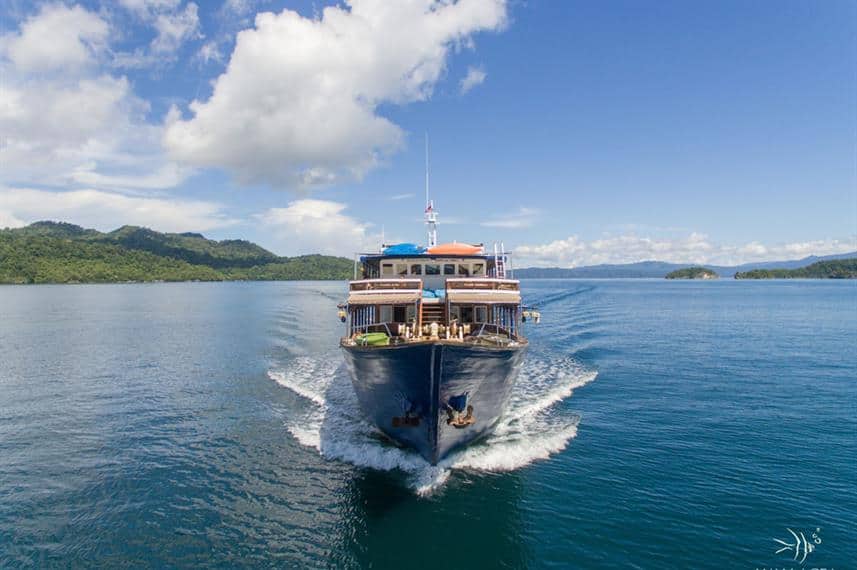 As mentioned, some Raja Ampat liveaboards provide trips year-round, so you can book your cruise whenever best suits you.
However, if you want to get the best out of your trip, it's best to go liveaboard diving between October and April. You'll have the best visibility at this point and should get perfectly good weather throughout! At most, you might feel some light rain, but you can trust me when I say that it'll be welcome.
You'll find that the best Raja Ampat diving experiences offer different trips and excursions based on the seasons – meaning it's well worth looking at the full itinerary across the year if there are specific dives you'd like to go on.
Is it Worth Booking a Liveaboard in Raja Ampat?
Yes, it's definitely worth booking a liveaboard in Raja Ampat! Between the colourful fish, soft corals, warm, crystal clear waters, and incredible island scenes, it's absolutely worth taking a cruise in the area! 
Raja Ampat is perfect for passionate divers. Even if you are a beginner, you'll want to discover as much of the area as possible, which is where liveaboard diving comes in. You will be able to experience far more than if you just went to a dive school.
Booking a Raja Ampat liveaboard with dive guides is definitely the way to go. They will know all of the best spots, both on land and in the sea, and will show you the best way to experience your trip.
Can I Hire Diving Equipment on a Raja Ampat Liveaboard?
In many cases, yes – you can hire diving equipment and nitrox while sailing on board a Raja Ampat liveaboard. You may even find that there's a full upper deck where you can suit up and make sure you're connected with everything you need before diving into the Banda Sea.
You'll normally want to hire equipment while cruising if you want to save on carrying too much bulky equipment when you travel. Focus on exploring the coral triangle instead of dragging cumbersome diving kit with you!
Recent Posts