You want to learn to dive? This is exciting, it is 100% the best thing I've ever done!
Scuba diving certainly provides you with many priceless memories but there's no denying that there are lots of costs when starting out. 
Scuba diving costs is the amount it costs you to learn to dive, enjoy a one-off dive or buy the diving equipment. Whether you're looking to dive in India, The Caribbean or the US – I have listed how much it will cost you to dive.
Before gaining a scuba diving certification you will need to calculate the price of the open water course, discover scuba dive and equipment. 
Let's take a look at how much learning to dive is likely to cost you…
How Much Does Scuba Diving Cost?
Scuba Diving costs between £150 ($192) – £450 ($570). This depends on the location. I take a look at how much each location costs and the cost of dive gear.
When figuring out diving costs you will need to identify what it is you're searching for first. Do you want to merley experience one day of diving? That would mean that you price up the Discover Scuba Dive, a one day dive experience that offers no scuba diving certification.
If you want to qualify as an open water diver, then you will want to pick out the open water course and learn to become a scuba diver.
You also have the option to relish the e-learning that PADI provide online. The online course is currently available for £128.55 ($160). This cuts down on classroom time, which is great for holidaymakers, preventing you eating into your time on the beach and sightseeing.
As much as it's a great addition, in my opinion, it cannot replace the time with an instructor. Connecting with a professional scuba diver is indispensable and you will pick up things that you would otherwise miss out on.
Plus, you will also need to factor the costs of the equipment, pool, certification fees and open water dive. Again, these costs will depend on the location, in the Caribbean you're likely to pay an additional £250-£300 for the above. In places such as South East Asia, you are likely to add £150-£200 to the e-learning cost with the other requirements we discussed.Scuba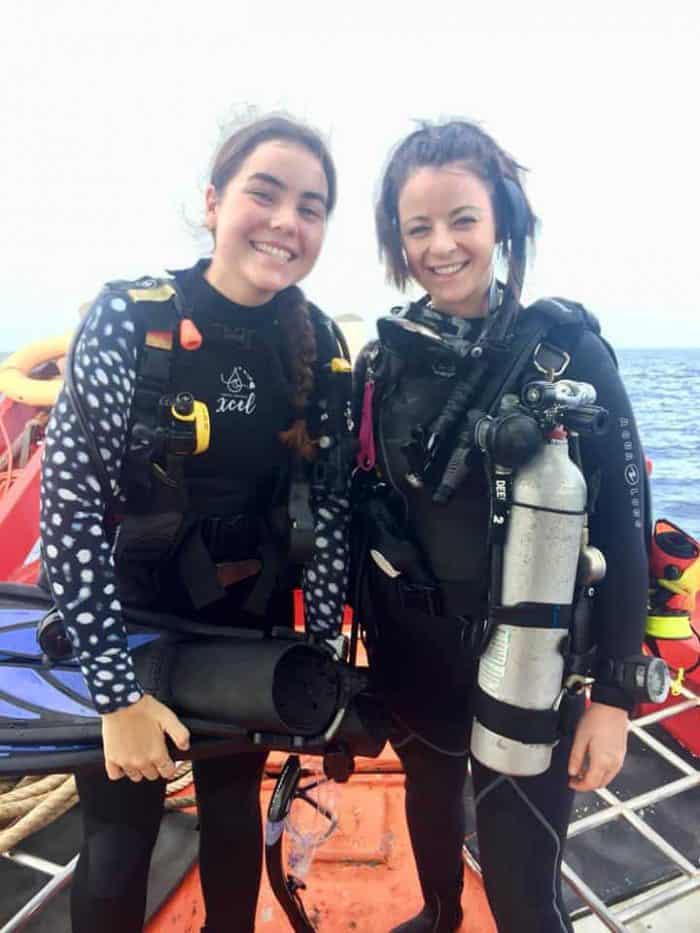 Once you add dive certifications to your arsenal, you can dive from anywhere in the world. Learn to dive when you get certified and scuba dive around the world. 
The cost all depends, there are numerous factors that play their part. Where are you learning to dive?
You can learn in a number of beautiful locations- Thailand, Indonesia, the U.S, Bahamas, Belize or even in the UK.
Here are things likely to affect the cost of diving:
Are you going to become an PADI Open Water Diver? This is a three-day course, that allows you to get certified and scuba dive almost anywhere in the world with a dive buddy.
If you'd rather just a one-off experience, it is significantly cheaper to enjoy the Discover Dive, a one-time dive with an instructor.
Where are you diving? Thailand is super-cheap whereas the Caribbean is pricier.
If you are looking to dive for an ongoing period, it is best to buy equipment. Use my guides to find the best dive gear.
If you have not tried diving yet, make sure you read my blog about what beginners should know about Scuba diving.
How Much Do Scuba Diving Lessons Cost?
As previously mentioned, even if you opt for online course- you will need to pay for the confined pool and open water training. This will cost anywhere from £150 ($192) – £300 ($380) on top of the e-learning.
For specifics on the prices, read on as I take a look at the costs of scuba diving around the world. 
Scuba Diving Equipment Cost
When learning to dive, you can borrow a kit from the dive school. If you're looking to kit yourself out, it will cost you between $1,000 and $5,000. If you're on a budget then you may want to look at second-hand gear. 
I have a full guide on the essential scuba gear equipment, what you need to buy first and what you can buy pre-owned. 
Here's the breakdown on the costs of different scuba gear. 
Dive Computer
Dive computers are an essential part of the scuba list but it's well known that they're expensive. You can spend as much as $1,000 and as little as $100 if you're willing to buy second-hand. But you're likely to spend $300 – $500 on a brand new computer that works well and is reasonably priced. 
Scuba Mask
Scuba masks cost between $50 – and $400 from new. 
Scuba masks are important to own, as many divers have their own preferences on the fit. It takes a little bit of time to get used to them. 
BCD
BCDs are not cheap – you are looking to spend a minimum of $300 and some reach heights of $2,000. 
BCDs are one of the most important pieces to your kit lineup yet they can be left until last. Many dive schools will lend you a BCD and they are easy to fit. 
Fins
Scuba fins are the easiest to buy second-hand, but if you want to buy brand new, you will be looking to spend a minimum of $50, although I'd say for a good pair you will want to budget between $150-£200. 
Wetsuit
Wetsuits should be bought new as they are difficult to get the right fit. Wetsuits cost from $75 to $500, I'd recommend checking out Aqualung for this amount. 
Drysuit
Not everybody needs a drysuit, they're specific for frigid waters and are pricey. My one cost over £500 ($650)and you will be lucky to find anything under $300.
Scuba Torch
A scuba light is usually around $75 and is something you'll want in your dive bag whether you night dive or not. 
Dive Knife
Again, it is a diving accessory but one that's much needed. It adds a lifeline, giving you the option to cut out of any entanglement. 
A dive knife will cost around $50 and significantly less if you can find a pre-owned one in good condition. 
Scuba Reg
The cheapest scuba regulators can be bought at $160 and can cost up to $2,000. 
Compass
A diving compass is easy to get hold of and you can buy them second-hand for next to nothing. Brand new they cost around $50. 
Cost of Diving in Thailand
You can learn to dive in Thailand for as little as £290 ($370) for the entire course to become an official open water diver.
Enjoy open water dives once you get certified and enjoy scuba diving the land of smiles. You can make a living out in Thailand as a scuba diver, plus, they have some of the most stunning scuba diving sites.
It's a sought-after location that continues to boom. One of the attractions is how accessible it is to dive. It's a great place to Scuba dive but be mindful on professionalism. Regardless of the country that you decide to learn in, you want a top-quality outfit.
I learned in Koh Tao; a beautiful island which is known for affordable PADI courses. I recommend Master Divers, an organised and professional centre with experienced instructors that go the extra-mile.
There are other places available to check out in Thailand- Koh Lanta, Koh Phi Phi and Khao Lak.
Thailand has a great selection of liveaboards to choose from too.  These are all inclusive package trips lasting from 2 nights – 10 nights plus.  Most of these liveaboards have a team of instructors on board to take you through the courses, as well as some fun diving.
Have a look at my Best Diving in Thailand to find out more.

Cost of Diving in South East Asia
Diving in Malaysia costs £230 for an open water course. Vietnam diving will cost you around £325 ($416).
Obviously, Thailand is in South East Asia too, but I also wanted to take some time to appreciate some of the other gems in the region. Vietnam is less appreciated for its diving spectacles, yet you can enjoy lots of amazing dive sites for a great price.
Cost of Diving in Indonesia
Affordable Scuba adventures are available in Indonesia for as little as £310 ($397). This depends on where abouts you visit, you can check out Gili T amongst many other locations. This cost will enable you to enjoy an open water course and become certified. 
There are lots of different schools in Indonesia, it's recognised for the diving havens in the area – despite that 
Cost of Diving in Bahamas
Bahamas is more expensive for diving in contrast to Asia. It will set you back around £545 ($699) but you will be privy to breath-taking views. Bahamas is on the bucket-list for many scuba divers, if you manage to learn here, you are one of few lucky people in the population.
Cost of Diving in the Caribbean
Costs of diving in Cayman Islands, Cuba and other Caribbean locations will cost a little bit more than the average cost.
Open water courses in the Caribbean range from £400 ($512) – £600 ($769). It may be best to look for reputable companies. Check out Royal Caribbean or visit Liveaboard.com. You are also able to pick out open water course that come with the accommodation.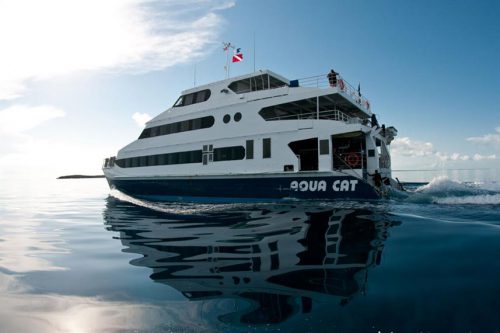 Cost of Diving in Maldives
The sought-after diving in Maldives is not cheap, but it may be more affordable than you forecasted. You can learn to dive for as little as £467 ($600).
Florida is a place in the US that many gather to dive. You can dive with sharks and also enjoy a number of well-known dive centres. Completing the Open Water Course in Florida will cost approximately £400 ($550) but you are free to shop around for the best prices.
Diving in the UK seas isn't something that many think about. But there are some beautiful sights and dives to enjoy. Diving in Plymouth will cost you £375 ($510).
Also, check out Cornwall, Pembrokeshire in Wales or dive sites in Scotland.
Cost of Dive Gear for Beginners
When choosing to dive and committing to the open water course that PADI provide, you will usually get the gear rental for free or at least included in the price.
Once you pass and go on to dive elsewhere, you will incur rental costs each time. It's exciting to get your own comfortable gear that is yours and is personalised to fit you.
I recommend asking around for trusty second-hand equipment at first but eventually you will want to buy your own. Take a look at my recommendations for best scuba fins, dive computer and why I recommend the Aqualung Axiom BCD.
How Much Does Scuba Tank Cost?
The Open Water will already take this into account. When paying for a course, you will usually get two full tanks per trip, refreshments and fruit are included as well as gear rental and fuel costs.
You may want to purchase your own tank at some point, especially if you will be diving often and independent of a dive school.  If you do, don't forget that all scuba equipment will cost to maintain, including having your scuba tank inspected.
How Much Does it Cost to get a Scuba Certification?
Let's sum it up, as you can see there is a range of costs depending on the area and dive centre. You can get your Open Water with PADI for £240 ($307)- £600 ($769). When getting your certification, the dive school will provide you with the dive gear you need too, although some divers buy their own equipment to get used to it whilst learning. 
Recent Posts