Want a job that allows you to travel the world and work pretty much anywhere?  
Then becoming a Scuba diving instructor may be something to consider.  There is a huge amount of job satisfaction teaching students how to dive, but no one said it would be easy!
If you love diving and wish the ocean was your office and the marine life were your colleagues then read on.
Have your days off spent as lazy beach days and enjoy the passion in the people that you teach when becoming a scuba instructor. 
How to Become a Scuba Instructor
There is a bit of a ladder to climb before becoming a certified diver and dive instructor.  With PADI you need to ensure you have certified in the following courses:
Open Water Diver (for a minimum of 6 months)
Advanced Open Water Diver
Rescue Diver
Divemaster
You must also have logged over 100 open water dives before becoming an open water scuba instructor. Once you have achieved all the above, you can enrol on the IDC.  Realistically, don't aim to rush it all.  It took me almost a year to complete the courses and gain enough experience in the water to feel ready for the IDC and IE – and that is quick by many peoples view!  The more time you can spend diving in different areas whilst practicing important skills such as dive planning, dive leading, navigation and rescue scenarios, the better.
If you have never done any diving before, make sure you read my blog on what beginners should know about Scuba diving!
Have a look at this flowchart created by PADI to show their course progression!
How I Became an Instructor
My path to becoming a dive instructor was a bit of a unique one.  I completed my PADI Open Water in 2017 at Master Divers on Koh Tao, Thailand and then my Advanced Diver course in the Similan Islands.  
I then returned to England to complete my Rescue Diver Course and soon after entered a competition online to win full professional level training from PADI and a full set of equipment.  After making it through the rounds, I was named the winner and soon flew out to Koh Tao to re-join Master Divers and embark on my training!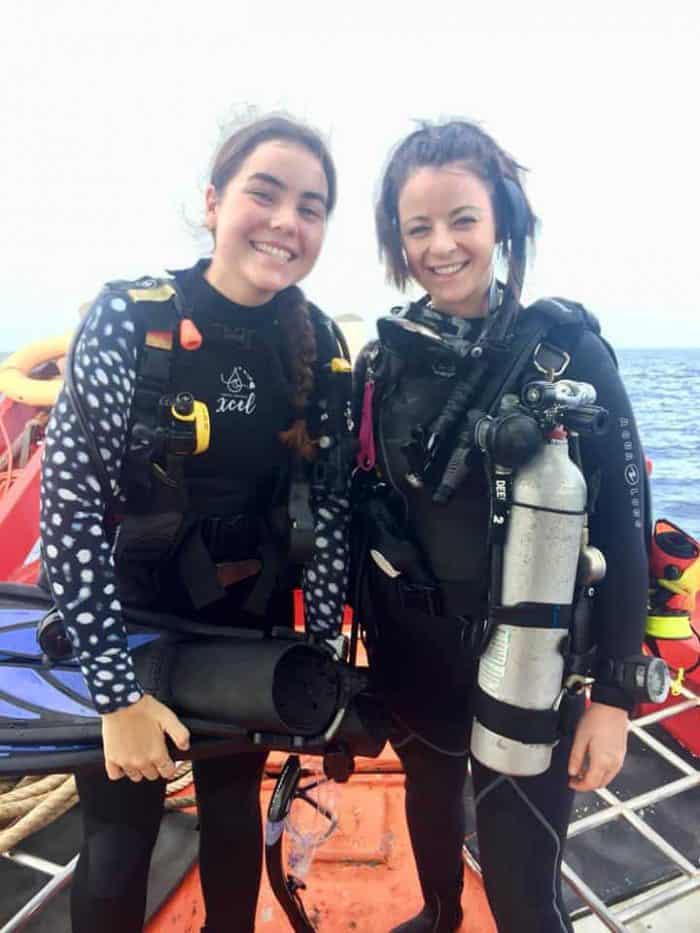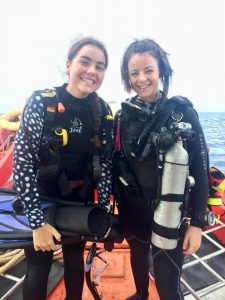 I'm forever grateful for my journey but let's take a look at the conventional route to becoming a dive instructor…
What Does a Diving Instructor do?
Diving instructors teach people to dive.  Not only do they teach beginner and entry level courses, but they are there to assist the progression and continued education of already certified Scuba divers. 
There are lots of different subcategories within the dive industry ranging from technical divers right through to military divers.  However, I am going to focus mainly on recreational diving in this blog.
Working as a dive instructor can be quite a challenge.  But with the challenge comes huge amounts of rewards.  The days are long, with early mornings and late finishes and depending on where in the world you choose to work, can often be in hot climates.  
There is a lot of manual labour involved too with a large part of your time spent planning the logistics of the training course that you may be teaching.  It is an equipment intensive sport, and part of our jobs is to maintain the tools we use!  There is lots of cleaning, carrying and tidying.  Afterall, these are our underwater life support machines!
However, seeing your students progress through their course, gaining confidence each day and knowing that you are creating a competent Scuba diver is one of the best feelings ever. 
Did I mention the fact that you get to introduce this amazing blue planet to your student? Giving them the knowledge, they need to further explore and protect this underwater realm.  No two days are the same at dive sites, so your office changes every day!  And there are so many parts of the world to choose from, the job never becomes old.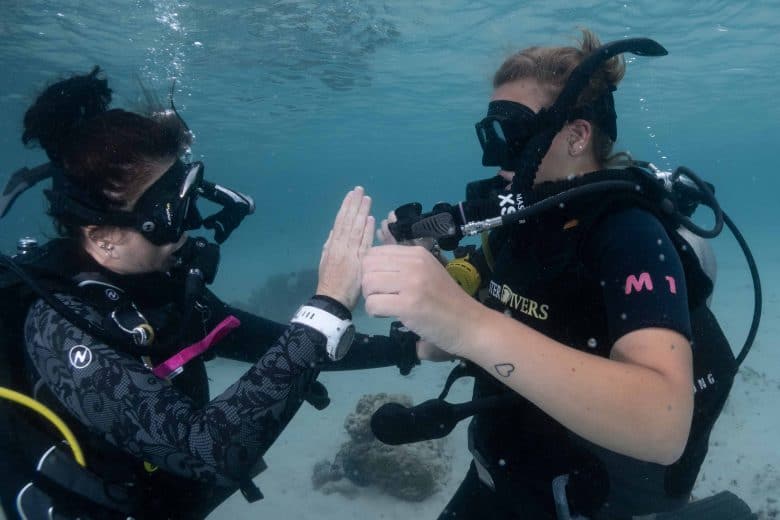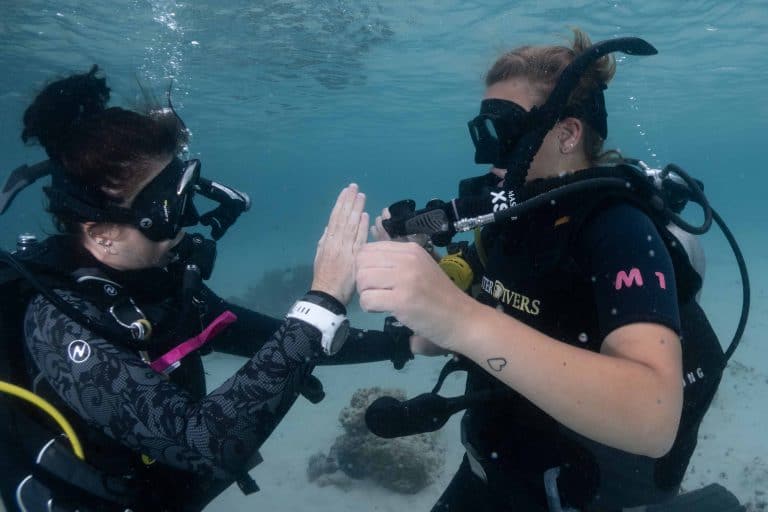 How to Find a Dive Instructor Near Me
If you have not yet started to learn how to dive but are considering making a career change and become an official open water scuba. instructor, then you will need to embark on your very first Open Water Diver Course.  
You can use the PADI website to search for a local dive school or centre near you.  As with any course you may take, familiarise yourself with the centre, their facilities, talk to a few instructors and staff there and make sure it is the right place for you.  Everyone has a local dive center that also have a brilliant social side to become involved in too!
Diving Instructor Courses
There are a number of courses that you can take to become a diving instructor – it all depends which diving agency you plan to train and teach with.  I trained with the internationally recognised agency PADI (Professional Association of Dive Instructors).  However, there are other dive agencies including SSI (Scuba Schools International), BSAC (British Sub Aqua Club), SDI (Scuba Diving International), NAUI (National Association of Underwater Instructors). 
If you are already a certified Scuba diver, then you will probably be aware that it doesn't really matter which agency you train with, especially for the entry level courses.  On the other hand, they do have differing standards so it is important to do your research and obviously aim for the agency with the highest standards.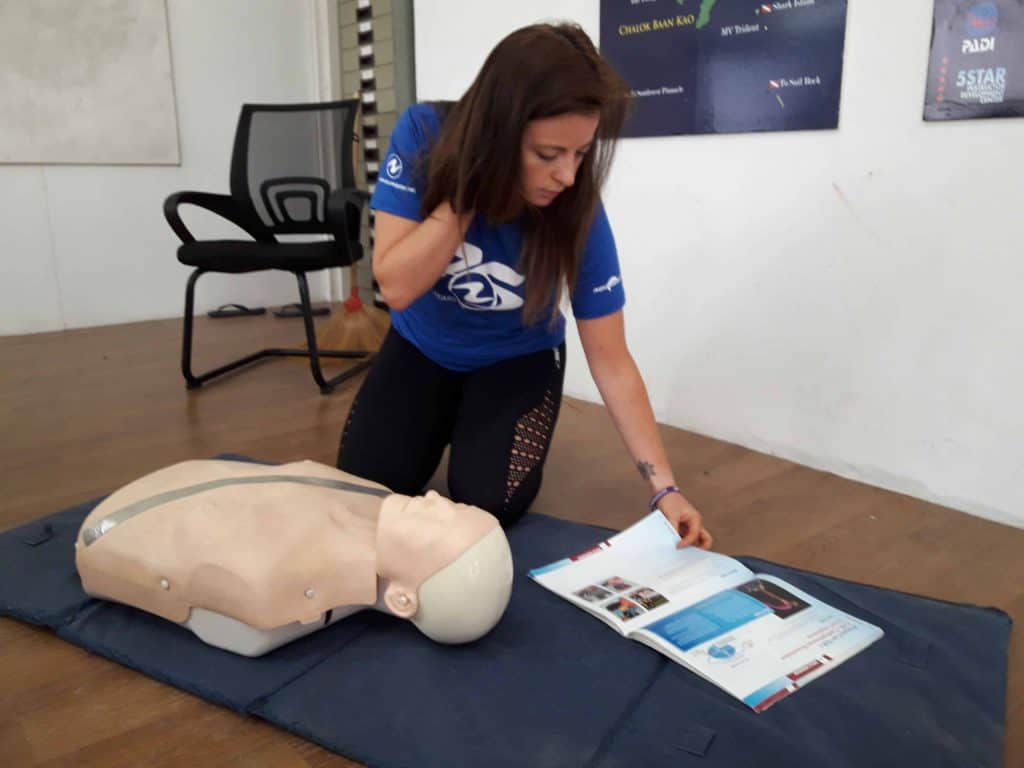 The PADI Instructor Development Course (IDC) that I enrolled on really set me up well for the final part – the Instructor Exams (IE).  The IDC lasted about 2 weeks and was an intensive course.  Made up of various in-depth lectures, Knowledge Development presentations and practical in-water training and scenarios – yes it was tiring!  During this time, I also did the Emergency First Responder Instructor course which enabled me to teach the Emergency First Responder course. 
The IE ran over two days and consisted off the official exams covering theory and practical elements to teaching Scuba.  I remember dreading the exams, yet they were no where near as bad as I thought and honestly, it was a lot of fun and the Examiners were a good laugh!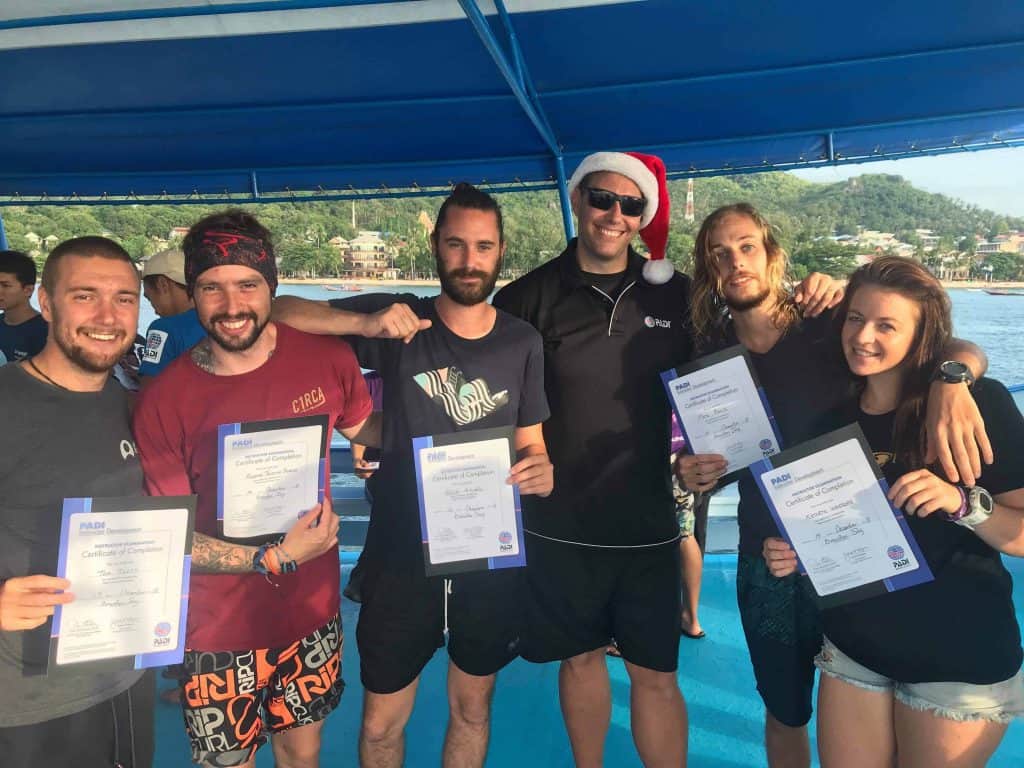 How Much Does It Cost to Become a Dive Instructor?
Learning to dive up to professional levels is not cheap, and that does not change one you reach the professional level courses.  It varies across the world dependent on location and then varies even more between dive schools.  Often, the more expensive dive schools offer the highest standards of teaching and health and safety.  It is certainly worth paying that bit extra to ensure that your safety is a priority and that you will leave having had the best training possible.
Koh Tao is an island with plenty of dive schools to choose from, some offering professional level courses for as little as £600 up to £900.  Some centres, like Master Divers, offer multi course packages which are an excellent option and will save a bit of money in the long run.  For example, if you have never dived before but want to make it to Divemaster, you could enrol on the PADI Open Water to Divemaster Package which runs over a course of 6-8 weeks for under £1,900.  This saves a substantial amount of money compared to if you were to do the courses separately.  And by the end of it, you will be a certified Divemaster and in the strong position to find a job as a Divemaster anywhere in the world.
If you are thinking of becoming a dive instructor, click here for more detail on what to expect from a dive instructor salary.
Where to Learn How to Become A Diving Instructor
Well, the world is your oyster!! There are dive schools all over the world offering professional level courses.  Look out for the PADI 5 Star Instructor Development Centres in your chosen location and give each one of them a visit.  It is really important that you gel well with the centre, the staff and the Course Director.  Ask yourself questions like;
How experienced is the Course Director?
How much preparation does the centre provide you with before the course?
Are there quality facilities at the centre?
What are the group sizes like?
Do they offer any support with continued education?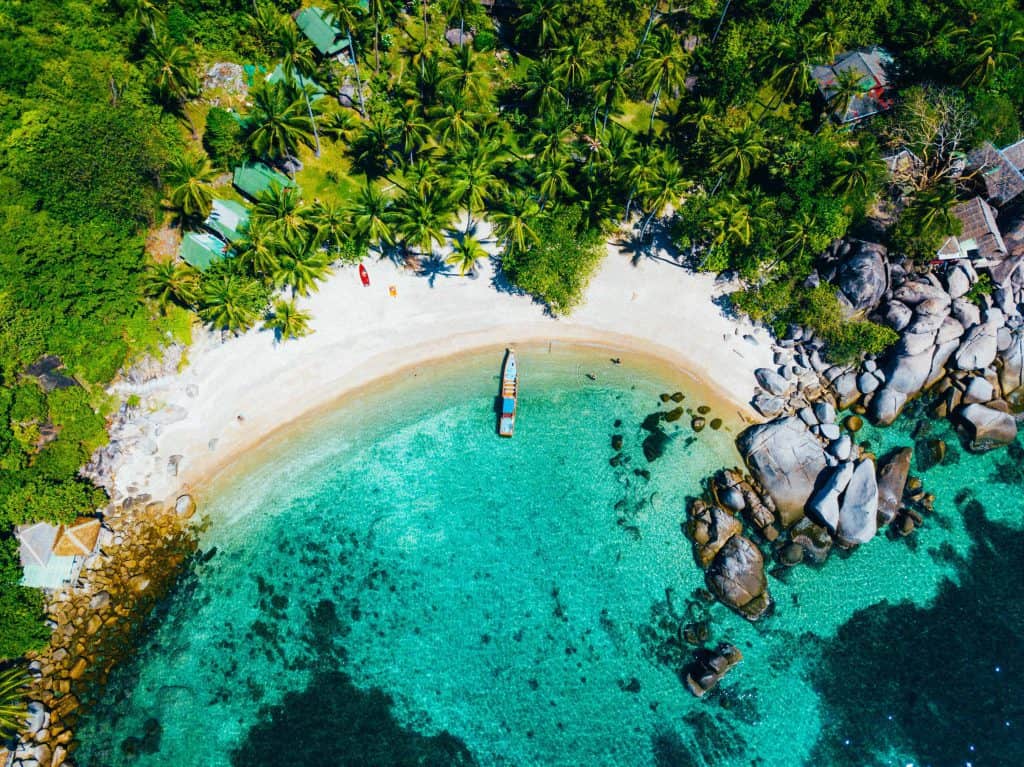 In my personal experience, I did my IDC at the dive school I did my Open Water Diver Course with.  I was familiar with the school, location and most of all, the instructors.  Yes, I was a bit of a strange one as I did win all my training through the competition that they held!  None the less, even before the competition went live, I had already made a loose plan to be back on Koh Tao and doing my Divemaster with Master Divers before the end of the year.
I have listed some locations to consider below considering both financial and lifestyle aspects, along with the pros and cons of that particular destination.
Egypt
Thailand
Philippines
Maldives
Malta
Australia
Indonesia
Mexico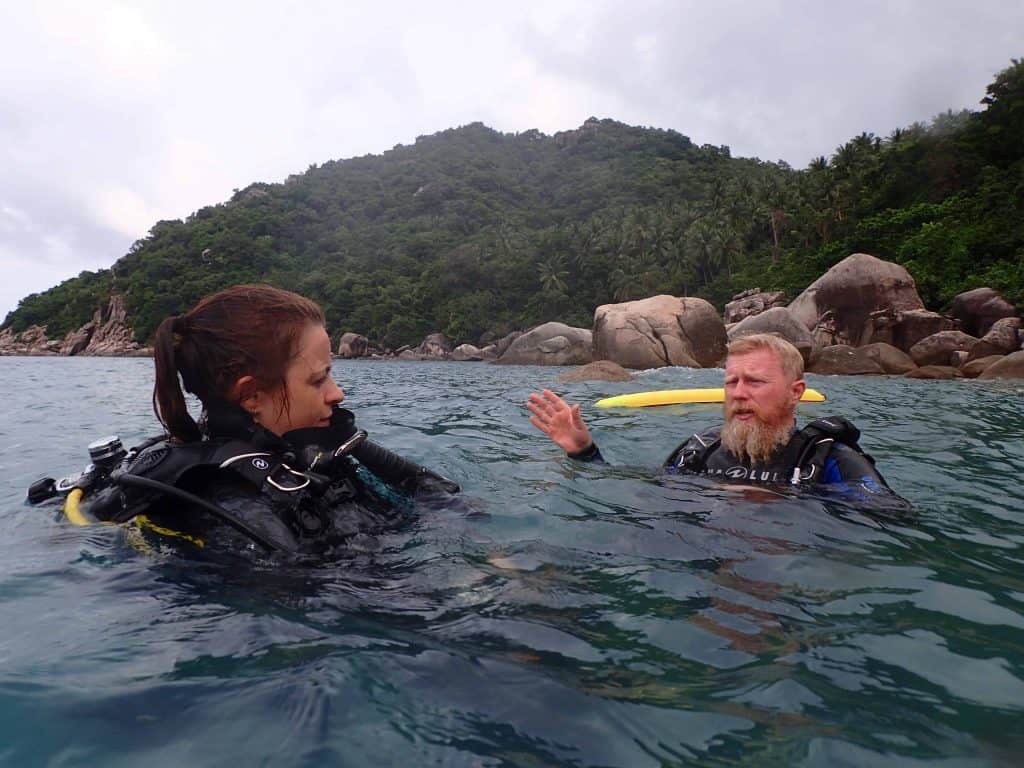 Planning for Your Training
There is a lot of planning that is involved in becoming an instructor, especially if you decide to leave your home country to train.  It is really important to do plenty of online research into the location that you are going to, and the dive schools that you are considering.  Ask around, post on forums for feedback and recommendations, speak to people who have already done their training there and ask them what it was like.  You want to build up a comprehensive picture of what each dive school is like and whether it will suit you.  I advise speaking directly to the dive schools too, so spark up an email conversation and ask for as much information as possible.
Some other things to consider are listed below:
Travel Insurance
Dive Insurance
Equipment – will you be buying your own before your course? Bearing in mind that most dive schools will expect you to have your own set of dive equipment once you have certified as a dive instructor. You will want to get Fins, a BCD, Dive Computer and Regulators etc..
Accommodation
Visa
Recent Posts