Scuba diving has a number of career opportunities but can you earn enough to sustain yourself or can you earn financial freedom?
A dive instructor salary can be as low as $400 USD per month and as high as $10,000 USD per month. It often comes down to your location, experience and the job role. The most likely dive wage will be between $1,000 -$2,000 monthly.
Not only have I interviewed and spoken to a range of dive instructors with different levels of experience that work in completely different climates, but I have also worked as a dive instructor too – I used to earn between $40 – $80 per day when I worked in Thailand and was on a $23,000 salary in the UK.
Imagine getting paid for something that you're passionate about! But as much as we do it for the love, we need to get paid enough too!
What Factors Affect Your Dive Salary?
There's a huge discrepancy in what scuba diving instructors are paid. This comes down to the following important factors: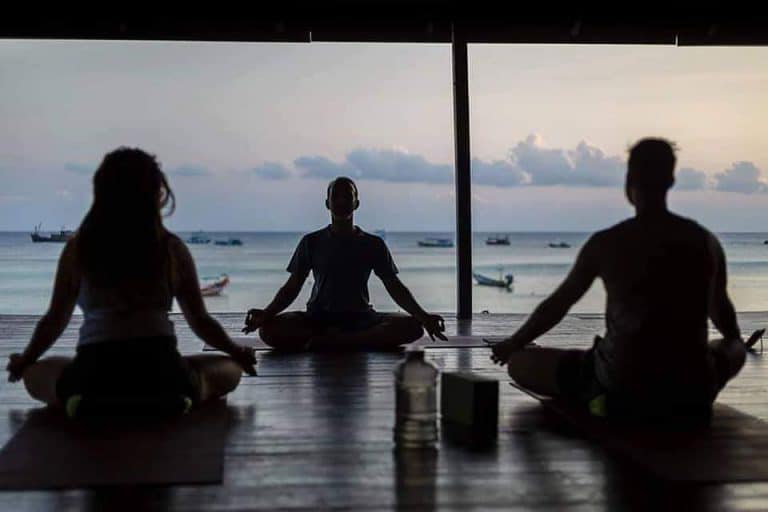 Where you're based is the number one factor when it comes to a scuba diving instructor job. Many dive instructors flock to hotter climates but sometimes the dive centres in these countries don't have the budget to pay well.
For instance, I worked in Thailand – it's known that you are unlikely to be paid a huge amount but the cost of living is low out there and the lifestyle you lead makes it worth it. 
In contrast, if you work in the US, UK or out on a remote island for a prestigious resort then you could earn lots of $$$.
As with any job, experience is invaluable and as they say, it cannot be bought. The more diving experience you have, the more chance of earning enough money. 
The dive centres I have worked for, often have a senior dive instructor, who gets to take most of the courses (meaning more work for them) and they are often paid a better rate. 
Build up your experience, continue to notch up those dive logs and you will become more desirable to hire as a scuba diving instructor.
Master Scuba Diver Trainer (MSDT) can teach specialities, meaning there are more opportunities for work compared to an open water instructor. 
The more training and experience that you accumulate, could directly impact your purse.
Most people talk about bi-lingual scuba instructors and their importance. No doubt, it helps- but it isn't imperative. You can get by with one language, but obviously, it's an advantage to land some jobs.
This isn't always as important as many make out, but it can help in certain locations and gives you some leverage to negotiate a higher wage. This only comes into it in certain circumstances, if there are lots of Spanish customers and you're one of the few that speak Spanish, then it's a great advantage.  
There are specialities that you can add to your qualification. By doing so, you have more opportunities to earn. If you are an expert in photography, add this speciality and teach an additional course or upsell to clients.
You are also able to use your coral knowledge or eco-friendly research to help you deliver a specialist dive course.
Enquire at PADI for more details on specialities.
Here's an interesting video that talks about some of the different factors that can affect your scuba
Dive Instructor Salary in Thailand
Dive instructors in Thailand earn between 20,000 baht ($582 USD) and 60,000 baht ($1747 USD) per month. From my research and personal experience, it's common on most islands to be 20,000 baht each month, this varies depending on the type and the number of courses that you teach.
One of the main things that change the amount you earn as a dive instructor in Thailand comes down to the island and the dive shop that you're working for. If you're lucky enough to find a liveaboard or cruise ship, then you will earn considerably more.
It's important to note that money earned in South East Asia can stretch far, it has a low cost of living and you can eat out for next to nothing. Plus, if you love diving then you will embrace the beautiful underwater world. 
Dive Instructor Salary in Malaysia
Dive instructor salaries in Malaysia are between $500 USD – $1,000 USD per month. 
There aren't as many dive schools in Malaysia as there is Thailand, yet it's still a popular dive destination and they have a range of dive resort jobs that can sometimes pay well. They often provide a package that includes accommodation, food and a salary. 
Dive Instructor Salary in the US
Dive instructor salaries in the USA vary from a low of $20,000 to $100,000 a year. The average pay is a yearly salary of $53,264 according to Indeed.com.
You will get a lot of tips when working in America. It can be hard to get a visa if you aren't from the US. The starting wage is usually $20,000 but if you find some of the prestigious hotels and attractions, you could get a better offer.  A diving instructor salary in the US certainly would not disappoint! They also have many beautiful locations to dive in.
Fixed Salary v Commission
There are two types of wages – fixed and commission based. In the dive industry it's not unusual to see a fusion of the two. Many US companies offer a fixed salary whereas South East Asia dive shops sometimes give you a commission. 
Commission can be given to you for selling a dive or for selling equipment. The most common merge of fixed and commission based salaries is where the dive company pays you a fixed rate and then a commission on any equipment you sell to a customer. 
Liveaboards and cruise ships are well-known for providing dive instructors with incentives. By simply selling a dive trip to a customer, you will often receive a small percentage of the liveaboard trip booking.
What Are the Best Paid Dive Instructor Jobs?
As discussed, there are variables that impact the wage of a scuba instructor. One of the factors is the location, others depend on the facility or centre.
South East Asia– You'll struggle to find high-paying jobs but you can live a luxurious lifestyle for very little. Don't get me wrong, you can get some decent paying positions but you won't be "rolling in it"… There's lot of competition for jobs but also plenty of customers there to dive, and a lot of open water courses to teach!
United States– It's one of the better paid locations. You are limited to California and Florida, if you want the best pay. Working visas are difficult to obtain.
Caribbean– There are many places to dive in the Caribbean, including Grand Cayman, Cuba and more. The salaries can be better than in Asia, but it's all relative. Because the cost of living can be expensive on some islands. Read on for more about Royal Caribbean.
Maldives– With commission and tips aside, you can earn a net salary of around £600 ($800 approx) a month.
Europe– Europe varies, if you manage to find a commercial diving job then you could earn a living. It won't be well paid but you could get a salary of £17,000- £22,000 ($13,000- $17,000 approx). According to SalaryExpert.com– you could earn up to £21,000 ($27,000 approx) per year in Spain. A good wage to enjoy sun, a laid-back culture and a location that isn't too expensive to live.
I've reviewed the best dive spots in some of the above locations.  Click here to learn more about the type of diving and the best diving in Belize and the best diving in the bahamas.  Make sure you do your research on the location that you are thinking about working in!
I think that is one of the greatest aspects to working as a scuba instructor, the sheer variety of locations that you can work in.  Every dive site is different, yet every country is different.  As a scuba instructor, your office literally changes every day!
How to Earn More When Diving?
Here are ways to earn more money from your scuba instructor jobs:
Find a job on a dive resort
Get some commission earnings for selling equipment or booking customers onto trips
Get specialities and additional skills
Get more experience
Continued education (including courses such as PADI adaptive teaching speciality)
Maintaining a good attitude and making a name for yourself in the dive industry
What is the Average Salary of a Dive Instructor?
The average salary of a dive instructor is between £8,000-£18,000 ($10,000- $20,000) and as you can see the amount ranges.
Pick your location from the above and find out how much you could earn as a diving instructor. It shouldn't be just about the money, diving needs passionate individuals who love the deep blue.
Becoming a PADI dive instructor is, quite easily, the greatest thing I have ever done.  If you love scuba diving and want to share your passion with others then go for it!