My Scuba diving journey started just over a year ago.  I was working in Phang Nga, a beautiful province in Southern Thailand, for an international volunteer organisation called Global Vision International or GVI as it is known by many.  I was the Conservation Coordinator for the Coastal Conservation volunteer project based in a small fishing village on the coast of the Andaman sea, which saw many people, young and old, visit from all over the world to lend a helping hand.
" I Won a Competition to Live in Koh Tao, Learn to Dive & Enjoy AquaLung Dive Equipment "
This was not my first experience of Thailand by any means.  I had first visited the Land of Smiles in 1999 at just 11 years old on a holiday to visit family members that were living a few hours outside of Bangkok.  I was in awe of the beauty and majestic culture, the friendly people and the stunning landscapes.  I actually remember saying to myself that I want to live and work here one day which, looking back, is extremely strange for an 11-year-old to say that hadn't got a clue what she wanted to be when she was older!
But that is what happens in life.  Uncanny connections and strange thoughts that can often manifest themselves into real life events, even if it is years down the line.  Thanks to my BSc(hons) in Zoology and a brief volunteer field research experience in Costa Rica with GVI, in 2016 I found myself flying out to a part of Thailand I had not visited before, to set up a new life, one that would be totally different to my life back in England where I had been working as an Education Officer for a zoo.  Don't get me wrong, the position I had at the zoo was extremely satisfying but, after four years, became unchallenging, leading me to seek something completely different.  Wildlife conservation can be a difficult industry to break into.  If it's something you are looking to do, read my blog on how to find a job in wildlife conservation.
Working in Thailand bought along that challenge I was looking for and really pushed me outside my comfort zone.  I worked with hundreds of short- and long-term volunteers and over two years gained a huge amount of life skills and experience than I ever could have wished for with memories that will last an eternity.  Building projects focused on wildlife conservation in Thailand proved difficult at times, however that only meant that those small steps forward could be celebrated as huge achievements, allowing us to appreciate the small things that would otherwise be left almost unnoticed.  Thailand has an array of beautiful and biodiverse landscapes that unfortunately haven't had the recognition or protection that they deserve until recently, so a lot of damage has already been done.  I was lucky enough to initiate and develop a research project on two undeveloped islands a few hours north of Phuket whereby through camera trapping and community surveys, we identified a critically endangered species as well as other species that hadn't been visually recorded on the islands.  This opportunity allowed volunteers to see the real Thailand; the Thailand before tourism hit.
Life-Changing Trip to Koh Tao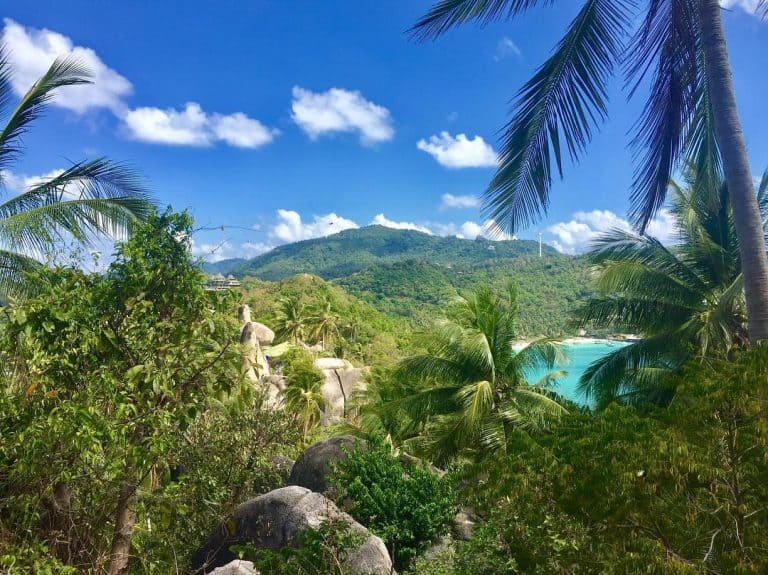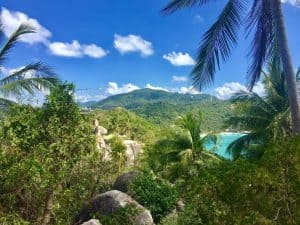 On a short work trip with my manager to Koh Tao, I was introduced to Master Divers, a well-respected scuba diving centre that offers a range of PADI courses.  I had never been diving before, but it was something that I had wanted to get around to.  In fact, I had begun a scuba course whilst I was at university back in 2007, but it was difficult to work around my studies and part time work, and in all honesty, my heart wasn't in it and quit once I had finished the confined sessions.  So, I decided to take some vacation from work and extended my stay on Koh Tao to complete my Open Water Diver course at Master Divers.  Easily one of the best decisions I have ever made.  Aside from having some of the best instruction and safest training possible, I was now allowed to experience a whole new perspective of the ocean.  A perspective that felt as though I was part of it and bought me closer to something which is out of view and unfortunately, for many of us, out of mind.  The psychological and physiological effects of diving soon became almost addictive and after completing my PADI Advanced Open Water Diver whilst on a liveaboard trip in the Similan Islands, I decided that this is something I need to pursue. 
Whilst in England I dedicated my time to progressing through a few more courses whilst working a few shifts a week at a local pub.  I knew it was only temporary and did tell myself that by the end of the year I wanted to be in Thailand completing my Divemaster course – that was the goal.  The dive centre I found in Nottingham, Reef Scuba Ltd., was great and really helped me adapt to this new world of cold-water diving!  I helped the owner start making steps to developing a Project AWARE aspect to the centre and we had several meetings with Nottingham City Council to discuss the possibility of collaborating and cleaning up the rivers and lakes in and around the city.  Reef Scuba Ltd took me through the PADI Dry Suit Speciality and whilst I was completing the PADI Rescue Course I came across a competition run by Master Divers on Facebook.
Master Diver's Life Competition
Master Divers had launched the Master Divers Life competition which offered one lucky winner the chance to qualify as an PADI Open Water Scuba Instructor, taking them through the necessary courses to reach that level and providing them with a full set of top of the range Aqualung Equipment.  Upon seeing the competition advertised I applied and made it through to the second round where I submitted a short vlog about myself and why I felt I should win the competition – watch the vlog here.  The vlogs were voted for by the general public and the 5 with the most votes were automatically put through to the final round along with 5 chosen by Master Divers.  My vlog was one of the ones within the top 5 most voted for and for the last round I wrote a blog based on my work on the islands in Southern Thailand, the importance of community-based conservation projects and the high conservation value that islands hold – you can read that here!
Fast forward a few weeks and I was sat in front of my laptop reading a message saying that I had won the competition!! The dream that I was ever so determined to achieve was finally coming true, much sooner than I had expected.  Four weeks later I arrived in Koh Tao and began settling in and getting ready to begin my Divemaster course at Master Divers.  I found a small house on a hill with an amazing view and soon after my boyfriend joined me, adapting nicely to the digital nomad lifestyle of a self-employed writer.
Since arriving I have dived most days and have almost finished the Divemaster course.  I have learnt so much from this course that It would be silly for me to try and put it into this blog, so I will write one about this shortly.  I'm still not sure where I will end up once I finish the Instructor Development Course, but there is one thing I do know, that I will be spending my days underwater, and simply knowing that makes me extremely happy.
Recent Posts