This exciting Maldives liveaboard is ideal for not only scuba divers but for non-divers too. 
If you're searching for a luxury cruise with the most magical diving you could wish for, then this could be the relaxing fusion you're looking for, but it doesn't come cheap.
With beautiful, white sandy beaches and incredible coral reefs, the Maldives has an abundance of stunning marine life 
If you're looking to mix your diving holiday with some serious relaxation, then the Scubaspa Yin provides a fantastic balance.
The Scubaspa Yin, which is the sister ship to the Scubaspa Yang liveaboard, is a luxury liveaboard cruise. It's a combination of floating resort full of spa treatments, yoga classes, and fine dining, as well as a floating dive center with visits to some of the most famous dive sites the Indian Ocean has to offer. That includes night dives and fascinating land excursions. 
Both Ying and Yang were launched together in 2013 specifically as dive cruises. This is more than just a simple converted dive boat – it's a scuba and spa holiday right in the heart of the water.
The Maldives is a bucket list destination for divers, I'd seriously recommend you check out some island fun as well as the beautiful blue waters. Thankfully, the Scubaspa Yin takes you across the best of land and sea.
It is a spacious, modern, award-winning yacht with Sea Star cabin suites – bursting with space and character. Of course, I'll take you through some of the finer features of the cabins a little further down.
On the boat, you will find two bars, a jacuzzi, a yoga parlour, an outdoor cinema, a gym, dive guides, spa therapists, and an incredible, attentive crew. The reviews don't lie!
The Scubaspa Ying makes trips year-round, meaning that you can book your diving trip to the Maldives whenever you wish. I recommend diving between August and October if you really want to spot some rays and sharks.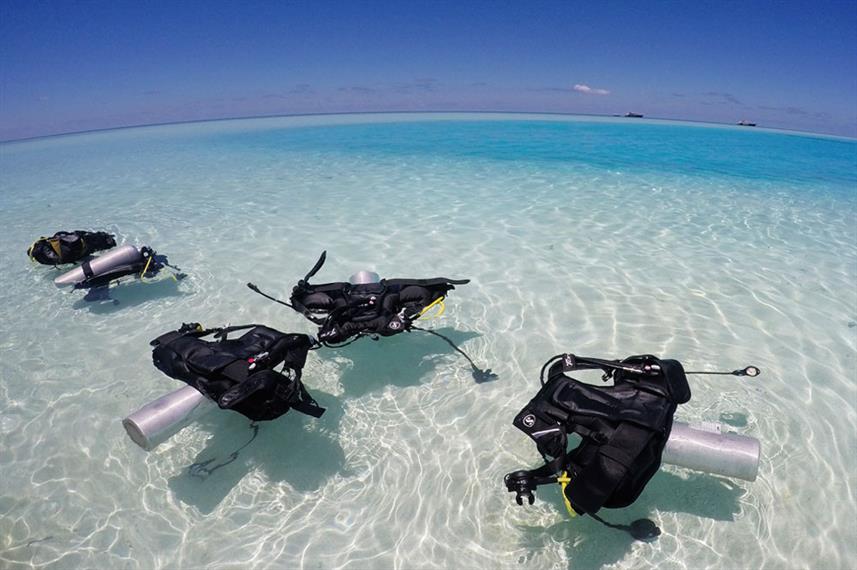 Taking off from the dive dhoni, the Scubaspa Yin offers an itinerary that's literally called 'the best of the Maldives'. Essentially, you'll get to explore the best dive sites in the area as graded by experts and non-divers alike (e.g. those who just love the scenery!).
One of the great things about the Yin is that the diving package onboard includes frequent dive briefings, as well as the provision of dive sites for beginner divers (even ones on their first dives as certified divers), to sites that are better suited to experienced pros.
The Yin and Yang tend to take it in turns to explore the best of the north and south atolls around the Maldives, meaning it's well worth checking out the itineraries before you book ahead.
Some of the incredible dive sites you will visit include: 
Rasdhoo 

Fish Head 

Alimatha Reef (night dive) 
These may vary depending on the time of year you get on board, so always check ahead before you book to avoid disappointment. Honestly, I don't think you could ever really be disappointed out here.
The Maldives plays host to some of the most spectacular marine life you'll ever hope to meet. You'll get the chance to start scuba diving among sharks, rays, colourful reefs and more. Here's just a few animals you'll expect to spot on your travels:
Whale sharks 

Manta rays 

Tiger sharks

Turtles

Leopard Sharks

Dolphins

Nurse sharks 

Healthy reefs
Upon this dive boat, you can choose one of 19 cabins for your stay. 
There are ten spacious Sea Star cabins, and the Cowrie suite, all of which are on the lower deck, each offering a super-comfortable queen-size bed to relax on.
There are also three beautifully designed dolphin suites and four Manta suites. All are situated on the main deck, and have king beds and fantastic sea views! Who knows, you may even come across a whale shark or two while in the comfort of your own cabin.
All of the rooms have air conditioning, a private en suite shower room, and ample space to stretch out in at the end of a day's dive package.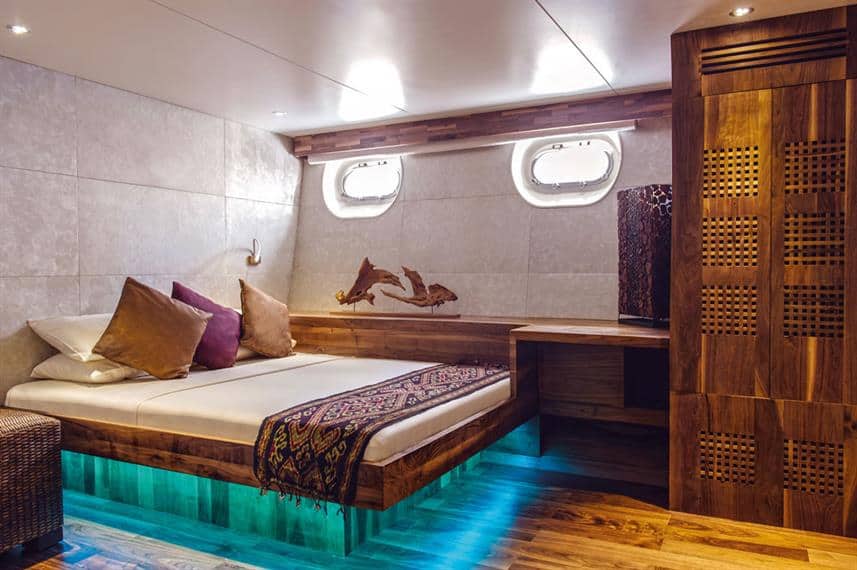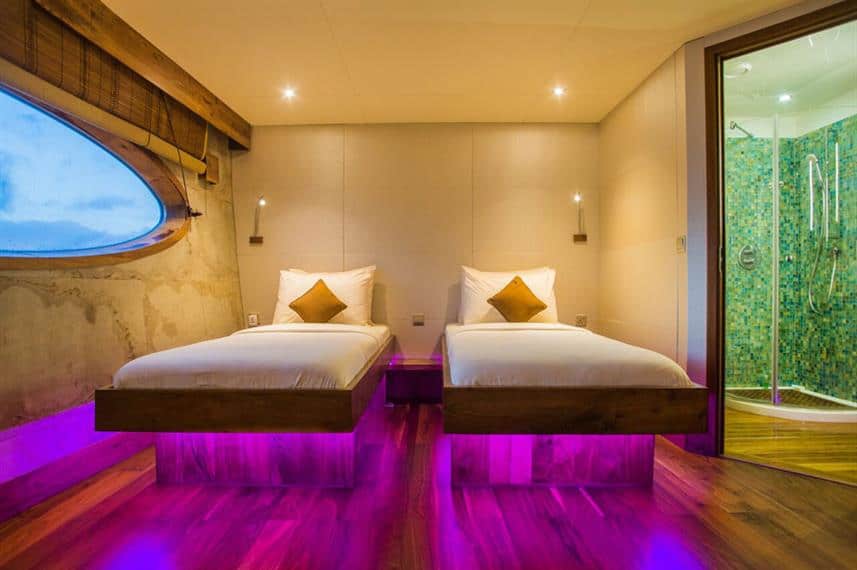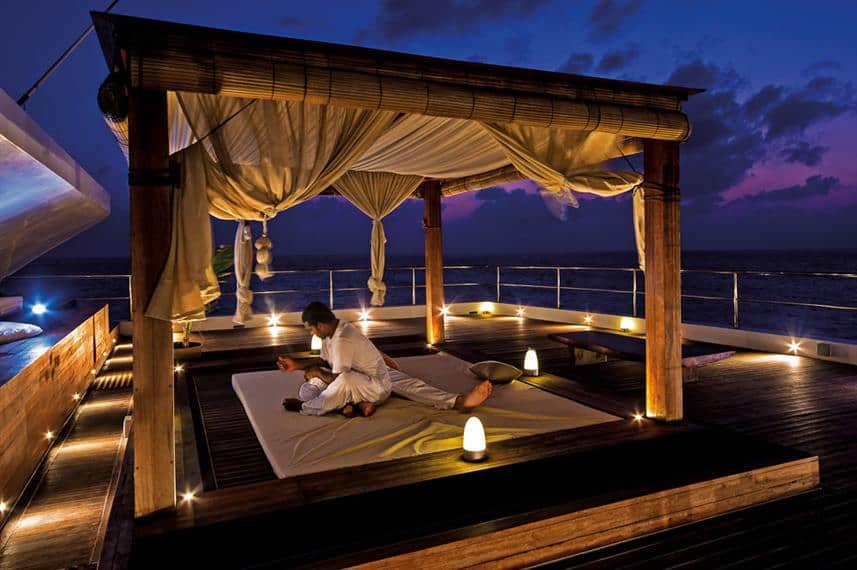 Charging stations 

Leisure deck 

Spa & yoga classes (book your spa package before boarding!)

Sun deck 

Outdoor dining area 

Observation deck 

Jacuzzi / Hot tub 

Bar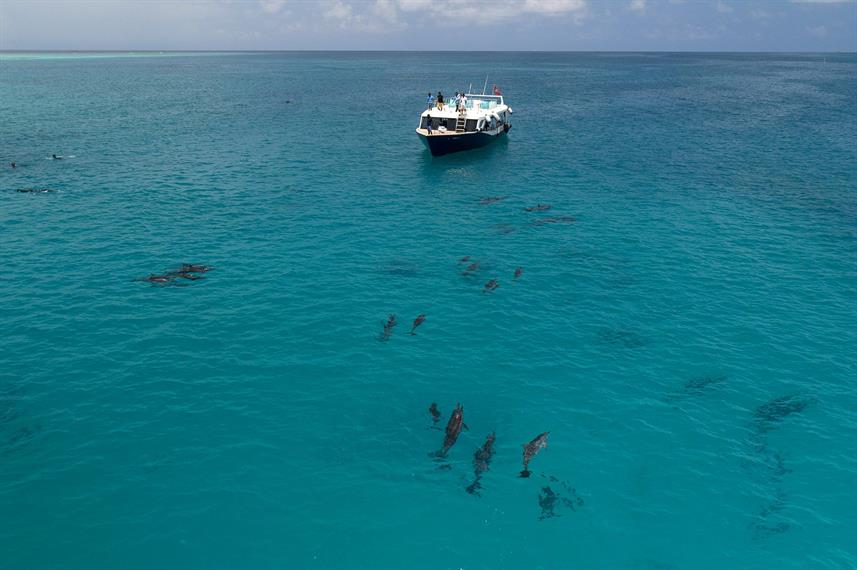 Still unsure if the deluxe cabins on board the Bahamas Master are right for you? Here's a few common queries I'm happy to answer.