When out enjoying the ocean, it can be difficult to know where to store our valuables. 
That's why I consider the best dry bags as some of the most essential dive gear. 
You can now keep your phone, wallet, or other belongings dry with some of these bags – my favourite is the Seashell Dry Bag or the CrocPak with an anti-theft lock. 
Best Water Backpacks for Divers
Keeping your valuables dry can become challenging when out on the boat or during a swim – choose from some of my favourite dry bags, with this complete list.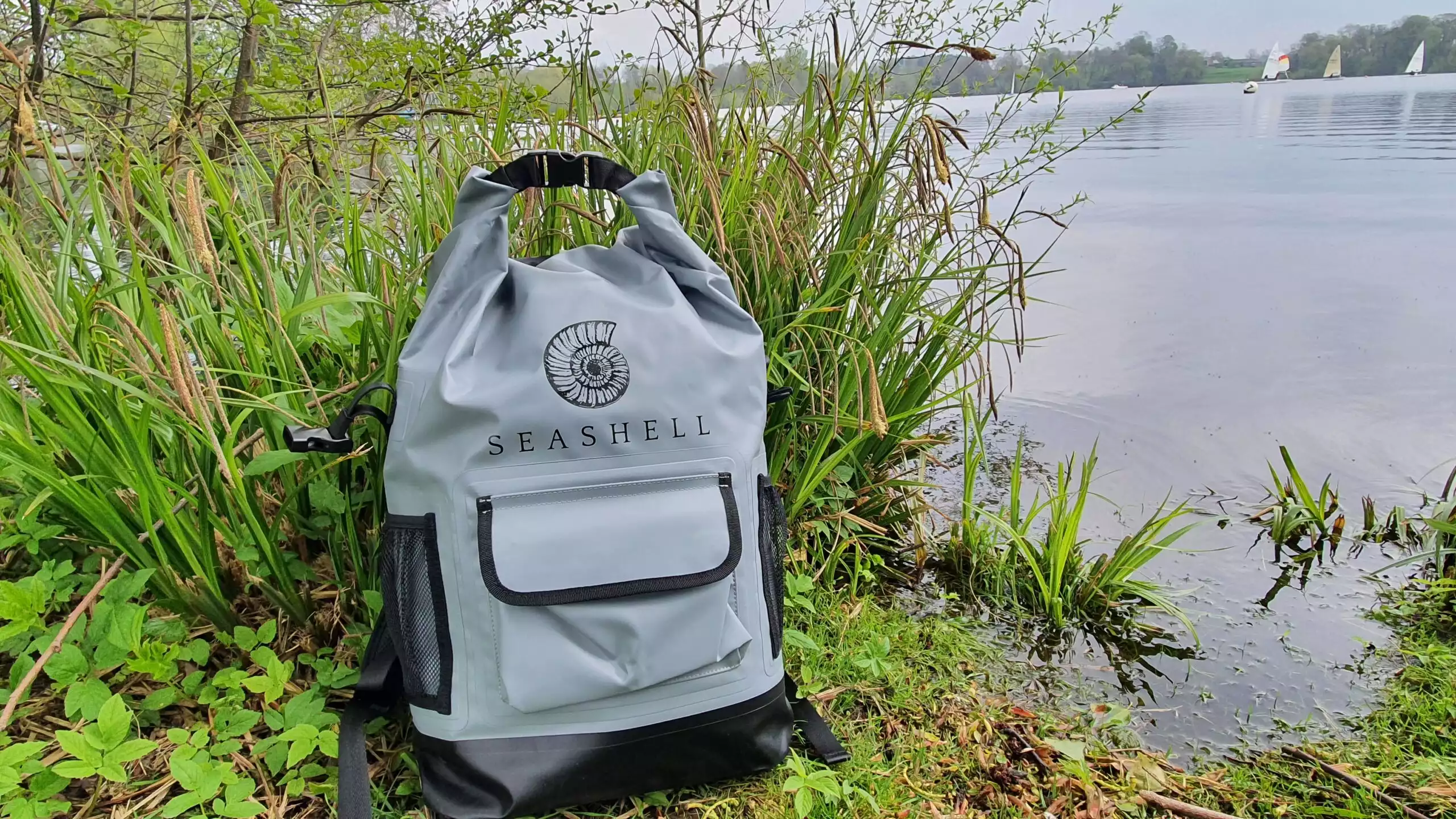 Straight in at the top is a water back pack by one of my favourite outdoor apparel brands. This is the 25 litre Seashell Dry Bag – a beautifully crafted bit of gear that has enough space to store all your valuables safely whilst out on the water. With a roll top, two clip fastener, a water resistant easy-to-access outer pocket along with the two mesh side pockets, it is a little beauty.
Why not couple it with one of Seashells changing robes to step up your style and comfort whilst outdoors?
If this bag tickles your fancy, head on over and learn more in my full Seashell Dry Bag review.
CrocPack Anti Theft Dry Bag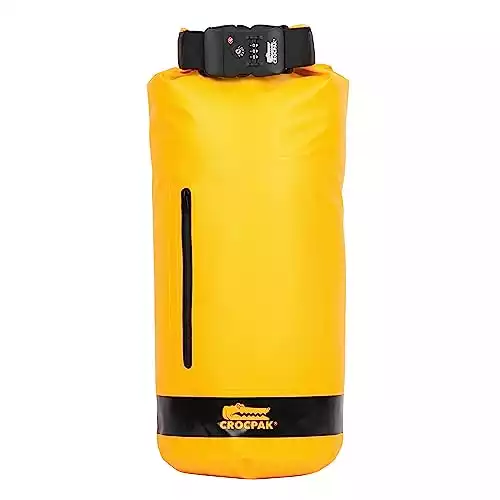 The standout feature of this dry bag is the anti-theft lock. This unique bag doesn't just keep your valuables dry, but it also gives you peace of mind, offering a lock. 
Its roll-top closure comes complete with a combination lock – if you're not in sight of your bag, you can still feel comfortable. 
Not only does the bag offer security, but it is also made from 93% recycled soft bio nylon. 
They also offer a lifetime guarantee – if you have any issues you can easily make a return or get a replacement.
Find out more with my CrocPak dry bag review.
Sea to Summit Hydraulic Pack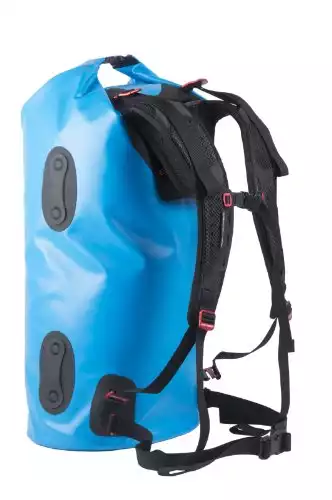 Made from 600D-TPU laminated nylon, this waterproof backpack offers protection against all elements. It is abrasion resistant and will keep everything dry on your adventure.
It will easily store your phone, towel, lunch, and much more with its 35-litres of storage.
You're paying for the quality materials and small details – the roll-top closure offers an interlocking system with a waterproof seal, keeping everything secure. 
Sea to Summit - Dry River Bag 13L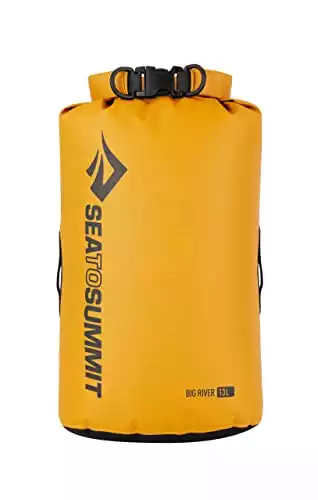 Sea to Summit Dry River Bag comes with 13-litres of space to store your belongings. 
Sea to Summit is a trusty dry bag brand offering a specialist design. This bag is very tough and flexible; you can use this for scuba diving, swimming, overnight river trips, on boats, ov or even for cycling or bike packing, protecting you in all wet weather. 
This is one of the lightweight bags on the list for the amount of space, and it is made from durable material.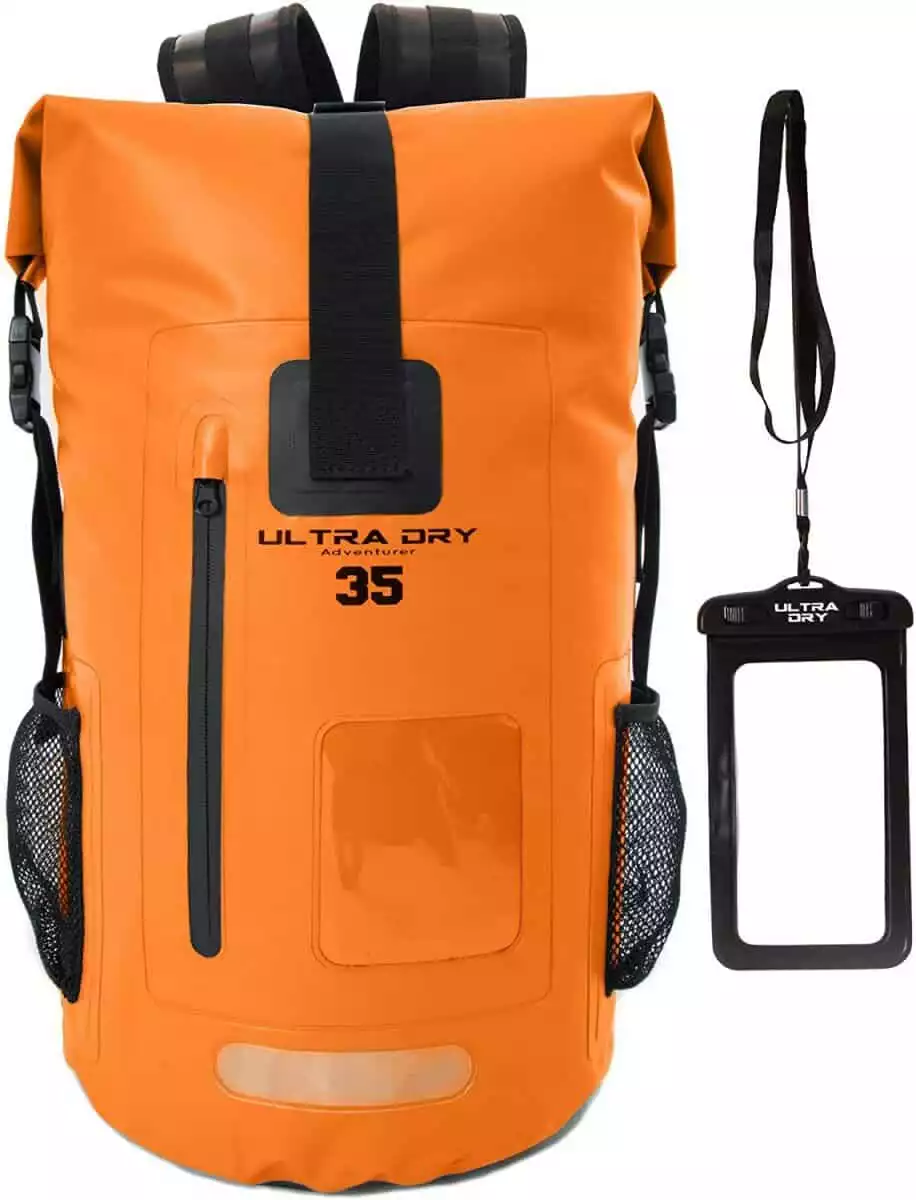 Ultra Dry Adventurer Bag
Pros:
Big, chunky in stacks of colours​

Holds 35 litres of baggage​

Comfortable and lightweight to wear​

Protective against punctures​
Cons:
Perhaps not the best-looking bag on the market!​
Check Price on Amazon
We earn a commission if you make a purchase, at no additional cost to you.
Looks aren't everything, but you can at least personalise this water backpack a little on the way.  It's great for helping to keep gadgets dry while you're out and about in the wet.  The puncture proof technology is a great addition, and it's extremely comfortable to wear. 
You should also get more than enough items packed into here for it to be worth your while.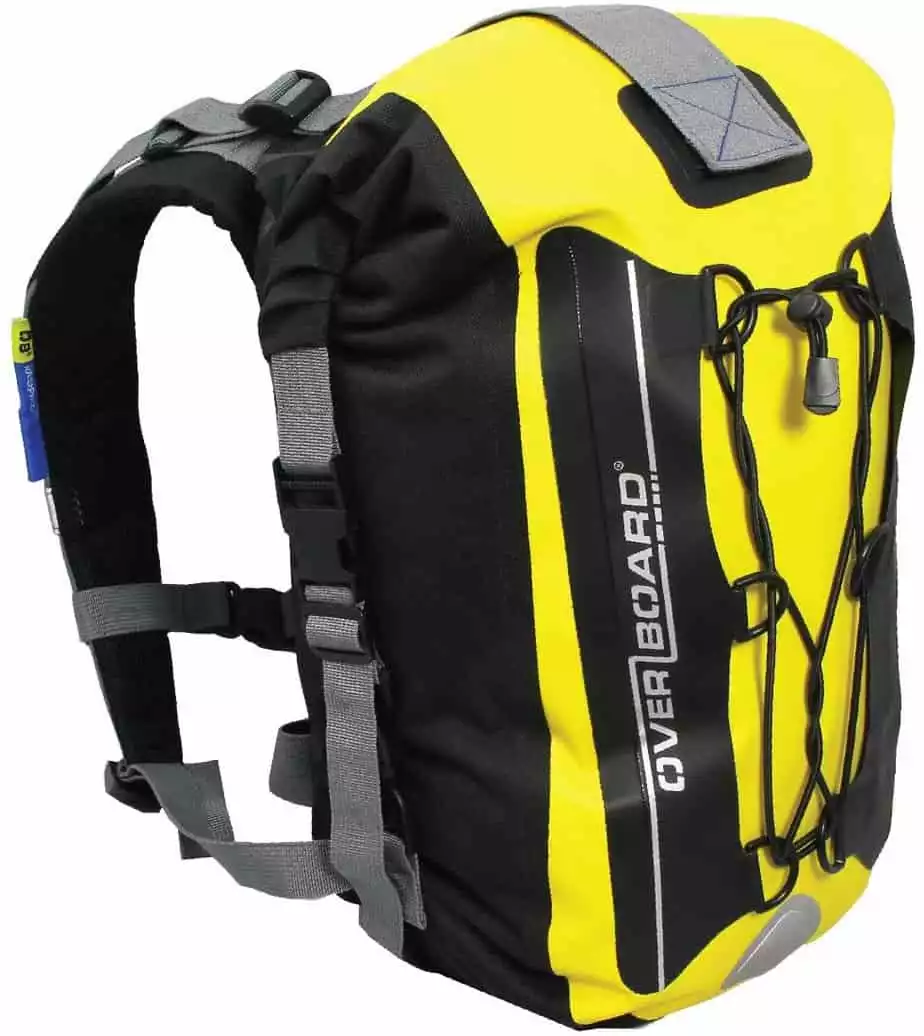 Overboard's fantastic water and and-proof bag proves to be a real winner in the physical test, but whether or not it's going to be the best value for everyone will likely remain to be seen. 
However, it's 100% waterproof up to IP66, and what's more, it's likely to take a bit of a knock here and there.  It's also really comfortable and lightweight to wear and carry around, which means it should be a pretty good all-purpose option.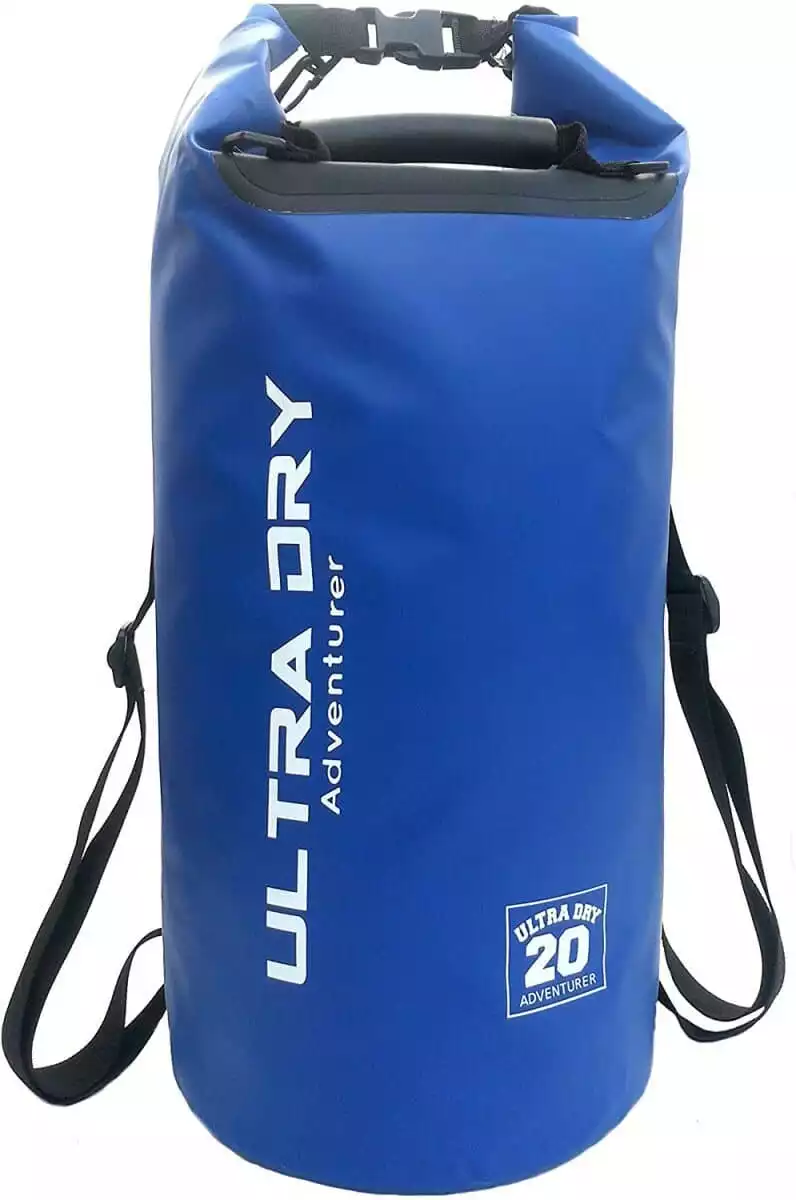 Another Ultra Dry creation, only this one tends to be more for boaters and those who are really looking for a sack, more than a backpack.  This is likely to be pretty useful in boating situations, for example. 
Of course, your own tastes may vary.  However, I found this sack to be pretty durable in the wet, and what's more, it's really tough – meaning you can entrust it with rattling around a bit.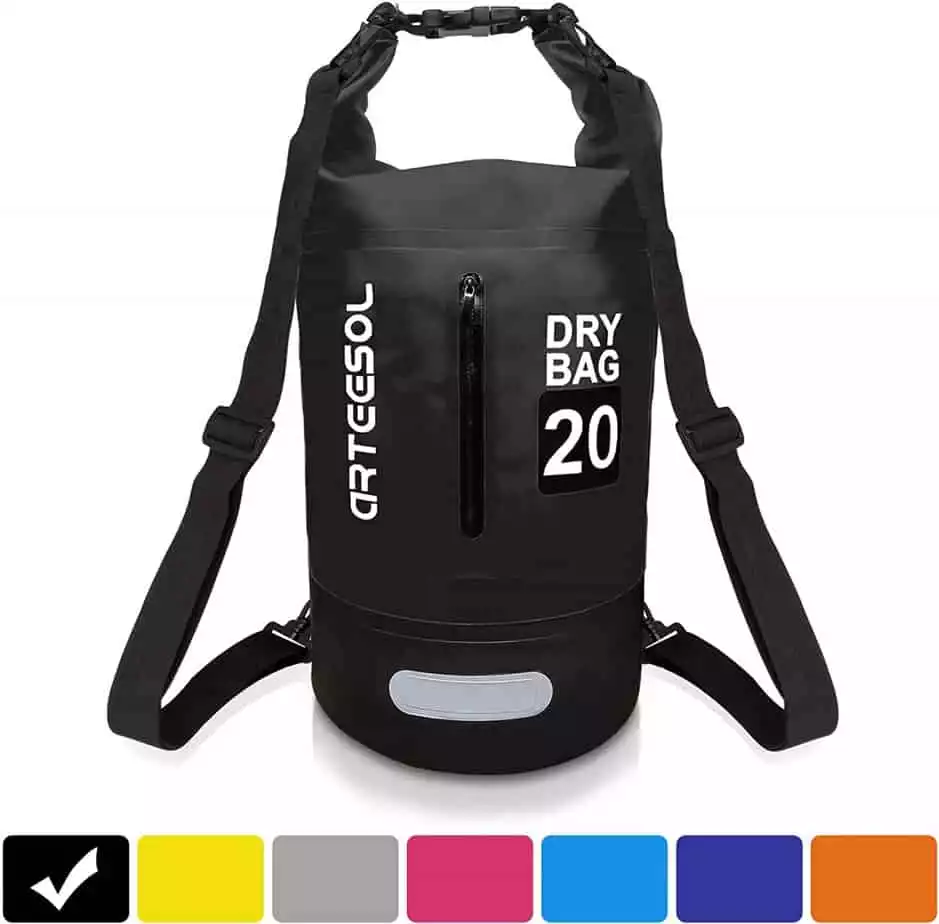 Arteesol Waterproof Dry Bag
Pros:
Available in sizes up to 30 litres​

Very adjustable​

Neatly designed and ideal for boat use​

Wear and tear resistant​

Available in plenty of colours​
Cons:
Not a brand many will have heard of​
Check Price on Amazon
We earn a commission if you make a purchase, at no additional cost to you.
Arteesol's main line of waterproof dry bags are likely to appeal to plenty of people looking to start diving.  It's a neat little bag, and you can choose how big you want it to be – from 5 litres all the way up to 30. 
Strapping is nice and easy to adjust, and it should help to keep most of your items dry while on route to a dive.  During my tests, I certainly found this was the case!  However, it's less likely to be an all-around backpack, and more a storage bag.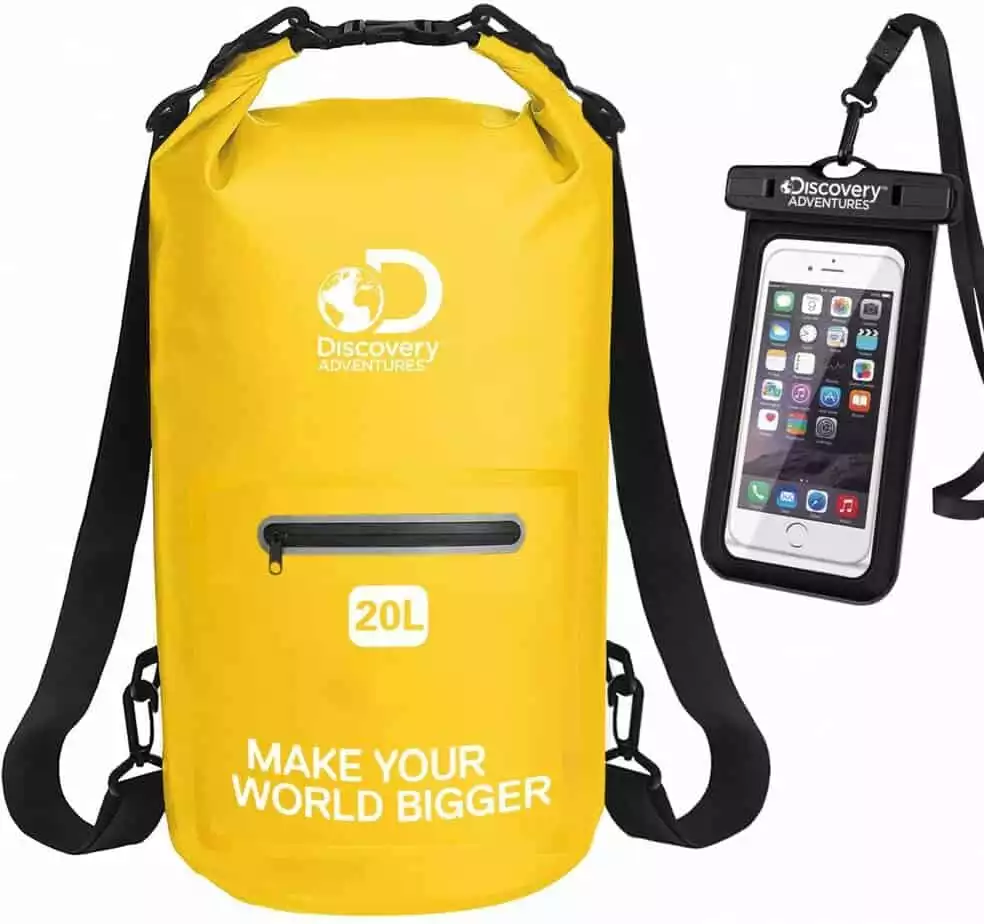 Discovery Adventures Dry Bag
Pros:
It's very affordable​

Waterproof to IPX8​

Comes with a phone case​

Available in different colours​

Available up to 20L​
Cons:
No sizes above 20L – might not be enough for everyone​
Check Price on Amazon
We earn a commission if you make a purchase, at no additional cost to you.
This Discovery Adventures backpack is a great travel companion if you're set to head out to a dive spot any time soon.  It's waterproof up to IPX8, and you'll also benefit from popping your phone in the handy case provided alongside.  As a dry bag, it's built more for adventuring and boating than walking around. 
However, my tests proved that it's a durable system worth spending a little bit of money on.
It comes with shoulder straps, making it simple to throw over your shoulder or use it as a backpack style.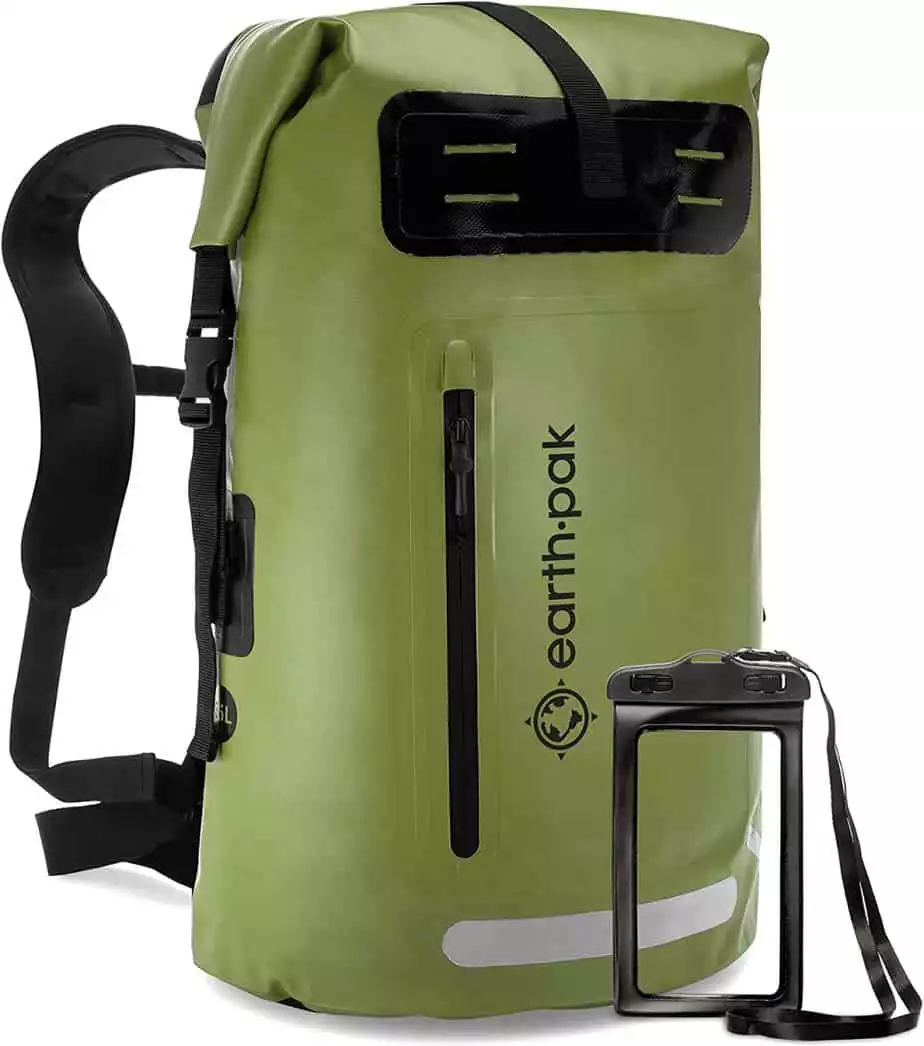 Earth Pak Summit Rucksack
Pros:
Fusion between Sandals & Trainers​

Classic Design​

Easy Fastening​

Amazing Comfort​
Cons:
Not the Cheapest​

They Sell Out Quick​
Check Price on Amazon
We earn a commission if you make a purchase, at no additional cost to you.
This Earth Pak backpack is likely to weather plenty of storms and splashes.  It's a fantastic all-around choice, and in my experience, it's very protective and durable while on route to dive boats. 
However, some people may prefer a backpack that's likely to do more than just serve well on a vessel or two.  Earth Pak is likely to satiate that need.
When Should You Use a Dry Bag
For me when I'm out scuba diving, it goes without saying that my phone, lunch or anything else I take on the boat is likely to get wet. 
A dry bag ensures that you keep all your valuables safe and sound – dry bags offer the ultimate protection. They also come in handy for any outdoor adventure, providing the ultimate protection against wet weather, making them ideal for water sports.
What Should You Look for in a Great Water Backpack?
A great water backpack is one which is, naturally, going to withstand the wet.  However, there are more than a few points you should otherwise keep an eye out for.  These, in no particular order, are…
Waterproofing or Water Resistance
Be careful buying backpacks which are purely water resistant.  These will only brush off a little bit of liquid here and there!  Look for a bag that is 100% waterproof for full protection.  You should also look for IP ratings, which will tell you how long a bag can submerge for.
How many pockets do you need?  Which pockets are likely to benefit you best – outer pockets, or inner linings?  Look carefully at what's available.
Capacity is, of course, a big factor.  You will normally find backpacks that hold up to 35 litres online.  This tends to be more than enough before things start getting a bit too heavy.
Yes, the colours you choose are also important.  While you might appreciate dark blues and blacks, these are not going to help you in the blazing sun.  If anything, these bags will heat up your contents.  Choose a bag that's bright, colourful, and easy to spot.
You should also think about looking for waterproof backpacks which compact down into simple packages.  These are likely to be very easy to carry around and fit into tight spaces.  This is likely to be a great option for anyone who may already be light on storage.
A waterproof backpack is going to be an asset for anyone who is looking to start adventuring in wet and wild conditions.  Where better to put all your treasured possessions?  Make sure to take a close look at the various backpacks I've reviewed for you above, and to be careful when it comes to narrowing down between waterproof and water resistant.
Recent Posts