The Bahamas is a prestigious diving spot meaning it is somewhat challenging to find the perfect one for your scuba diving needs.
The Bahamas Master is one of the best liveaboards if you want to live in comfort and style and experience the best dive sites the Bahamas has to offer.
Of course, the price does reflect its quality, but at the end of the day (or by the end of this guide), you'll see why I love its premium cabins so much.
TOP PICK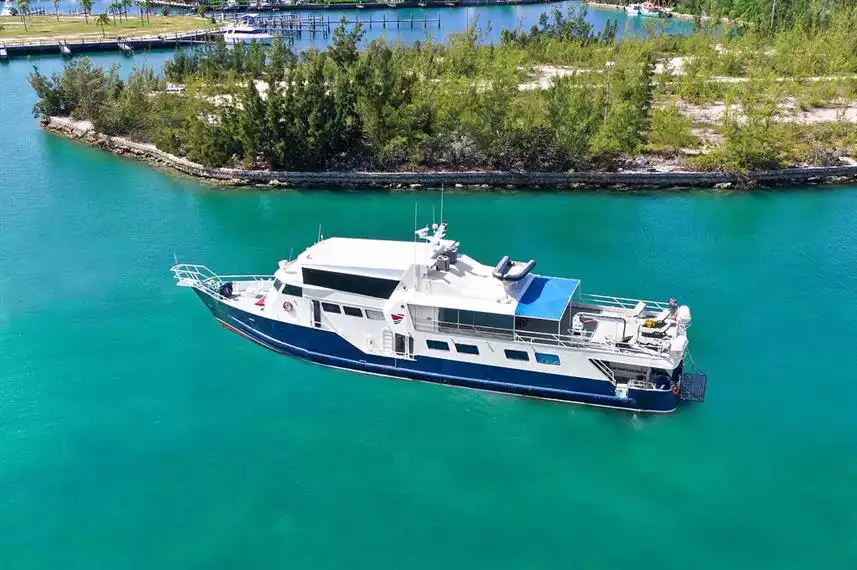 The Bahamas have the third largest barrier reef area in the entire world – no wonder it's one of the number-one places in the world for diving.
Bahamas Master Tiger Beach
One of the Bahamas Master Liveaboards most popular trips is their stop-off to Tiger Beach, the beach is known for its beauty and for attracting lots of Tiger Sharks.
Based just 40-miles from Grand Bahama Island you're in for a treat with this shallow dive site – it's fast become one of the most talked about dive places in the world.
When we think of the Bahamas, we all tend to think of sandy beaches, the sparkling Atlantic Ocean, and incredible marine life. But the underwater world is something to behold, especially when exploring Tiger Beach and its surrounding dive spots – you'll be glad to know that most Bahamas Liveaboards visit this spot.
Ensure you get the ultimate Bahamas experience using our full guide on Best Bahamas Liveaboards.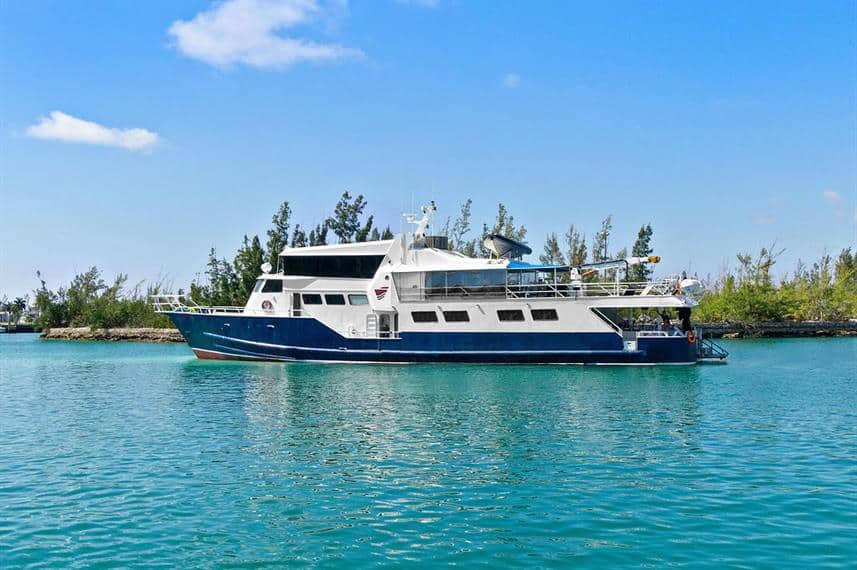 The Bahamas Master welcomes up to 18 divers across ten cabins, with four styles available, including premium cabins.
Divers can look forward to a spacious cabin with individually controlled air conditioning, a private en suite bathroom, daylight and ocean view panoramic windows, and plenty more comforts aboard the Bahamas Master Liveaboard. 
The ship was built in 1965 and was renovated back in 2019 – it's certainly modern and safe enough for the perfect trip! 
It is 35 metres in length and has a general cruising speed of about 10 knots. This, of course, is thanks to the two Detroit 16V71 1300 hp engines.
Famous for its incredible shark-diving spots, you'll have the opportunity to see the stunning barrier reef, Tiger Beach, and Grand Bahama Island – and you'll be able to try a few shark dives of your own, swimming with some of the region's beautiful tiger sharks.
For those moments you don't feel like scuba diving, there's more in store for you to enjoy – keep reading and I'll fill you in on what to expect.
Generally speaking, you will have access to four-day dives in total; however, the final day dive could be changed to a night dive, should the opportunity present itself. That's usually if the boat has managed to anchor within a lagoon, at which point you will be able to enjoy the incredible marine life in a whole different way!
A standard seven-night trip should provide you with at least 18 of the best dive sites in the area, often reaching about 20. 
Enjoy the best dive sites in the Bahamas with this popular dive cruise.
During your trip, you can expect to take dives at world-famous spots such as:
The Grand Bahama (on the Grand Bahama Adventure)

The renowned Bimini Islands 

Wrecks 

Blue Holes 

Tiger Beach (on the Tiger Shark Experience)
That's just for starters – there's more to blue holes and sharks when you travel on the Bahamas Master liveaboards, but they are certainly big highlights.
Most people travel to the Bahamas to experience the diverse marine life, and there's definitely plenty of that around the Bahamas Master. 
Of course, it is primarily known as a shark liveaboard, so you will get to see plenty of blue holes and sharks, surrounding the crystal waters, such as: 
Lemon sharks 

Hammerheads 

Nurse sharks 

Bull sharks 

Caribbean reef sharks 

Tiger sharks 
However, beyond the sharks, you should also keep your eyes peeled for: 
Moray eels 

Turtles

Octopi 

Reef fish 
When it comes to cabin types on board the Bahamas Master, you're certainly spoilt for choice! You can choose from one of the two premium cabins on the forward upper deck (which both have double beds and private en-suite bathrooms), or two twin cabins, the two en-suite bathrooms (one each), two single occupancy cabins with en-suite bathrooms, or four classic cabins, which share two bathrooms.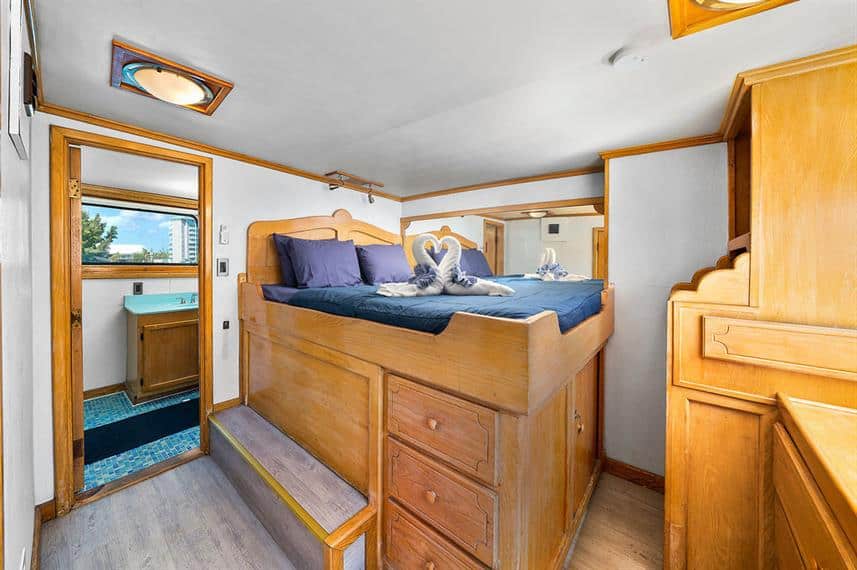 Pick from double beds, twin beds, lower deck bedding or upper deck bedding options – they even have a premium double cabin available.
All the cabins on board the Bahamas Master have huge panoramic windows, providing you with views of the natural wonders just a few metres away – giving you ample daylight and ocean views during your stay. Some days, you may even want to stay on board the dive deck and drink it all in from afar!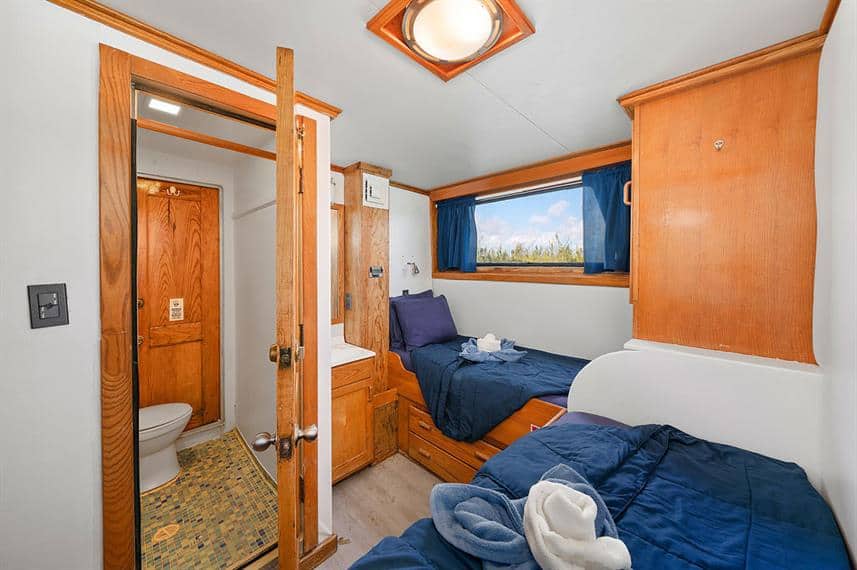 Bahamas Master's cabins also have individually controlled air conditioning and heated showers – built into private ensuite bathrooms to really boost that luxury holiday feel.
Want to get to know your fellow divers a little better on a Master liveaboards fleet? The Bahamas Master boasts a brilliant dive deck and communal spaces for you to relax in. Head up to the main deck from your double or twin cabin and enjoy:
Indoor entertainment lounge 

Super spacious covered outdoor bar 

Dining area

Sun deck
Food and drink are provided on board here, meaning your sustenance for shark diving are well catered to!
Still unsure if the deluxe cabins on board the Bahamas Master are right for you? Here's a few common queries I'm happy to answer.
TOP PICK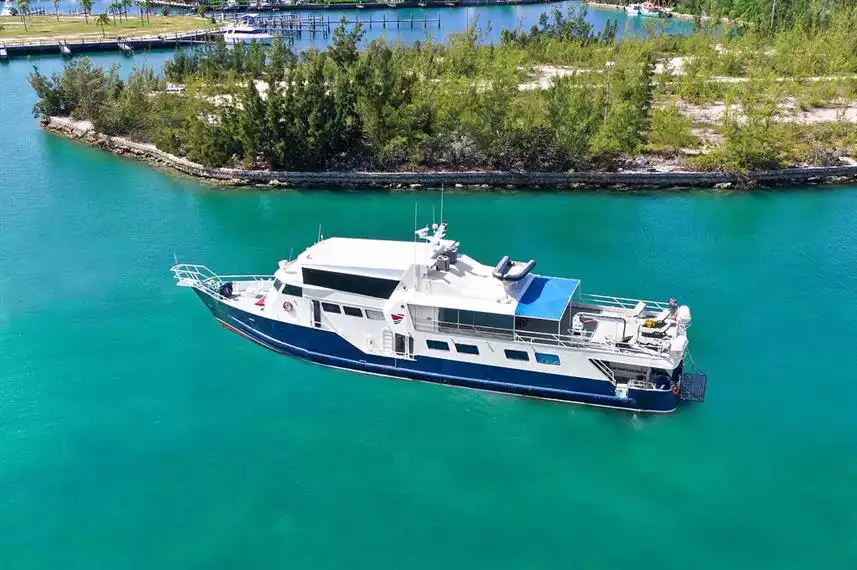 Recent Posts