Scuba diving is one of the most adventurous, exciting and nerve-racking things I have done to date, and it's crazy to think that somebody as young as eight years old can also enjoy the same activity.
A child must be at least 8 years old to scuba dive on the PADI Bubblemaker course, a half-day excursion out at sea. This requires parental permission, they also need to be comfortable in the water and under the guidance of an instructor. The minimum age to become a certified diver is ten years old.
I personally have taken children as young as eight years old out to sea in Thailand and seeing their faces light up is something else.
There are various caveats, recommendations and courses – I take a look at all the facts. Find out everything you need to know before taking your child on an unforgettable experience including scuba diving certification courses available.
How Old Do You Have to be to Scuba Dive?
Children have to be at least 8 years old before they can scuba dive. This is part of the PADI Bubblemaker course which allows them to enjoy half a day diving under strict supervision. Before they're given the "go-ahead" they must show that they're comfortable in the water.
They will not be able to take a course or become a certified scuba diver but this is a great opportunity for families who are looking to enjoy a scuba diving trip during a holiday. There are various scuba diving certification agencies, all teach the basic rules and scuba lessons.
It is an experience they will not forget, but it's certainly not for all children. Children comfortable in the water can enjoy diving and they will dive no more than 2 metres. Before going out to sea, they will need to undergo scuba diving lessons in a swimming pool beforehand. It is also possible to do an entire Bubblemaker course in a swimming pool too. I've helped teach these both abroad and in England.
Something to be aware of is that each dive shop is different, if your child is small then it may be a struggle to find scuba diving gear that fits them.
When completing the Bubblemaker Course, they will be free to take on the PADI Seal Program which teaches kids to enjoy the underwater safely, showing them the fundamentals during the process.
How Old Do You Have to Be to Get Certified?
Kids can become certified divers from the age of ten years old, the PADI course allows courses to certify junior open water divers. At the age of 12, children can dive the same course at bigger depths. For the PADI open water adult certification, you must be 15 years old.
Children as young as 10 years old are able to get a scuba diving certification. This course is a Junior PADI Open Water Course. This course is for ages 10-14 years old, any kids under 13 years of age will be required to provide parental permission before registering for the PADI eLearning.
12 years and above can dive deeper during this same course. This is a great way to introduce children to scuba diving. If your little one is looking to learn to scuba dive, check out the scuba diving certification courses.
We reiterate on what scuba diving courses are available for different ages below. Get ready to show the beauty of the underwater world to your children when they go scuba diving.
The age can be contentious as some argue that children develop physically before others and a child's maturity may vary, for that reason it can be hard to pinpoint a particular age.
What Diving Courses are Available for 8 - 12 Years Old?
At the age of 8 years old, children will not be able to become certified divers. But there is a PADI Bubblemaker course. This is a great way to learn to scuba dive, from ten years old children can make the most of the junior course.
How old do you have to be to scuba dive?
8-10 years old– The Bubblemaker course is to give children an insight into diving, allowing them to witness marine life, get used to the breathing apparatus and learn basic scuba skills. It is mostly for the experience and is supervised.
10-12 years old – From 10 years old, they can undergo junior courses. Kids can become junior open water divers. This is slightly less intense compared to what a certified adult certification entails, but it is still a good challenge.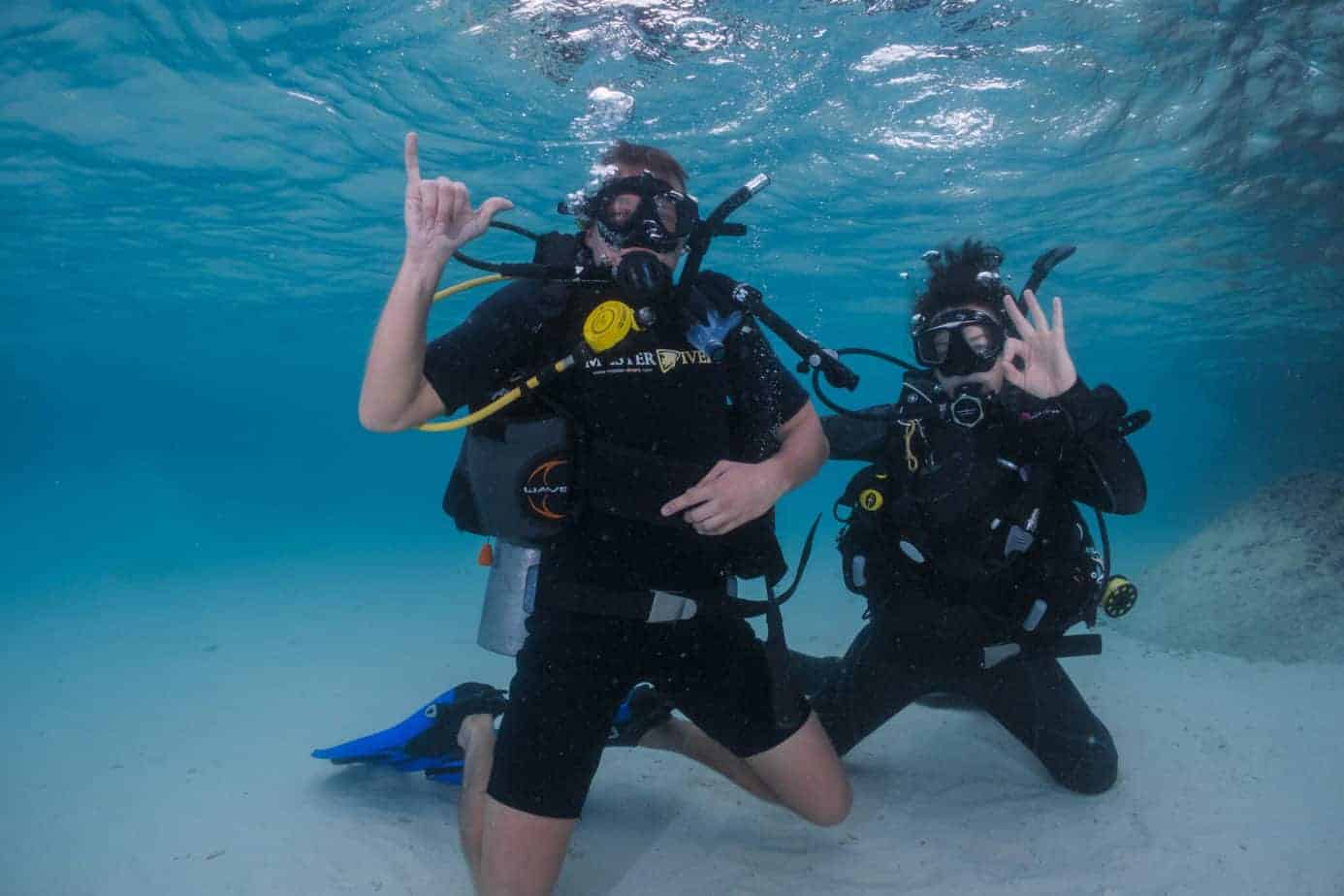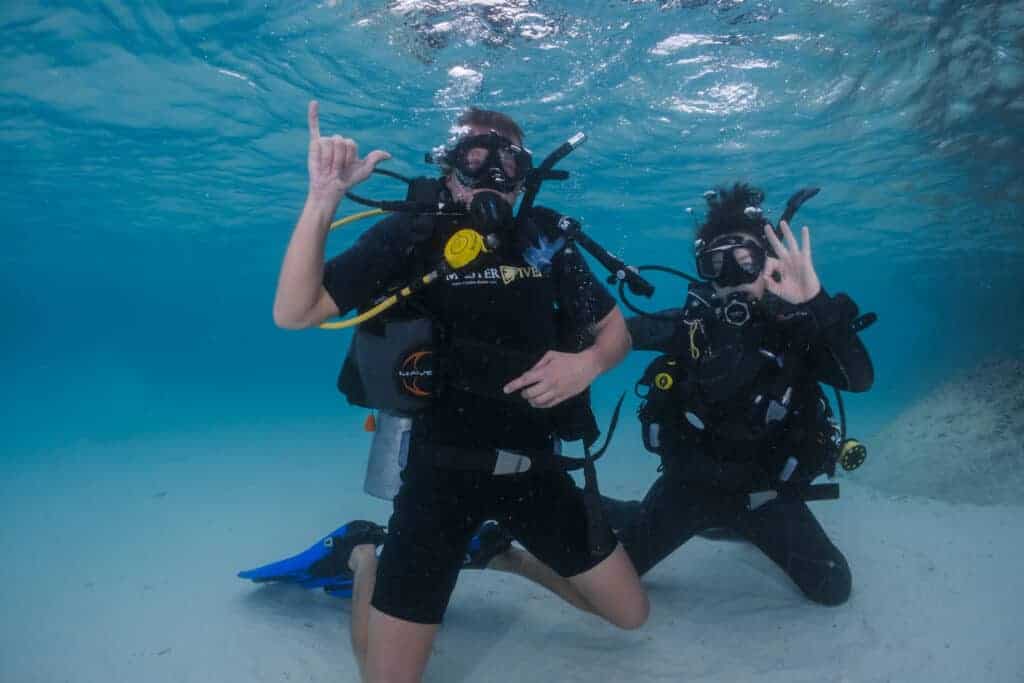 The PADI bubblemaker is a fun course aimed at children under the age of 10. It allows kids to blow bubbles by scuba diving and learning some basic scuba skills. They will be given scuba lessons in a pool hours before going into the ocean.
It is a shallow dive and is watched by trained dive instructors. Parents can be present and there is also an option for children to do the entire course in a swimming pool.
It is best for first-timers to experience swimming pool like conditions before going to sea, to see if they are comfortable. This is the perfect option for younger divers and if the rest of the family are going on a dive, then this is a great opportunity for youngsters too.
What Diving Courses are Available for 12-15 Years Old?
There is one course available for children between the ages of 12-15, it is not the adult certification course but it is an altered version for juniors. PADI offers lots of courses that consider young adults and children.
Here's what courses 12-15 year olds can do:
12-14 years old – Children of this age can do the same as above, but although they are doing a junior certification, they are able to go to bigger depths. There's also a SEAL Team program with more extensive training, most of which is in confined water.
15 years and above – From their 15th birthday they are able to study the adult scuba certification under the watchful eye of a dive professional. Whether a child or an adult, the course will be accompanied by a PADI instructor. They will go over the same materials as adults.
If your child is over ten, but not sure if scuba diving is for them, they can book on for a try dive – or a Discover Scuba Diving experience (DSD)! It isn't a course, but is a brilliant half day introduction into the world of Scuba. Most people that complete DSD's go onto enroll in the Open Water course.  So this is always a good option to start with!
Here are some things to consider about allowing your child to dive from a young age:
Most scuba organizations are the same in regards to these rules including PADI & Scuba Schools International (SSI)
Air pressure can often be an issue for children and adults alike with the need to equalise ears as you descend
The scuba gear can often be uncomfortable for children, it is sometimes too heavy or too big, bear this in mind
There is no maximum age but there are minimum age restrictions
Not all children will be granted the chance to start diving, each child comfortable in the water will be able to dive
There will be an in depth introduction at a swimming pool
It can sometimes be a great way to allow the parents to scuba dive whilst the younger ones are also enjoying the underwater world, although this depends on the dive shop and what they can cater for.
There are no specialty courses or a cave diving instructor that's going to take your child to dive, it's all about basic skills and learning the basic rules
There are always risks involved in diving, but each professional association has ensured that it's been made as safe as possible
The cost of enrolling your child on a scuba diving course can vary massively across the world.  Make sure you read my blog on how much scuba diving costs to learn more.
Why Children Love Scuba Diving
There are plenty of reasons to encourage your children and young adults to get involved in scuba diving. Although they won't be able to train as a scuba instructor just yet, it really is a life-altering experience.
They get to learn skills, they will be encouraged to dive safely. It's great because it involves exercise but also acts as a window to natural science and environmental awareness.
Is Scuba Diving Safe for Kids?
The scuba diving organizations have extensively researched this and have concluded that it is safe for children to dive. As long as there is a PADI instructor or SSI instructor with them, youngsters can not lead dives.
There are other parameters put into place to ensure their safety including maximum depth, age restrictions and they are limited with what they are allowed to learn. No child will be able to enroll on to advanced certifications, only a junior certification if the they're the appropriate age.
Another consideration is to check that your child is comfortable in the pool like conditions and also comfortable with the equipment such as the tank on their back.  I've delivered hundreds of Discover Scuba Diving experiences to tiny 10 year olds that would not fit into even an extra small adult BCD! It was important we had equipment specifically for children. Ill-fitting equipment could lead to serious safety concerns.  Stay clear of dive schools that can't provide suitable sizing.
If they are comfortable then it's a brilliant chance for young students to immerse themselves into the marine environment as scuba divers. There are multiple safety rules that must be abided by and adults and children are taught this upon entering scuba diving settings.
How Old Do You Need to Be for Rescue Diver Certifications?
To be able to carry out the Rescue Diver Certifications you must have completed your full open water scuba instructor course, to do so you will need to be at least 15 years old. Therefore, you will need to be 15 before you can do the rescue course.
At 15 years of age you can undertake the scuba diving course with the open water course being available.
How Old Do Scuba Instructors Need to Be?
Scuba instructors are dive professionals, as well as studying the open water course, there will also be lots of additional training. To work in the diving industry and become a professional instructor you must be at least 18 years of age.  Find out more about what it takes to become a dive instructor.
Check out the following questions that are regularly asked.
When it comes to kids' scuba diving it is down to personal choice, as long as parents grant permission then it's fine for all over the age of eight.
Although there are risks involved and there's no guarantee that a dive school can take your children out to sea, PADI and SSI have researched the subject thoroughly and believe it to be safe practice to take children diving.
Obviously, it's all done within the rules and under the guidance of a dive professional. I have personally taken siblings under the age of ten out to sea in Thailand, and they had the best experience, it was so rewarding to see and they were surprisingly fast learners.
Recent Posts