You may think scuba diving would be the last thing a non-swimmer would want to do but you'd be wrong.
Non-swimmers can go scuba diving. Thanks to the scuba gear, it is easy to kick your legs underwater and get help from your instructor. For that reason, you will not need to know how to swim to do a discover scuba dive for the day. With that said, be sure to let the dive school know beforehand.
Although the simple answer is that non-swimmers can scuba dive, there are some complexities, read on for everything that you need to know about swimming when scuba diving with my full breakdown.
Why Can Non-Swimmers Scuba Dive?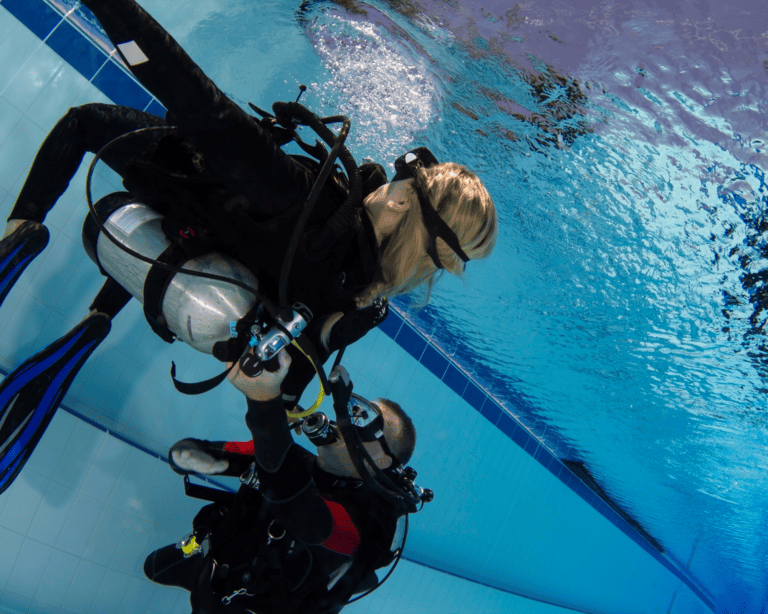 Essentially, non-swimmers are technically allowed to scuba dive. You aren't asked to swim before going out on a discover dive, a one-day excursion that is accompanied by a professional dive instructor.
Knowing how to swim is not a requirement, there are very few requirements for signing onto a one-off dive trip. The reason for this is because you're under the watchful eye of a dive instructor and you also have scuba gear such as fins and a buoyancy control device.
Despite the fact that non-swimmers are given the go-ahead, my personal advice would be to get swimming lessons. When you know how to swim, it will make you more comfortable in the water. You may have heard that diving is a dangerous sport, but it can be made safe when respected and done properly. Why not give yourself the best chance of enjoying the experience?
If you are looking to sign on to your first dive, I would recommend just basic swimming lessons and practising how to tread water. It goes without saying that being able to swim makes the entire experience easier.
Non Swimmers Can Enjoy a Try or Discover Scuba Dive but are limited to those two options!
Can You Scuba Dive with No Experience?
You can scuba dive without prior experience, scuba diving experience is not required to book a try dive. This type of dive is for a first-timer and means that you're accompanied by a trained professional. Diving instructors will guide you and teach you skills before the dive commences.
You won't need to know how to swim either, although being able to swim is obviously advantageous. If you cannot swim then let the dive instructor know beforehand as they will need to assist you and ensure your safety.
To become a certified diver though, you will need to know how to swim.
Can Non Swimmers Take the Open Water Diver Certification?
A non-swimmer would not be able to enrol on the open water diver certification as it requires the pupil to undergo a swim test. The test asks for you to tread water for 10-minutes without aid. You will also need to either swim 200 metres without aid or 300 metres with your snorkel, mask and fins.
The latter option of swimming with a mask and fins makes swimming a little easier. You don't need to be able to swim to book onto the Try Dive or PADI Discover Scuba Diving.
Can Non Swimmers Go Scuba Diving in Maldives?
Non-swimmers can scuba dive in any country or area but it's important to ensure the dive shops are aware of your inability to swim. The Maldives has a number of dive shops, speak to them prior to booking a try dive.
Another thing to be aware of is the dive site – different sites means varing conditions, this comes into the equation when diving. When trying a Discover Scuba Dive you will be taken to a spot that's perfect for beginner divers.
Can Non Swimmers Snorkel?
Non swimmers can not snorkel, snorkelling requires you to swim, sometimes in tough conditions too. Getting used to the apparatus to breathe can be tricky for newcomers, it's a balance of snorkelling, being able to float and also checking out the beautiful marine life.
Taking on snorkeling without swimming skills could be dangerous and could lead to drowning, if you want to snorkel and have little experience, then check out professional association snorkel trips in the area that you're visiting.
Officially you can enjoy scuba diving without the need to know how to swim – enjoy what's known as a try dive. You will be guided by professional dive instructors that look after you, let them know before the dive that you're unable to swim. 
It's likely that they will show you some techniques and ensure that you're safe under their watchful eye. My advice would be to take swimming lessons if possible but it is not a requirement.