I recently had the pleasure of trying out the Osprey Long Jane Wetsuit, which exceeded my expectations in every way. 
This stylish and functional full-length wetsuit has become an indispensable part of my water sports gear collection.
Osprey 3mm Womens Long Wetsuit
Whether you're a seasoned surfer or a water sports enthusiast, read on to find out more in my Osprey wetsuit review.
One of the first things that caught my attention was the vibrant patch of coral colour of this full length wetsuit. It adds a refreshing touch to the traditional black or blue options commonly available. The Long Jane design, featuring sleeveless arms and a full length in the leg, provides excellent freedom of movement. The sleek and feminine cut ensures a flattering fit while allowing for maximum comfort and increased flexibility. The attention to detail in the design is evident, making it a standout piece among other wetsuits on the market.
Osprey Action Sports does have a range of shorty wetsuits if a full length wetsuit isn't what you are looking for.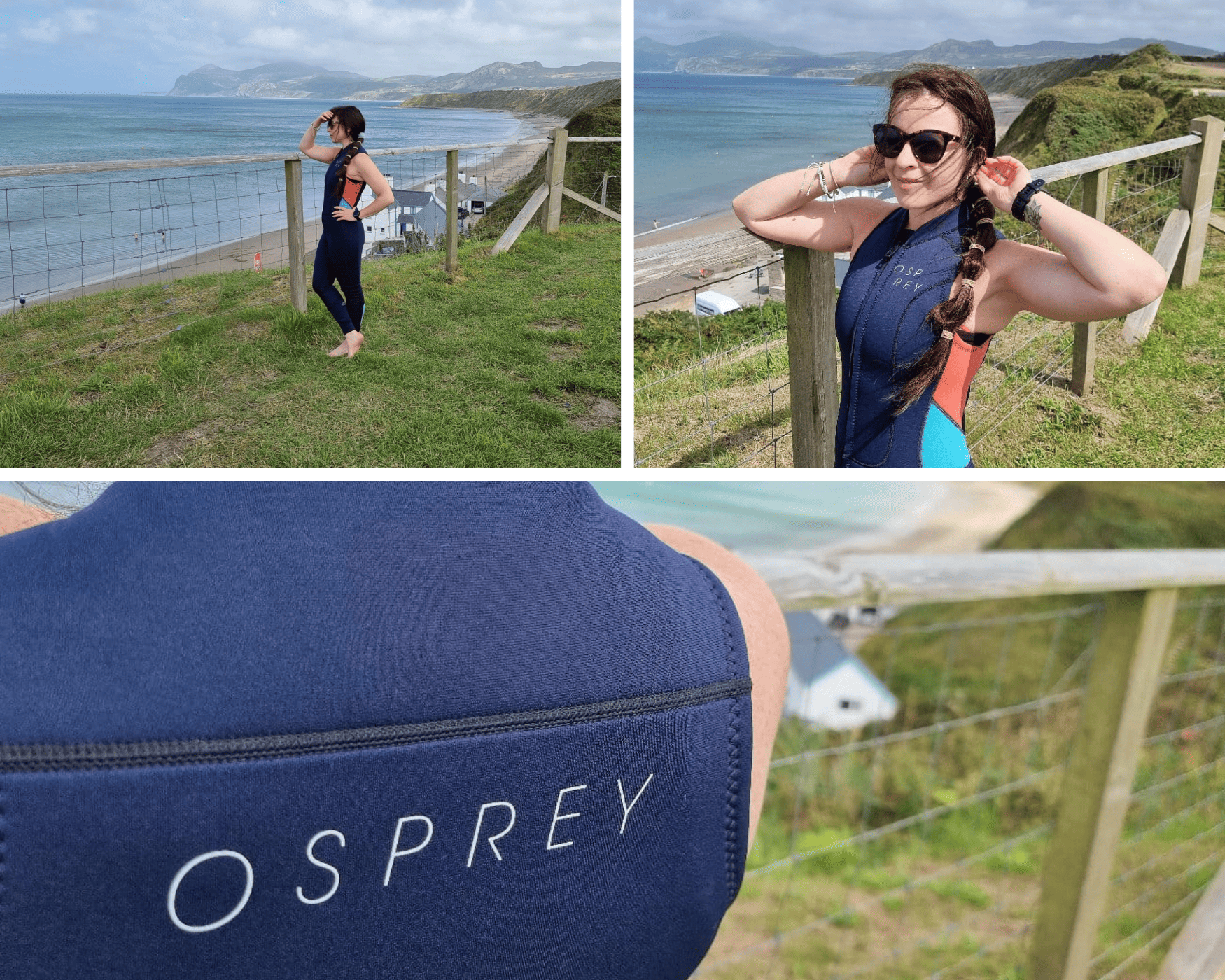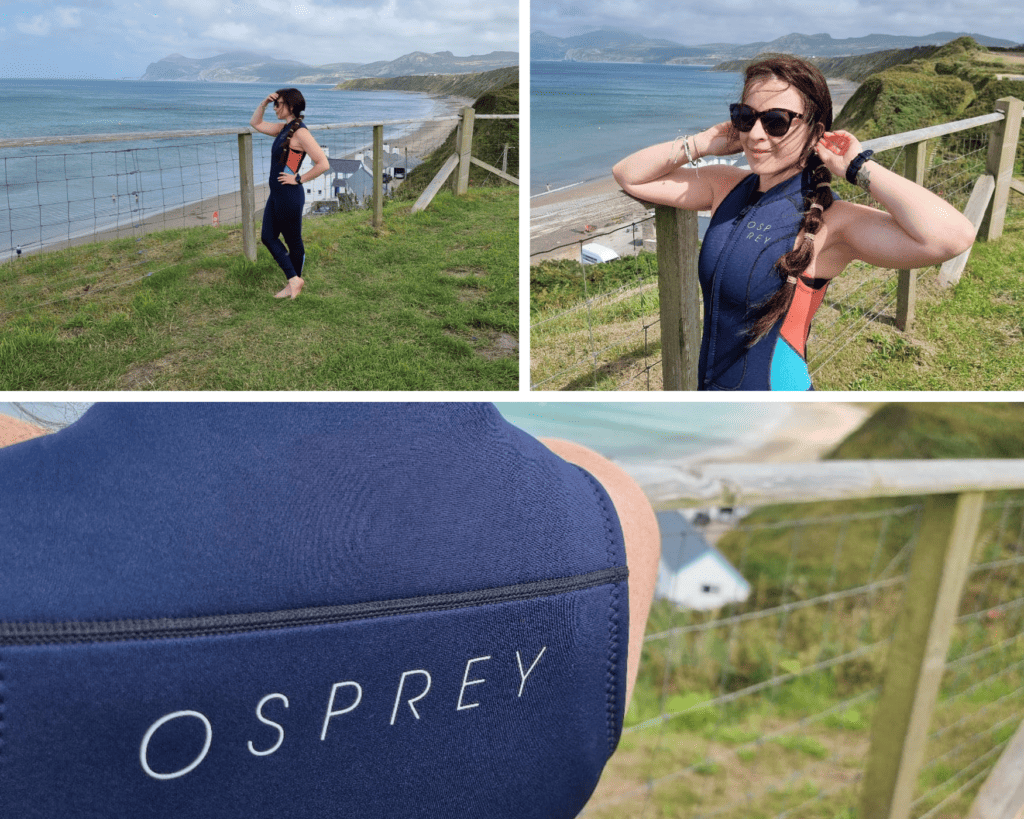 The Osprey Long Jane full length wetsuit is made from high-quality 3mm neoprene material, which strikes the perfect balance between warmth and flexibility. The wetsuit fits like a second skin, hugging the body without restricting movement and comes fitted with comfortable anti rub openings. The contoured panels chest and back and entirely flat locked seams prevent chafing and ensure all-day comfort, even during extended water sessions. The front zipper entry makes it easy to put on and take off, adding to the overall convenience.
I absolutely love the fit of this full-length wetsuit and the way it has been designed specifically for females.  It also has well-thought-out anti-rub openings to prevent chafing.
Top tip from me – if you are inbetween sizes, size up! They tend to run a little small, but having a snug fit on a wetsuit is pretty important. I opted for a small, which is the perfect fit for me as a 5ft4 female who usually wears size 8-10. You can learn more about fit by reading my blog about what to wear under a wetsuit.
Performance and Durability
When it comes to performance, the Osprey Long Jane Wetsuit truly shines. The 3mm neoprene construction provides excellent insulation, keeping me comfortable even in cooler water temperatures. The full length wetsuit offers just the right amount of buoyancy, aiding in swimming and maintaining body heat.
Additionally, they offer protection on the knees with patches of Supratex to keep you protected, making it suitable for various water sports activities that may bring you into contact with rocky surfaces.
I felt really warm and protected from the elements whilst wearing this out during an ocean swim. It also showcases flat locked seams and ergonomic panelling to offer flexibility and complete comfort.
However, I wouldn't wear this full length wetsuit for diving in the UK as it doesn't offer the protection I would require for extended lengths of time in our cold waters. I would probably use it in warmer waters, and think that it would actually work really well. That said, I don't think it has been made with divers in mind – it is a great choice for a quick dip or wild swim, or surface sports at any time during the year.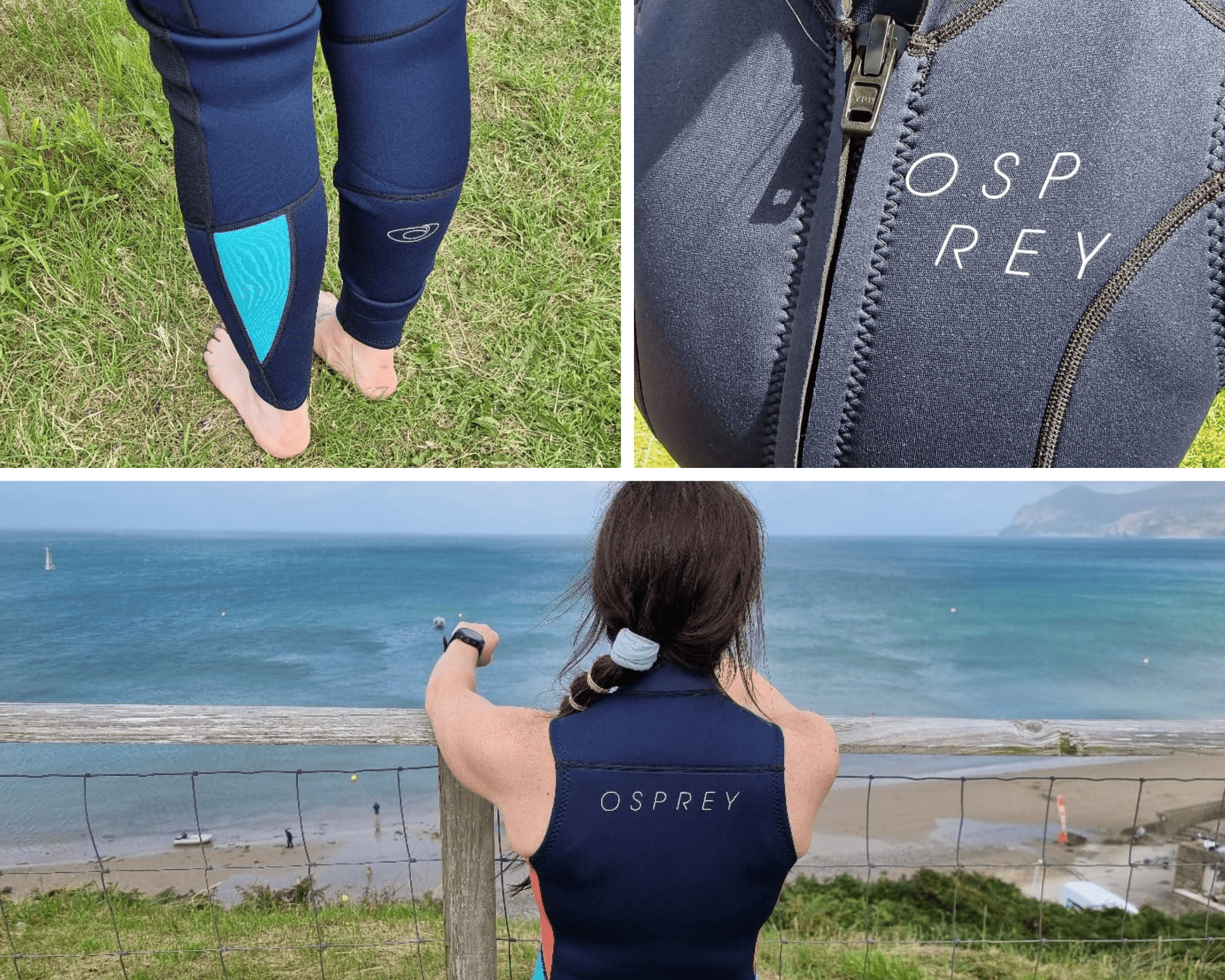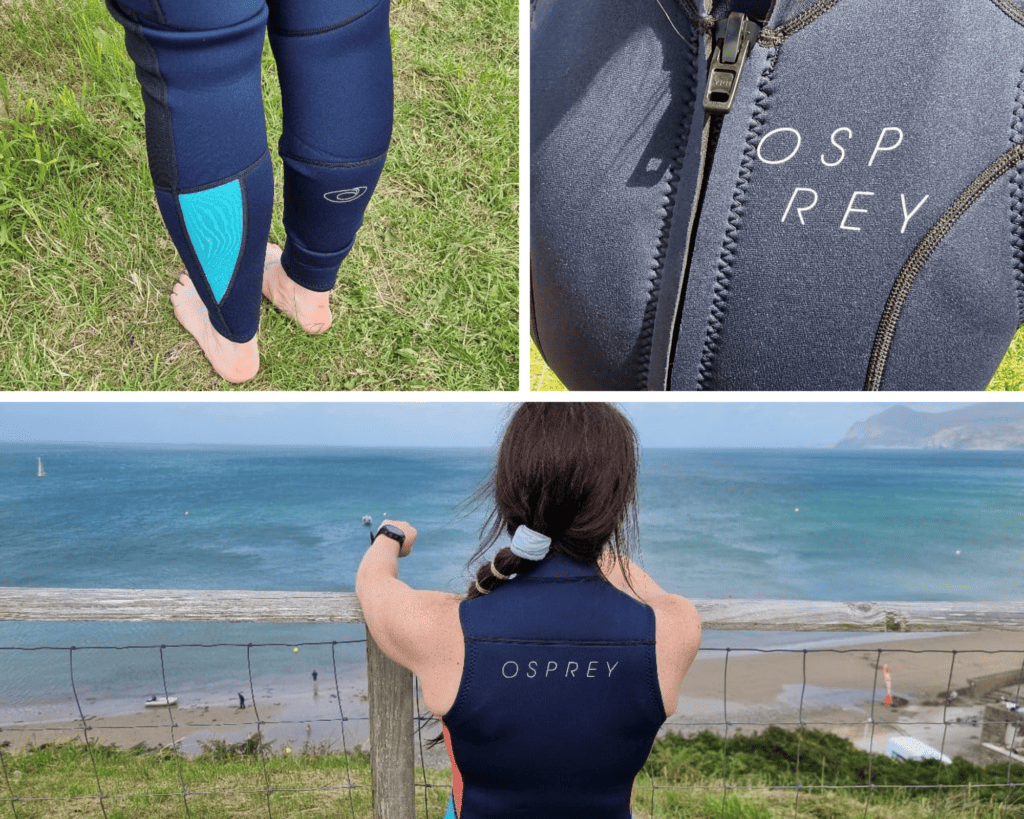 This full length wetsuit is a versatile option that can be used for a wide range of water activities, such as surfing, paddleboarding, snorkeling, and more. Its exceptional flexibility and insulation properties make it suitable for both summer and shoulder season adventures. The Long Jane design allows for layering with a rash guard or a wetsuit top for additional protection and warmth when needed.
Considering the high quality and performance of the Osprey Long Jane Full Length Wetsuit, it offers great value for money. Compared to other wetsuits in the market, this product stands out for its durability, style, and versatility all at an affordable price. It's a long-term investment that will provide countless hours of enjoyment in the water.
However, if you are going to be spending a longer time in the water, or exploring colder water I would recommend investing in a suit with a higher thickness – maybe a 5 or 8mm suit. If you are unsure on what thickness of material you need, make sure you check out my guide to diving wetsuits and thickness.
This is a perfect choice for someone looking to purchase their first full length wetsuit.
Osprey Action Sports is a reputable brand that specialises in producing high-quality wetsuits for various water sports activities. They have gained a strong reputation in the industry for their commitment to providing durable, comfortable, and stylish wetsuits that cater to the needs of water sports enthusiasts.
They utilise high-quality neoprene, a synthetic rubber material known for its excellent insulation and flexibility. The wetsuits are designed to provide a snug and comfortable fit, allowing for unrestricted body movement and enhanced performance during activities like surfing, paddleboarding, diving, and more.
They pay attention to every detail you would expect in a summer wetsuit, from the construction to panel design, to ensure a comfortable and irritation-free experience. The wetsuits often feature flatlock stitching, which minimizes chafing and increases durability. Additionally, many Osprey wetsuits incorporate ergonomic designs, contoured panels, and strategic flat locked seams placement to enhance the overall fit and flexibility.
Add a little extra post-dip comfort to your life by pairing this wetsuit with their Osprey changing robe
Delivery from Osprey Action Sports
Osprey offer free delivery if you live in the UK, and it's fast too! You can get this by ordering directly through their website. Top tip from me – sign up to their newsletter via the pop up on their website and they will give you 5% off your order!
The Osprey Long Jane full-length wetsuit is a top-notch product that ticks all the boxes for style, comfort, performance, and durability. Its eye-catching design, coupled with the perfect fit maximum comfort, and flexibility, make it a standout choice for female water sports enthusiasts. Plus, it's extremely easy on the purse.
Whether you're a beginner or an experienced athlete, this wetsuit is sure to elevate your water adventures and not break the bank. I highly recommend the Osprey Long Jane Wetsuit to anyone looking for a reliable and stylish full-length wetsuit companion for their water activities.
Recent Posts
link to Divebooker Review: What You Should Know Before Booking
Divebooker is a liveaboard agency that allows you to book all elements of your trip easily. You can find your dream destination using their guides and book your dive package all in one place. Plus,...
link to Best Scuba Diving Insurance
Scuba diving has become one of the most popular pastimes for adventurous travelers over the past 50 years. Despite the rigorous safety standards and training systems in place to ensure scuba divers...