Divebooker is a liveaboard agency that allows you to book all elements of your trip easily.
You can find your dream destination using their guides and book your dive package all in one place. Plus, you'll get free DAN dive insurance in the process – a massive weight off your shoulders.
But before you start ticking off your bucket list destinations, you may want to know more about Divebooker.com and if they can be trusted for your much-anticipated dive holiday.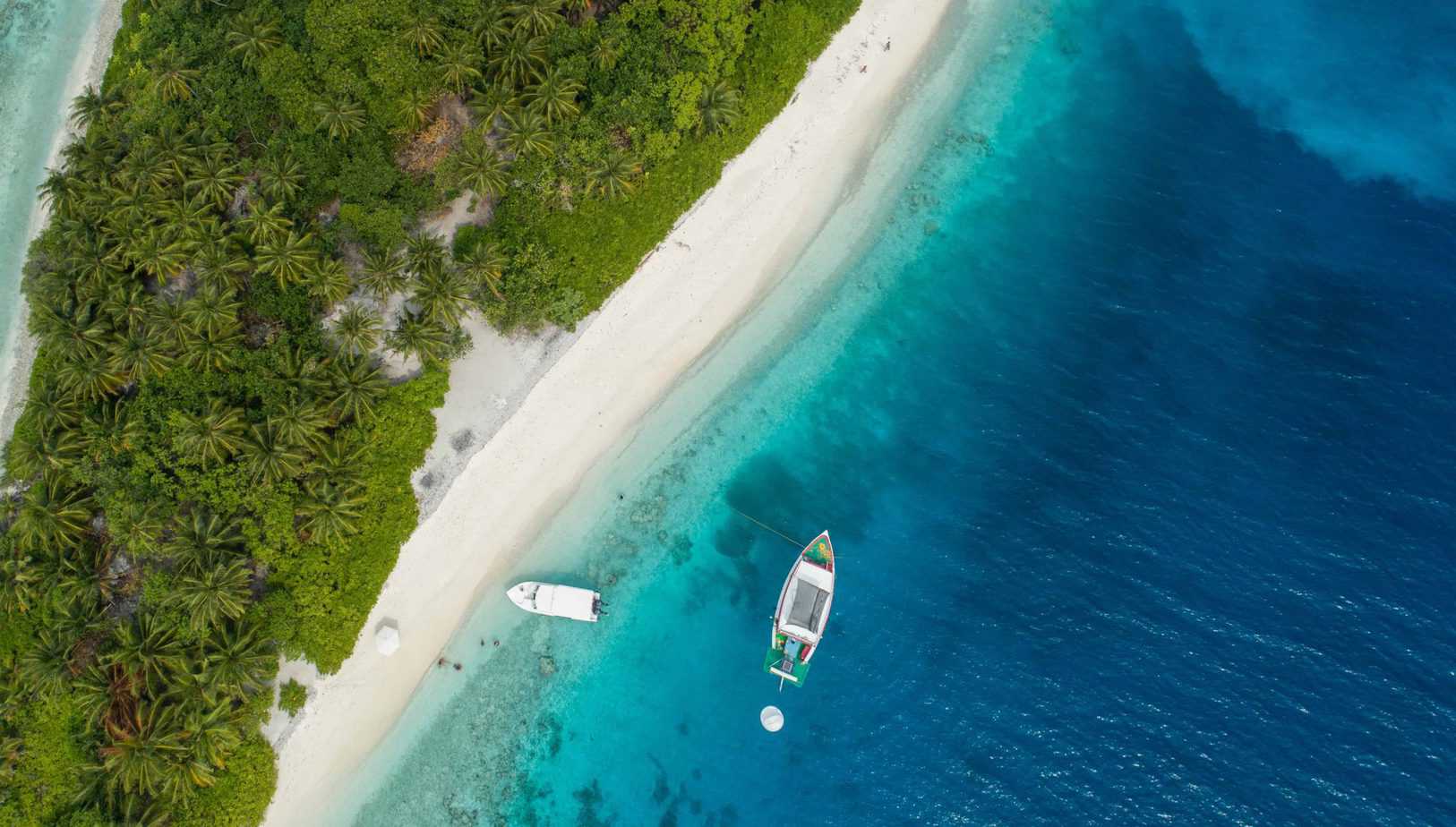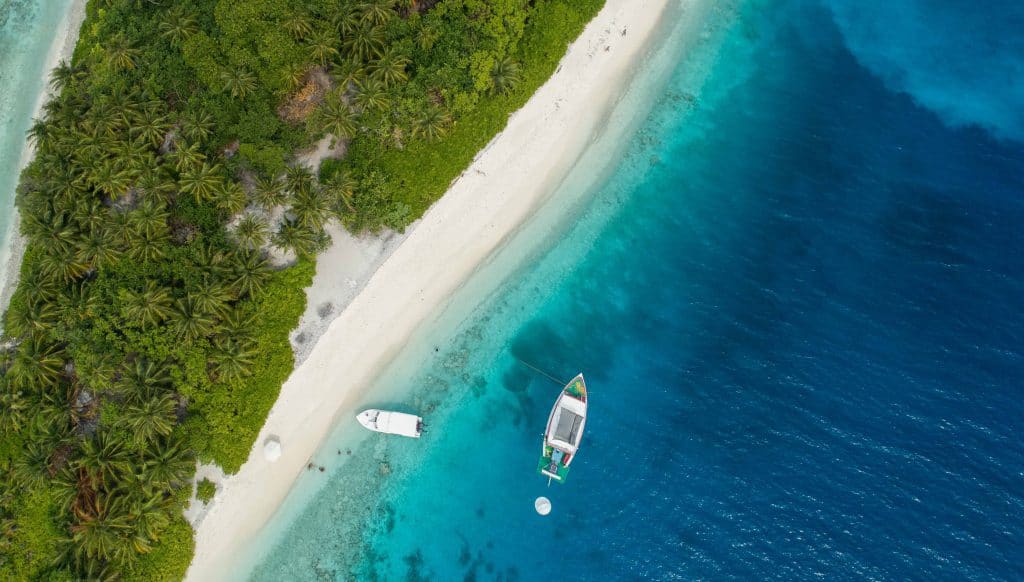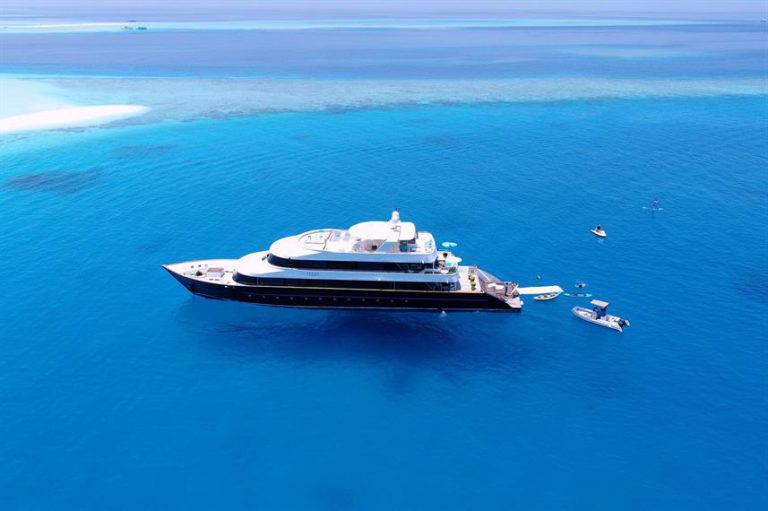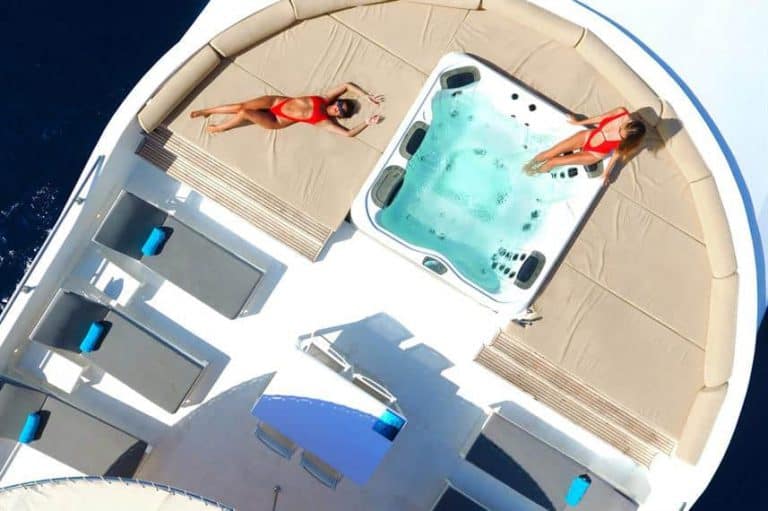 Divebooker recently asked me to partner with them for this month. In doing so, all I'd need to do is share their links and write a review.
I was already aware of Divebooker, as they're one of the few big liveaboard agencies. But regardless of that, it ensured that I'd have to conduct extensive research on their site and service before agreeing.
Here's my full review on Divebooker and what you can expect with their booking process.
Site Navigation
The website offers a stunning design and is simple to navigate. You can search for the type of diving you're looking for and the destination or opt for the special offers.
They also provide great guides on the destinations, describing the water temperature, islands, and dive sites.
Mobile Use
It's simple to access from your mobile and works like it does on a desktop. Easily enjoy all of your dream liveaboards from your mobile screen.
The site uses html-5 and is compatible with either iOS or Android devices. Sift through Divebooker.com from your smartphone, tablet, or laptop.
Destinations
When you land on their page, you will find a list of the most stunning dive destinations. From Maldives to Egypt, there's plenty of dive choices.

Why choose Divebooker.com?
Good question. When you have the likes of Liveaboard.com and PADI Travel, you might wonder what advantages Divebooker has over its competitors. But there are lots of reasons to pick Divebooker.
The lowest price guarantee ensures that they cannot be beaten elsewhere. You won't find a cheaper package. And if you do, well then get in touch as they will match or beat that price with their guarantee.
This is a massive addition to what they offer and cannot be found on other big liveaboard companies.
For every trip you book, you will get free insurance. Not just any insurance but with the best diving insurance company.
You also have the option to add DiveAssure at an extra cost 
For more details on dive insurance use my full guide on the best scuba insurance.
There are constant offers and special discounts. You can check the special offers tab on their homepage, as they provide scuba divers with last-minute deals.
Divebooker is renowned for its second-to-none customer support. I have experienced this first-hand; whatever you need, from special requests to getting your queries answered they are available to help you.
You can talk to their team via live chat, email, or telephone. Contact them with any queries that you have.
Flexible Bookings & Cancellations
Book a number of dates with ease and you also have the peace of mind, knowing you can put down just a 25% deposit on most bookings. This means you are free to cancel as long as it's before the last 97 days.
You will not get your 25% deposit back but you won't have to pay the full price.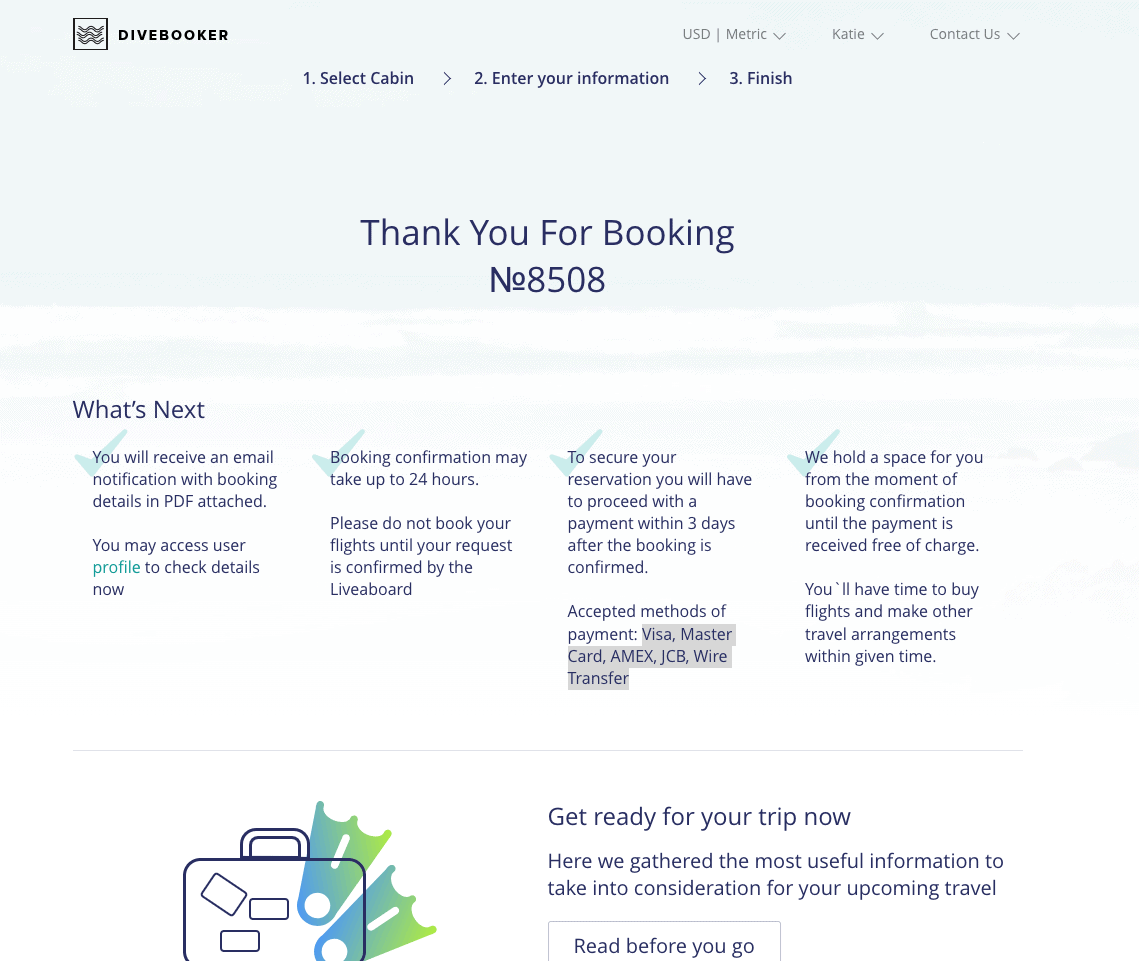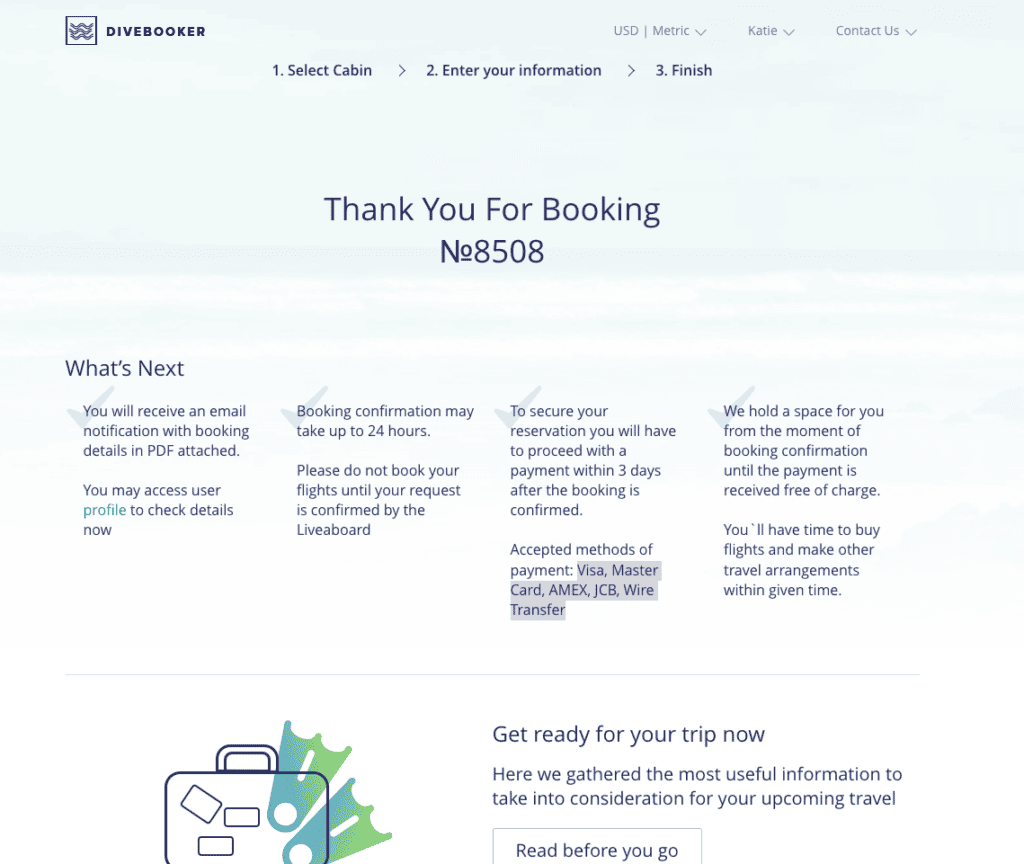 If you're going away with a friend, I recommend signing up for the refer-a-friend program that gifts you $75.
For every friend that you refer, you get rewarded. If you're going on diving trips with your friends, then this is a great way to save money.
Every dive destination you can think of is available at Divebooker. Enjoy Caribbean trips, Maldives, Bahamas, or Thailand.
Here are some of the most popular liveaboard trip options:
Divebooker Maldives
Maldives liveaboards are sought-after, offering incredible marine life and paradise-like islands.
You can expect nothing but the best when diving in the Maldives, home of manta rays, whale sharks, and thrilling drift dives.
This is one of many liveaboard destinations they have in-store. They also offer the entire plethora of liveaboard boats available in the Maldives.
Use my full guide and research for more on the best Maldives liveaboards.
Divebooker Thailand
Thailand is a popular dive destination as it offers beautiful marine life, water temperature, and dive sites, all for a fraction of the price.
Choose from two pages of liveaboards in Thailand – you can also use my rating.
Divebooker Red Sea
You can pick your Egypt liveaboard trip with Divebooker's help. Users can easily scroll through the best dive sites in the world.
Browse Jackson Reef, Blue Hole, Little Brother Island and many other Egypt dive sites.
Divebooker Caribbean
There are lots of different Caribbean destinations – you can find Cuba, the British Virgin Islands and Saint Martin.
Use my full Caribbean liveaboard review for more details on the best liveaboard boats.
Charters & Group Bookings
It's possible to make a group booking. If you are organising a trip for clients, why not get help from experts?
Divebooker will guide you through the process; here's what they offer:
Step-by-step support: The Divebooker team is with you every step of the way. I noticed they're available on the live chat, even for individual liveaboards. There's a lot of convenience booking with their team.

Expertise in destinations: Their team has years of experience and expertise in picking the perfect destination for you. Gain their help to find the best liveaboard boat and destination to match what you're looking for.

Variety of options: You get many options with different destinations and liveaboards. Find the various liveaboards and book private charters.

Small group charters: You're able to book small charters with under 6 people, which is a useful option to have. Pay for up to 6 people on a private charter.
In addition to the liveaboards and boats, you can book the destination you're interested in via the dive centers.
Search for dive centers near your holiday and book your diving in advance. Diving trips take planning, and I always like to book my trip before arriving in the country.
It is simple to find the closest dive center beforehand, and you can then do your due diligence, validating them via reviews and their TrustPilot.
Diverbooker.com on Trustpilot
Divebooker has a 4.7 rating on Trustpilot, and lots of customers recount their experiences with travel arrangements, arrival, and overall liveaboard vacation using this travel agency.
We read one review that talked about apprehension beforehand as they didn't know much about Divebooker before booking but then revealed more about their positive experience with Divebooker.com.
You have the option of multiple secure payments including Visa, Master Card, AMEX, JCB, Wire Transfer. The payment plan differs depending on the boat and dates you book. Each operator comes with their own policies and Divebooker has to work with them.
But they also work to please their customers, and that's why, for the mostpart, you only have to pay 25% upon booking confirmation. Then you will be reminded to pay the remainder 97 days prior to the trip's date.
If you can cancel before the 97 days, then you will lose the deposit of 25%. If you cancel in the last 97 days, you will lose all money that you have put down.
Divebooker is a trusted liveaboard agency that has processed thousands of bookings. They are on Tripadvisor and have a range of secure payments.
You can pay via PayPal or Visa Debit Card – all of the payment types are secure and trusted. Bear in mind, that you will need to pay in USD to a Canadian bank account. Even if you're based in the UK, you will still need to pay USD. Which isn't difficult but your prices will be subject to the exchange rate.
In addition to booking liveaboards that allow you to live, breathe and sleep diving – you can also book dive centers and hotels.
Book your entire dive package yourself, searching for dive destinations and centers that are nearby. You can then book a hotel for your stay too. This allows you to manage your entire dive holiday in one place.
Divebooker is a force to be reckoned with; I was extremely impressed with their customer support. They have agency support 24-7 via their chat, willing to help you step-by-step.
This is a one-stop shop to book all elements of your dive trip bringing you peace of mind.
Recent Posts
link to Osprey Long Jane Wetsuit Review
I recently had the pleasure of trying out the Osprey Long Jane Wetsuit, which exceeded my expectations in every way. This stylish and functional full-length wetsuit has become an indispensable part...
link to Best Scuba Diving Insurance
Scuba diving has become one of the most popular pastimes for adventurous travelers over the past 50 years. Despite the rigorous safety standards and training systems in place to ensure scuba divers...