Diving in the Bahamas is a dream for most of us. Thanks to the incredible culture, people, and stunning views, both in and out of the water, it's no wonder it's such a popular spot for scuba divers!
It's also caught the eye of lots of people heading out on their first dive vacation – you don't have to be an old sea dog to make the most of the Bahamas.
But, by being so popular, there are quite a few liveaboard options for keen divers. So, let's look at one of the most popular liveaboards in the area, the Aqua Cat!
BEST FOR BLUE HOLES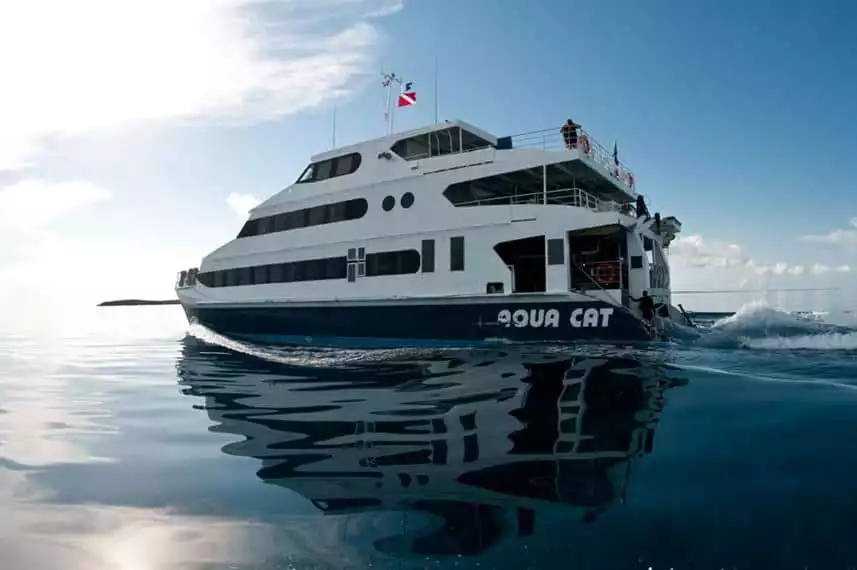 The Bahamas is an easily accessible part of the world, particularly for residents of the USA seeking a dream getaway within close distance.
Bahamas Aqua Cat Liveaboard
This beautiful boat is perfect for scuba divers of all experience levels all year round. Aqua Cat's cabins have incredible sea views; there's plenty of room for you, your loved ones, and up to about 30 people in total, and the dives take you deep into the crystal waters to spot all kinds of marine life.
The only thing that could make this Bahamas liveaboard any better is the price – and to be fair, in my experience, it's more than reasonable!
The Aqua Cat catamaran is 102 ft long and can welcome up to 30 guests across 11 cabins. The boat's been running since 2001 and was renovated just in 2015.
The ship has two Caterpillar 3406E engines, ensuring a smooth ride your entire trip. Safety, too, is taken care of – onboard, you will have access to life vests, first aid kits, fire extinguishers, and a fully trained crew in first aid. So, all you have to focus on is the amazing adventure that lies ahead of you!
During a standard seven-day cruise, the Aqua Cat liveaboard offers about 26 dives. As you can imagine, this will significantly depend on the general weather conditions, and some days your fellow passengers and you may choose to skip a dive. This is usually the case when everyone wants to see the swimming pigs, for example!
However, you will have the option to see some of the Bahamas' stunning 200+ dive sites, all of which are just begging to be explored just off the dive deck.
You can expect to see some of the best sites in Nassau, Bahamas and Exuma Sound, including the following experiences:
Coral reefs 

Shark dive adventures

Shark feeding opportunities

Trips to Exuma Cays 

Explorations of blue holes 

Austin Smith Wreck adventures 

Deep Walls 

Night dives
However, beyond the great dive site itinerary, Aqua Cat visitors will also experience fantastic shore excursions, such as exploring the beautiful beaches and uninhabited islands (such as some of the Exuma Cays' land). Don't be afraid to give scuba diving a rest one or two days to go exploring the local haunts and nightlife!
If we were to list every kind of marine animal you can expect to see from the dive deck of the Aqua Cat liveaboard, we'd all be here for a while! But some of the most common and sought-after wildlife you're likely to meet in the surrounding deep include:
Turtles 

Whale sharks 

Coral reef fish 

Lobsters 

Nurse sharks 

Caribbean reef sharks 

Tiger sharks
The best dive sites you'll experience off Aqua Cat cruises normally let you get up close and personal with sharks in a controlled environment – but the Aqua Cat offers lots of gentler dives for spotting schools of colourful fish all around.
If you've never been scuba diving in the Bahamas before, the amazing crew on board the Aqua Cat are here to show you the best marine sights of the local waters!
After a long day of diving, the last thing you want is to fit into a shoebox with someone you barely know. Thankfully, that's not what you'll find on the Aqua Cat! This award-winning ship has some of the biggest cabins you're likely to come across on any liveaboard in the area.
Cabins one and two have two twin beds with two pulldowns and can each welcome up to four people, while cabins three and four have two twin beds and one pulldown – and can accommodate up to three people. 
Cabins five to eight, meanwhile, each have two twin beds (or can be used as king-sized beds). Cabins nine and ten on top of this each have one queen-sized bed and one twin-sized bed. They can hold up to three people. 
Finally, cabin eleven, the smallest of the cabins, has twin bunk beds. As opposed to the other cabins, cabin eleven also has a skylight instead of a full sea view – which, to be fair, is equally as stunning. Try it for yourself on your own Aqua Cat cruise!
Each cabin has its own private bathroom with a shower, and all are individually air-conditioned. Lovely for coming back off a long dive trip, or an exciting night dive.
Leisure deck 

Spacious dive deck (and dive deck showers)

Full saloon 

Sun deck 

Photography station 

Outdoor dining area and alfresco deck
Still unsure if the highly respected Aqua Cat is for you? Here's a few common queries I'm happy to answer.
BEST FOR BLUE HOLES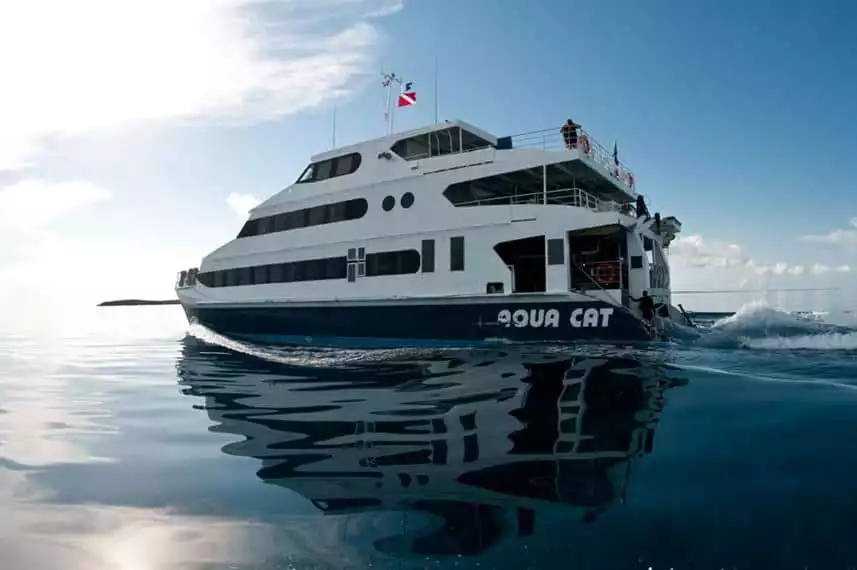 Recent Posts