Starting to learn how to snorkel underwater is great fun – but you should never enter into it lightly! There are a few things you're going to need to do to prepare, and of course, you're going to need the right equipment and accessories to make sure you're able to take on the deep at a pace you're comfortable with.
Looking for some underwater snorkel tips and tricks? Here's my quick, full guide on how to snorkel underwater if you're new to the idea!
How to Prepare for Snorkelling
Apart from taking a deep breath and jumping right in, there are a few things you'll always need to consider before snorkelling for the first time. Wearing the right equipment isn't enough! You should prepare your body for snorkelling underwater. Here's how.
Naturally, you are going to need to know how to breathe underwater with a snorkel. Controlling your breathing while snorkelling is crucial. Therefore, it makes sense to practice how you control your airways before you dive in. A great place to start will be to make sure you establish a steady breathing rhythm.
Do also keep an open mind. Snorkels are going to take in water occasionally, which means you're going to need to be careful when breathing in. Swallowing water the first time or two might be a bit of a shock. However, you can practice blocking water by setting your tongue up to guard or shield your throat.
The more experienced you get at snorkelling, the deeper into the water you'll go. You may find that learning to breathe underwater is easier than you imagine. To begin with, it's perfectly reasonable to bob along the surface, allowing your snorkel tube to just poke above the water and into the air.
Not all snorkellers use fins, but it's a good idea to try and keep as much control as you can, as these will clip through the water easily. However, you should always try and swim with fins in a practice session before you dive into the wide open waters.
Swimming with fins is much trickier at first than swimming without them. Therefore, it may be worthwhile  taking a look at local classes and sessions at nearby pools and leisure centres to get in some practice time.
Over time, you will find that there are some techniques you can use to help enhance the comfort and control you have during diving and swimming around. These aren't techniques you necessarily have to know off by heart right away, but you could grow into them to improve your skill and technique in the long run.
One of the key techniques you should learn is to take a deep breath before diving in. This is – and remember – that your snorkel isn't going to magically find clean air for you to breathe while deep underwater. You're going to need to build up a steady breathing pattern before taking a duck dive, where you will have lungs full of air before diving deeper in.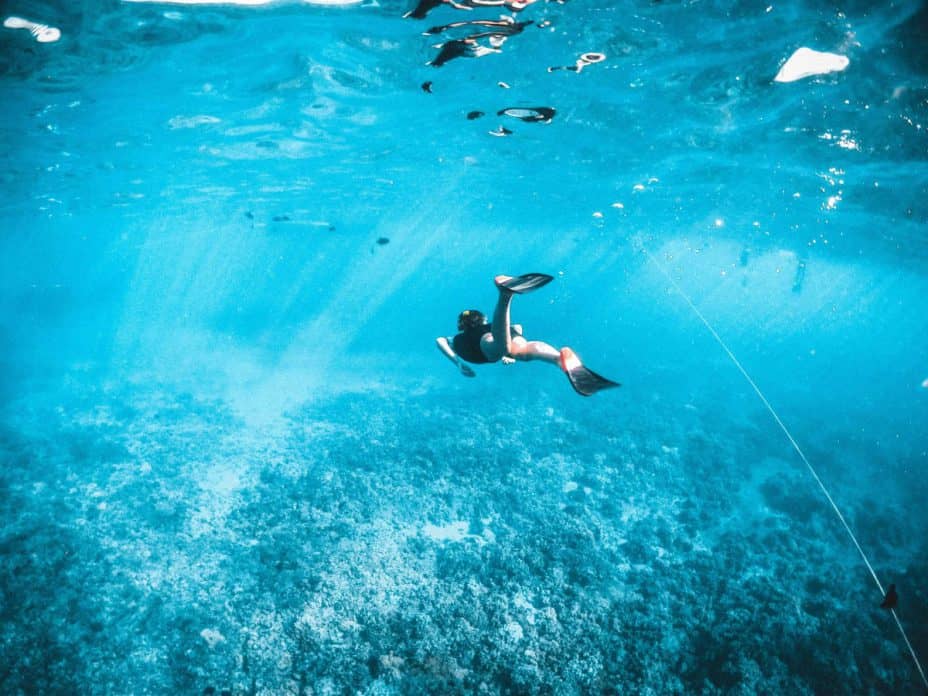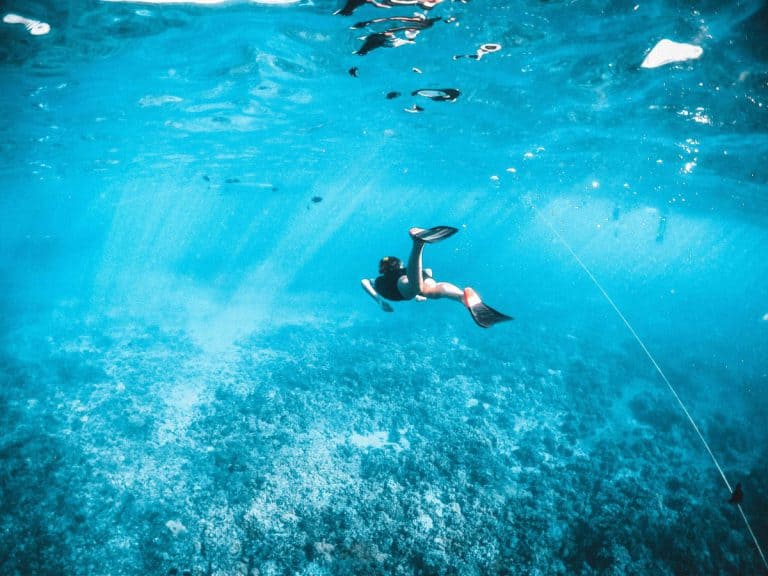 You'll then be able to take a look around the water by gently breast stroking and flutter kicking. Try not to exert too much energy – as the more that you swerve or wobble about, the more your lungs are going to release air, and therefore cut your swimming exploration short. It's crucial that you try and conserve air, and energy, as much as you physically can. This way, you won't find you have to go up and relieve yourself for breath at the surface.
When you do need to head to the surface, you are going to need to safely purge your snorkel tube of all the water it has taken on. This means that you should always have some air left in your lungs to exhale and push through. Try to press your lips against your snorkel mouth, getting your tongue in place to block.
Then, push air through in a big exhale, providing your snorkel is, of course, above water before you do. There are plenty of different ways for you to clear out your snorkel when you reach the surface. For now, however, this is likely to be a safe option for beginners in scuba diving.
What Equipment Will I Need for Snorkelling and Scuba Diving?
This is a very important factor to keep in mind. How are you ever going to snorkel without – well – a snorkel? Here's a list of everything you should, ideally, invest in and use for whenever you go snorkelling, no matter where you in the world.
·

       

An underwater snorkel and mask. Of course, these are crucial! You're going to need to look for a comfortable, airtight mask that you can easily use to drift around in when diving. If there's any chance of a leak, it's going to be extremely uncomfortable for you to use beneath the surface. Therefore, be sure to look for a mask that's anti-fog, and which you can practice with.

·

       

Rash guard. If it's your first time snorkelling, make sure to invest in a reliable rash guard. This is a protective costume that you can either wear on its own in warmer waters, or wear beneath a wetsuit in the cold.

·

       

Fins. Do also be sure to invest in a good pair of fins to make sure you keep control while diving and swimming around. Some snorkellers go into the water barefoot, but if you want to retain as much control as you possibly can, fins are solid investments.  Apex RK3's are my favourite brand for both snorkelling and scuba diving – I gave them a great review here.
Scuba diving uses a lot more specialised equipment which can be quite complex to get your head around.  You should always learn to use this equipment from a qualified instructor to ensure risk of injury is minimised as much as possible.  If you have never dived before, you can choose to do a PADI Discover Scuba Dive which will include a very basic introduction to some of the main pieces of equipment.
As you progress with your dive training, you become much more accustomed to the scuba diving equipment and understand the purpose they suit and how they function.
How Long Can I Stay Underwater With a Snorkel?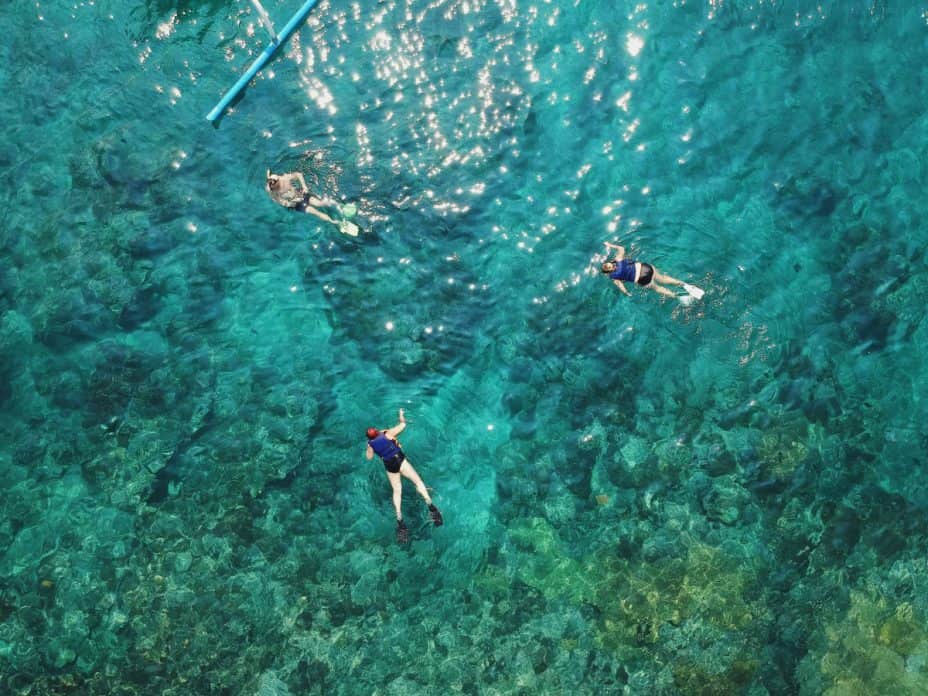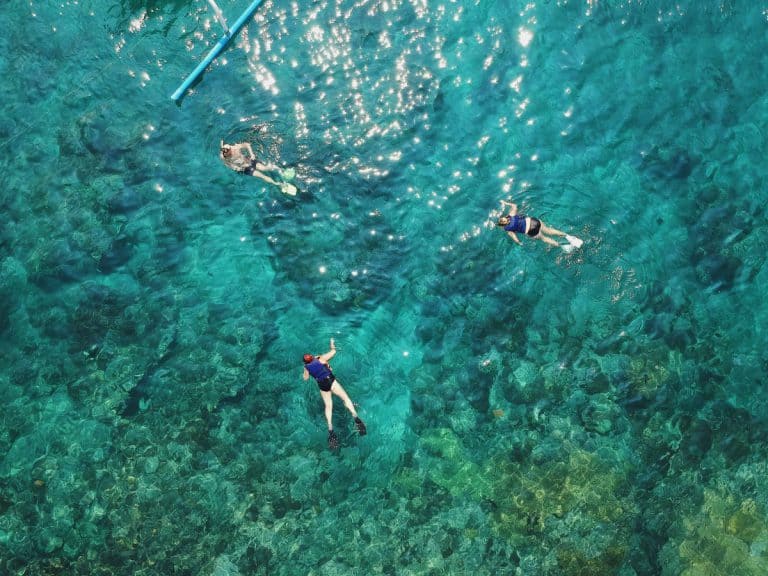 This depends on how much air you breathe in before you dive. However, you may find that there are snorkels which give you enough air to dive for two to three minutes.
Of course, do make sure you practice with a snorkel, as well as to improve your breathing technique. You may find that there are some snorkels which can let you breathe even longer. Try to aim low to begin with while you build on your technique.
This can vary depending on your experience and confidence in the water, as well as your technique. However, the general rule of thumb appears to be around a metre of depth. Again, it does also depend on the type of snorkel you use too, for example, cheaper ones may let in more water, thus bringing you back to the surface sooner than you wish.
Final Tips and Advice for Beginners
Here's a quick roundup of tips and guidance I'd like to share with you before you kit up and start snorkelling for real!
Do make sure to take on a snorkelling course or qualification. This is a great way to increase your confidence and to improve your experience in the water. Look at the PADI Skin Diver Course – it is the perfect introductory course for beginners!
Prepare to equalise – your ears are going to feel plenty of pressure under the waves, even at the shallow end of things! If you're going to be duck diving a lot during a session, be sure to equalise by pinching your nostrils and blowing as soon as you feel the pressure on your ears. This will help to balance ear pressure and therefore reduce pain.
Do learn to relax. The most experienced divers and snorkelers don't flail wildly or show much movement when they are actually in the water. This, again, is because energy wastes air!
Always make sure that you snorkel with friends or an instructional party. You never know if you'll need support. If you are duck diving, make sure there is one person who stays at the surface and keeps an eye on you to help look out for any dangers such as boat traffic, but to also check that your ok. When you are ascending back to the surface, place one hand straight up above your heard, look up and listen out.
Try not to snorkel anywhere too wild and new if you're doing it for the first time. Stick to areas and regions you know. Again, this is a good safety tip.
Above all, take snorkelling slow – it's a lot of fun, but there is no point in rushing the process if you're in a class of beginners. Read up on a few more of my guides and do make sure to sign up for a PADI Skin Diver course or local classes and guides near you, even if it is just at your nearby swimming pool! Learn how to snorkel underwater at your own pace!
Recent Posts