A dive light can be an essential piece of diving equipment on a scuba dive. To give you a better view of those little critters and or to help you find your way while night diving.
On some dives, a dive torch is a mandatory accessory to help you navigate and communicate with your dive buddies to ensure a safe dive.
Choosing a suitable dive light can be tricky with so many options. Read on as we look at the dive lights for every type of diver.
Factors to consider when choosing the best dive torch
It can be challenging to know where to begin when looking for a new dive torch. Deciding on what is the best dive light for you will depend on many different factors, such as:
Whether you are using the torch at night or in daylight.

How good is the visibility in your area.

Is it a primary dive light or a backup?

If you are taking photographs.

Trying to light up large areas or focusing on a small area.

Whether you want to carry it in your hand or have it mounted on your gear.
These are a few of the factors that come into play when making sure you get the proper dive light for your needs.
I'm Katy - author and owner of KatyJaneDives.com, KJD has my name and reputation attached which is super-important to me. Why take my word on scuba diving? I am a PADI Master Dive Instructor with 100s of dives under my belt and a passion for the underwater world.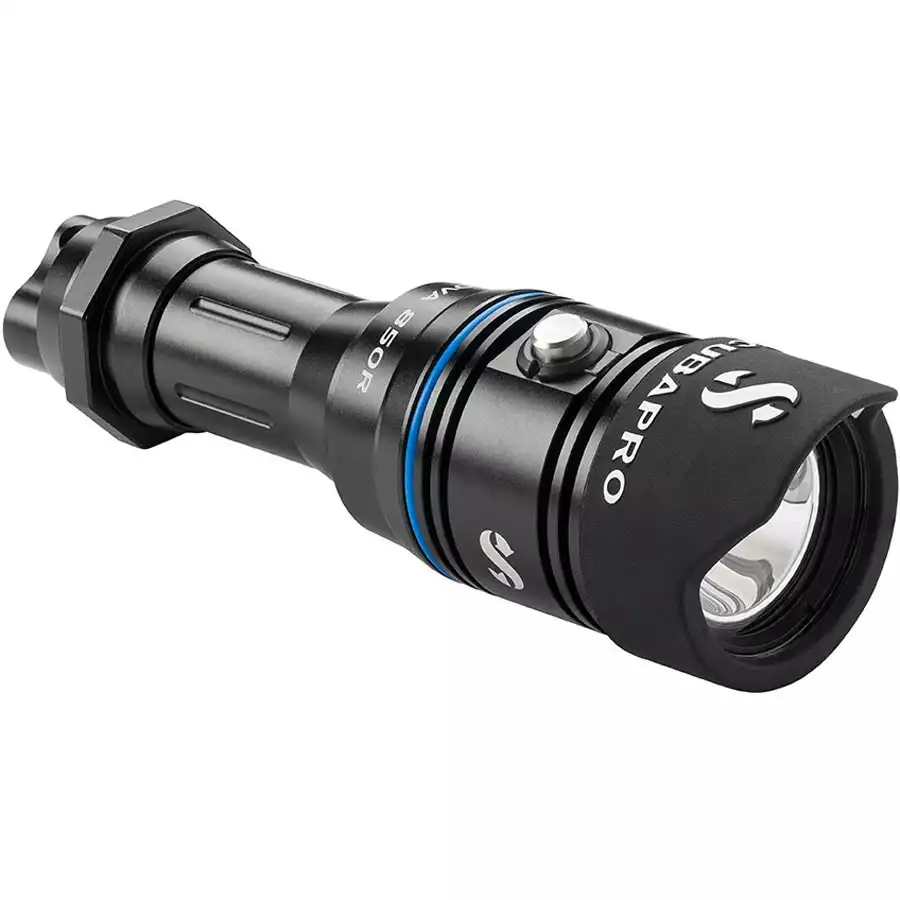 Scubapro Nova 850R Wide Dive Torch
Pros:
Long burn time on full power

Large push button for use when wearing gloves

Extended light head to prevent blinding other divers

Comes with re-useable soft shell box
Cons:
Not budget friendly

Offers only one beam angle

Cheaper options available offering more lumens
Check Price on MDS
Check Latest Price on Scuba.com
We earn a commission if you make a purchase, at no additional cost to you.
The Scubapro Nova 850 is one of the most popular and best-looking dive torches today. With its matte black finish and electric blue detailing, you will be the envy of your dive buddies. It even comes with its own re-usable soft shell box.
Depth-rated to 150m, with double o-ring seals and an overpressure valve for battery off-gassing, you can rest assured that this rugged dive torch will not let you down. This dive torch has a large push button to turn on and off and flick through different brightness levels. It even has a flash mode to get the attention of others if needed.
To turn on the torch, you have to push the button six times. This prevents it accidently turning on in a pocket or in a suitcase.
One hazard of using a dive light is potentially blinding other divers. The Scubapro Nova 850 comes with an extended light head shroud which stops the beam from interfering with your buddy's view.
Re-charge ready for your next dive with the Xtar-18650 rechargeable battery and mini charger.
Best Budget Option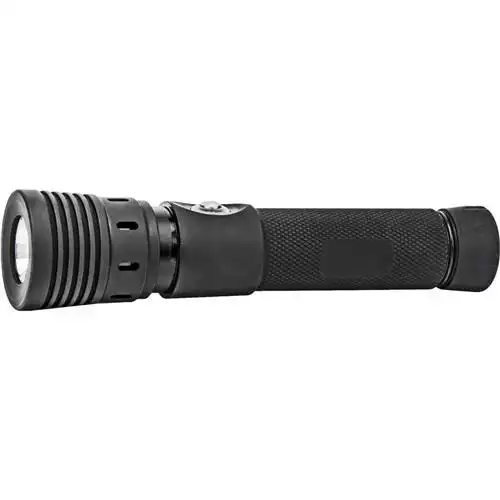 Made from anodized aircraft-grade aluminum, you will get a lot of dive torches for your money with the Tovatec Fusion 1050.
Many recreational divers say 1000-1200 lumens are the sweet spot for lighting the dive site. The sliding lens feature is imposing, allowing you to change from a narrow beam to focus on a particular subject to a wide beam angle to light up an entire scene. Pairing this with its various light strength settings and emergency strobe, you have everything you need for your next dive.
You will know how much of the 2-hour burn time you have left with the push button surround light, which glows green or red depending upon how much power you have left in the 18650 Li-Ion rechargeable battery.
This dive torch is a great all-rounder giving you confidence whether you are night diving or searching for macro life on a colorful coral reef.
Best Compact Option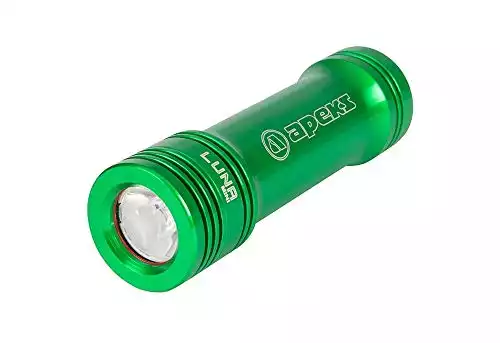 Apeks Luna Mini Dive Light
Pros:
Ultra light weight

Most compact torch on the market

Multiple power settings

Can be used out of water without overheating

USB charging capability
Cons:
Not budget Friendly

Non adjustable beam angle
Check Price on Amazon
We earn a commission if you make a purchase, at no additional cost to you.
The super light weight, compact Apeks Luna dive torch is perfect for the minimalist diver. This dive torch will easily stow away into your pocket while leaving plenty of space for other accessories.
Despite its small size, the Apeks Luna packs a punch with its 1000-lumen, 16-degree spot beam. With three power settings, this dive light offers up to six hours of run time.
One unique feature that sets this dive torch apart is its ability to adjust its power output using intelligent thermal management. Meaning it can be used above water without overheathing which is a problem for most other dive torches on the market. A particularly useful feature if you are on the surface trying to signal a boat to pick you up.
Another great safety feature for your peace of mind is the usb charging capability of this dive light. Meaning you can recharge your battery without the need to take the battery out and put it back in which prevents the chance of any water getting inside.
Best for Photography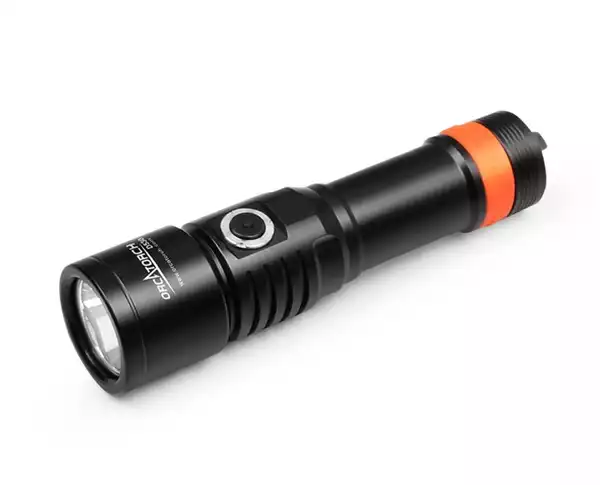 This dive torch has to be the most adaptable on the list. With its ability to adapt to any underwater scene with two lighting modes and six different colour beams including:
Cold White

Neutral White

Red

Blue

Green

Ultravoilet
This dive torch allows you to adapt to your surroundings and is an excellent addition to any camera set-up. It allows you to choose the right light for your subject. You can use the red beam on a night dive with shy animals and the UV setting for making fluorescent corals shine.
The intelligent overheating protection helps you get the most out of your rechargeable Li-Ion battery pack, while the safe lock switch prevents the light from turning on accidentally. While you are using your torch you will be able to see how much battery you have remaining with the LED indicator on the switch button.
Sealife Sea Dragon Mini 1300S
Best Narrow Beam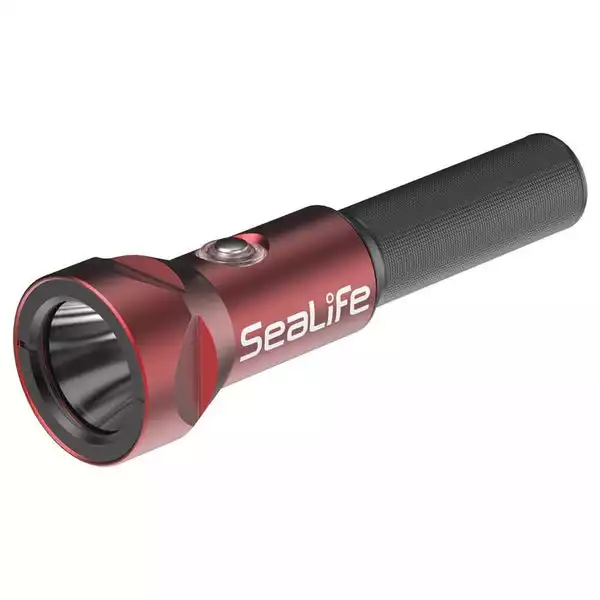 This lightweight dive torch is perfect for pointing out marine life and getting into those dark crevices at the dive site with its 6 degree 1300 lumen beam. The powerful, bright light will make it easy to show your dive buddies those small critters that are usually hard to find.
The Sealife Sea Dragon Mini has five light settings, including a 1-sec flash mode and an SOS mode for signaling boats or aircraft if you are lost after a dive.
With its run time of up to 5.5 hours, a depth rating of 100 meters, and an anodized aluminum machined body, this is a robust option for any diver looking for a primary light to add to their dive gear set-up.
The rechargeable battery also has a built-in pressure release valve to prevent any pressure build-up if a battery malfunctions while diving.
Best Back-Up Torch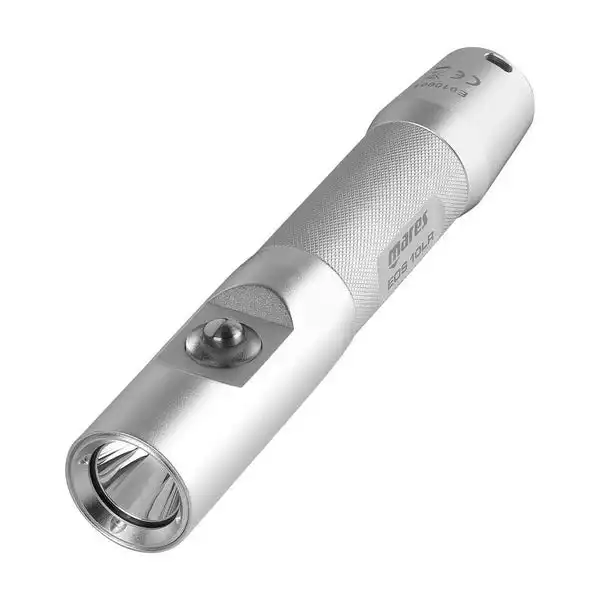 The Mares eos 10LR is a great option for a back-dive light. It is always good practice to carry a spare dive light should one fail. The Mares eos 10 LR offers lumens and a 90 minute burn time should you need to use it.
While being stowed away as your backup dive light, the multifunctional mechanical switch will prevent you from accidentally turning the torch on. If needed for use at the surface, this torch comes with an innovative temprature control system to prevent overheating and an SOS beam for signalling help.
You can also use this dive torch as your main torch in warmer, clear water, and it will still offer you a great view of the dive site with a 12-degree beam.
This dive torch is easy to charge with its USB cable connection.
Light and Motion GoBe 1000 Wide
Best Wide Beam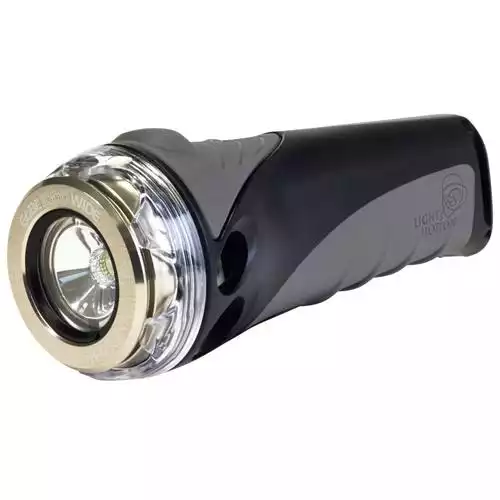 Turn night into day with this powerful wide angle beam dive light from Light and Motion. It comes with a huge 60 degree wide beam and 1000 lumens of light, making it a great option for diving in confined spaces such as wrecks or caves.
Waterproof all the way down to a depth of 120 meters and with a factory sealed battery to reduce the risk of flooding. Pairing this with its unique fast charging technology. This dive light will keep things visible in all conditions.
If you need a different perspective with your dive light, then you can even change the lighthead with others from the Light and Motion range without having to buy a completly new torch. All of the light heads come with highest level CREE LEDs and optimised firmware.
Is a dive torch necessary?
A dive torch is an important piece of diving equipment and as you start to explore more challenging types of recreational diving, many divers see them as essential. Just because you are not usually on night dives, this does not mean that diving torches are not for you.
Underwater torches can be used for so much more than just lighting up the night underwater. As you are aware the colour visible to the human eye changes considerably as we descend into the depths. Taking the right dive light with you will open your eyes up to a whole new world of colour and allow you find so many more forms of life that you may have missed without one.
There is also a strong argument that a good dive torch is a piece of safety equipment. You can signal other divers with it and if lost at sea, signal boats or aircraft while you wait for rescue. Many of the modern lamps available have an SOS mode and can be seen from great distance.
How do I carry my torch so that I don't lose it?
When scuba diving, there are a lot of things to think about with breathing, buoyancy, kicking and monitoring all of your gauges. Using a dive torch adds an extra thing for you to think about and manage while maneuvering around the dive site.
Using and stowing your underwater torches while diving is made easy with most of the modern torches coming with wrist lanyards so that you can let go without your light sinking to the bottom. While others can find into a wrist mounted goodman handle, giving you the ability to be hands free.
You can also do as the proffesional divers do and add your own boltsnaps to dive torches with most having a spot for you to tie one on and the clip it off onto a d-ring.
Narrow beam vs wide beam angle?
Choosing the best dive lights for your own personal needs can be a confusing with so many different options to choose from.
Start by determining the type of recreational diver you are and where you will be diving. For example, if you are in the murky waters of the UK a wide beam may help you illuminate a scene.
If you are in clear tropical waters searching for macro life inside cracks and crevices then a narrow beam may be more useful to you. It is even possible to have both with some models offering an adjustable beam.
If you are taking photographs and trying to light up a scene you may be best suited with a dive torch that has multiple light colours to give you the perfect light for every scenario.
Ultimately it is personal preference and no one is a better option or brand in general. It comes down to the type of scuba diving you will be participating in.