"Shark ended up in fish and chip shops in the UK…"
I've been working on a super-important campaign to ban shark fins in the UK. This is vital for a number of reasons- read on for more on the campaign and what we've been doing. 
I don't think I am the only person who would never have imagined something like this happening in their lifetime.  Who's with me?!
At the start of April, I was told my place of work were putting me on furlough leave until further notice.  Like most, I started to feel anxious about the whole situation.  I had so many questions racing around my head.
I have always been one to need something to work on.  Something to progress through and see it evolve.  Whether working on myself or something that I'm passionate about, seeing progress is one thing that keeps me sane.
In January, I was invited to join Shark Guardian, a UK registered charity, as a Trustee.  I have worked  with Shark Guardian on several occasions for a few years, first meeting them when I lived out in Thailand.
Since then, I had kept in touch with the Co-Directors, Brendon Sing and Liz Ward-Sing, and always felt like I wanted to help them more.  They do amazing work across the world, educating individuals of all ages on the importance of sharks in marine ecosytems.  Their work encourages behavioural change and nurture an increased awareness to the fragility and inter-connectedness of all marine life and beyond.  The benefits of healthy populations of sharks in our oceans become more and more apparent as research progresses.  They even have an important role to play in Eco Tourism and ocean conservation.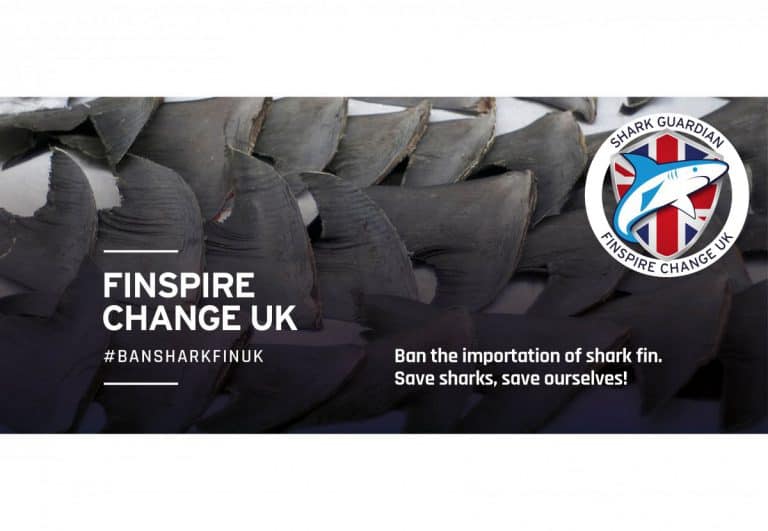 Becoming a Trustee for the charity was a whole new experience for me.  Even though I currently work in the third sector here in the UK, acting as a Trustee for a charity is certainly a great insight into how they work and function.
After hearing the news that I was being put on furlough, I immediately contacted Liz and Brendon and asked them to send me anything that I could help with!
The Birth of Finspire Change UK
I soon learnt that there was a project that Shark Guardian had wanted to initiate, but couldn't currently find the time to spend on.  That is one thing I did have – time.  It was a campaign, to push for an end to the UK's involvement in the shark fin trade.
After a few discussions with other Trustees – Finspire Change UK was created.
Let me give you a bit of background to how involved the UK is in fueling and supporting this shockingly barbaric industry.
In recent years it has come to light that the UK's involvement in the trade that decimates shark populations around the world, has been a lot more than originally believed. The UK is certainly not innocent in this global trade. Did you know that the UK Border Force classes shark as "fish"? Because of this, individuals can bring into the UK 20kg of shark for personal consumption. The quotas are actually a lot stricter for bringing in meat & dairy.
An investigation carried out several years ago showed that much of the shark fin bought in for personal consumption ends up being sold at high prices across the black market to supply the restaurant trade, thus fueling the demand for shark fin soup.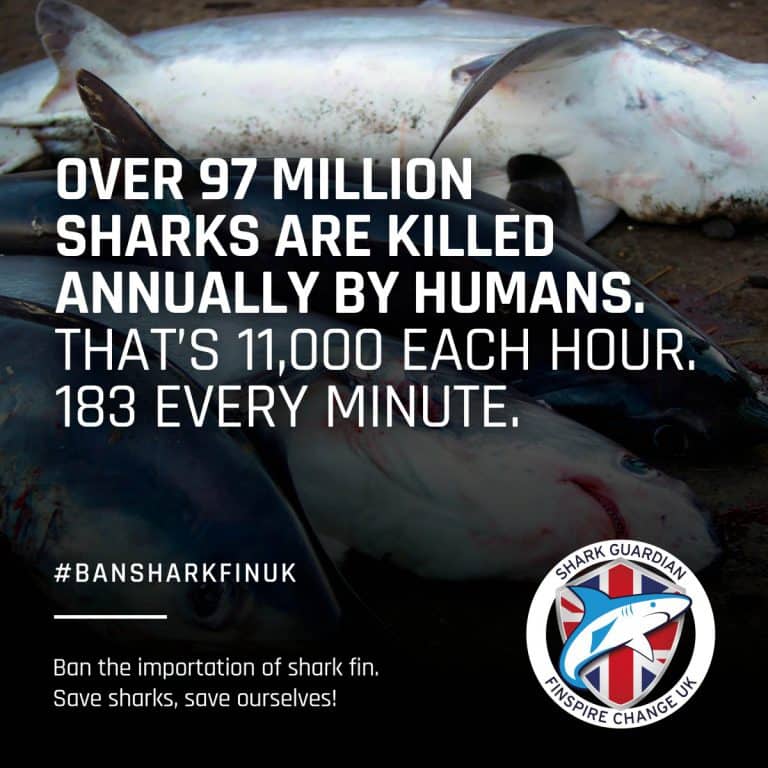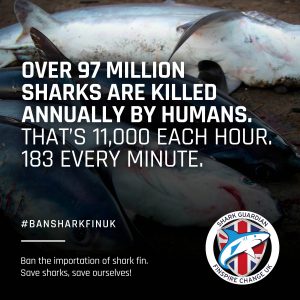 It is obvious that the laws are far from stringent and are being taken advantage of. Aside from the fact that much of the "personal" allowance of shark is being sold to restaurants for high prices, it can sneak onto your plates in another way – on your weekly fish and chip shop takeaway.

Research in the UK conducted by Dr Andrew Griffiths of the University of Exeter used DNA barcoding to investigate sales of shark products in fishmongers and fish and chip shops across England. Most samples were identified as Spiny Dogfish (Squalus acanthias), which is critically endangered in the Northeast Atlantic and landings have been prohibited (although there is evidence of importation of this species).

Although the study had a small sample size, analysis of UK wholesaler fins identified threatened sharks, including the endangered and CITES listed Scalloped Hammerhead (Sphyrna lewini). This highlights the global nature of the damaging trade in endangered shark species, in which Europe and the UK have a continuing role. 

If we are really serious about saving sharks from extinction, then this must stop.
Saving our Sharks Post-Brexit
Whilst the UK was part of the EU, a petition to ban the importation of shark fin was launched that gained over 16,000 signatures which received a relatively positive response from the Government.  However the response referred to the fact that whilst in the EU the UK was unable to unilaterally ban the importation of shark fin into the country. 

The response went on to say, " Leaving the EU will present us with the opportunity to take further action on this issue and consider whether the UK can go further in controlling the quantity of dried shark fins permitted for personal consumption, consistent with our World Trade Organisation obligations".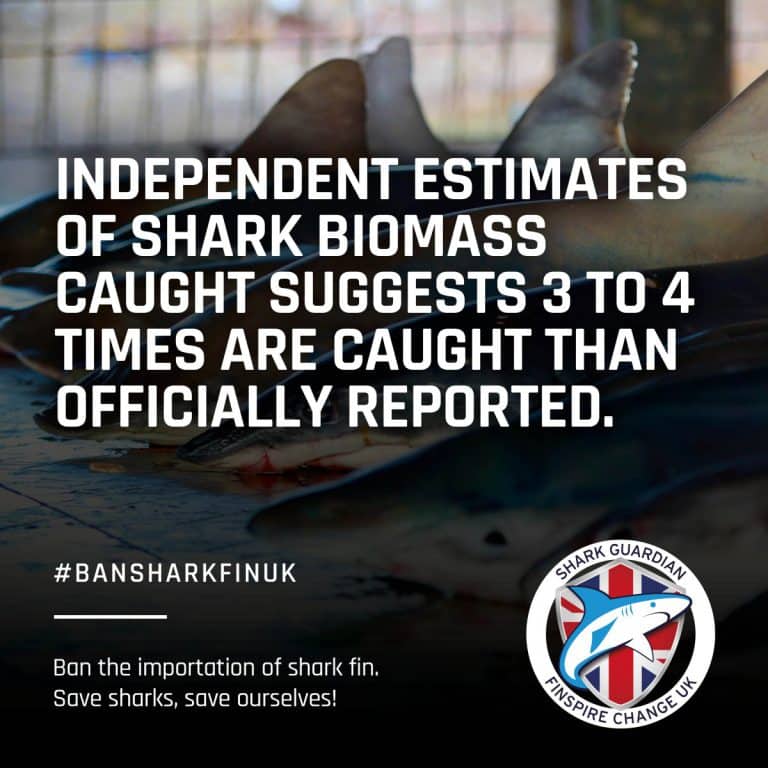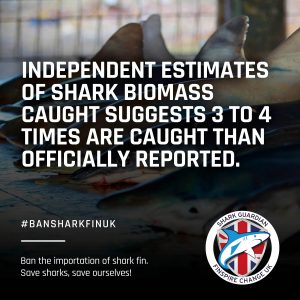 There has never been a better time than now to push for this important amendment to legislation.  Soon after leaving the EU, Shark Guardian were approached by a member of public who had set up a petition online.  This petition is held on the UK Government and Parlimentary Petitions website.  This is where Finspire Change UK comes into the picture.
The aim of the campaign is to gather over 100,000 signatures to ensure that the issue is debated in Parliament.
We officially launched Finspire Change UK on 1st May 2020 and have until September to gather the required amount of signatures.
The most exciting aspect of this campaign is that Shark Guardian are by no means the only organization in the world lobbying for change, there are many global efforts currently taking place including the Stop Finning Citizen Initiative in the EU.

See their amazing efforts by visiting their website Stop Finning EU and following them on their social media channels. Please share their posts and encourage all your European friends to get involved and sign their initiative. At least one million signatures must be collected, with the minimum number of signatures needed from a quarter of the EU states.

We are aligning closely with Stop Finning EU so that we can march together for this important amendment to the laws.
Although many countries are now starting to ease their lockdown restrictions, we are still due to rely heavily on the power of social media for the success of this campaign.  Every share is so important and could result in another 50 signatures!
Please consider sharing the campaign with your friends and family. We have created some beautiful educational content that you can download from the Shark Guardian website – simply click here to visit the page.
And we have T-shirts!!!!  100% of the profits go towards Shark Guardian projects – so not only are you helping spread awareness of the campaign, you're also helping protect sharks by raising awareness!  Have a look at the two different designs and buy yours here.
If you do purchase one of the t-shirts, go ahead and post a selfie of you wearing it on social media and use the #BanSharkFinUK – lets get this message out there to as many people as we can.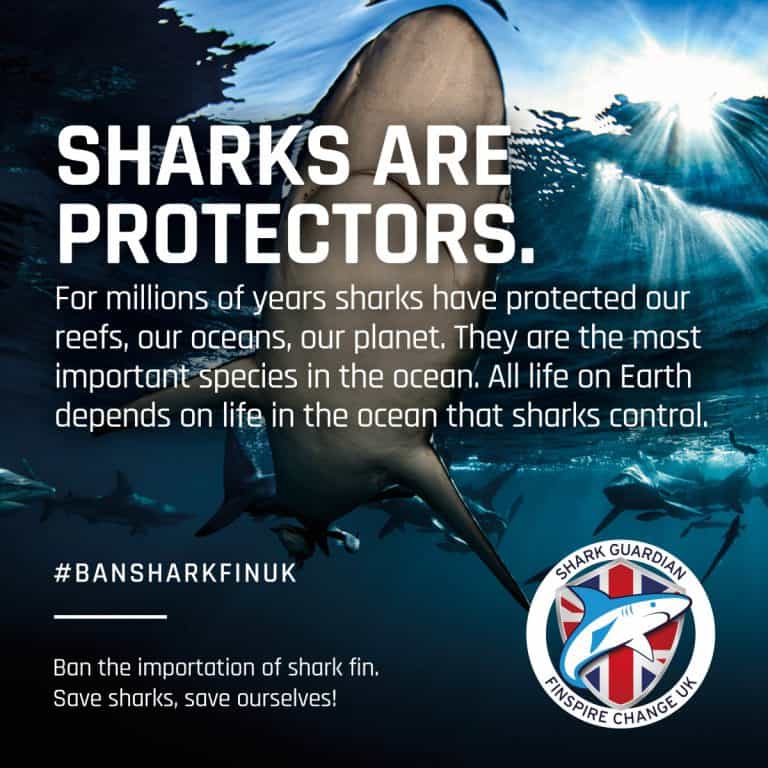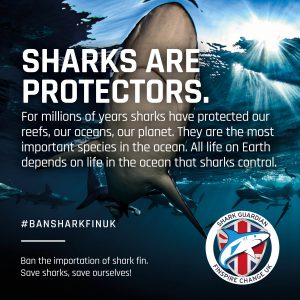 We are so grateful for all the support we have received already! But if you want to get involved, please do let me know.  Drop me a message on Facebook or Instagram  I will get back to you with a few ideas! 
Please follow Shark Guardian on Facebook, Twitter and Instagram!
If you have contacts within the media industry that may be interested, or a friend with influencers or politicians – please do reach out to me!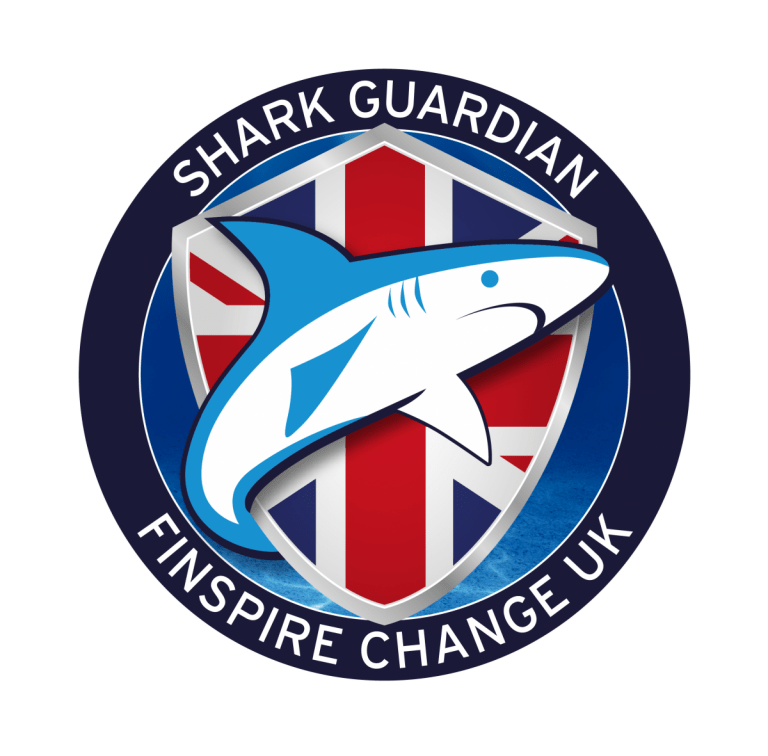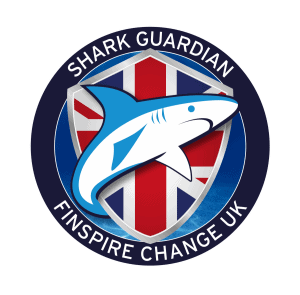 Recent Posts