I sat down with our next "200 Bar With"…Chris Facey, a dive instructor from England who has travelled to some of the worlds most stunning dive sites.  Read on to discover why Brummies aren't excitable and how the COVID-19 pandemic has made Chris question whether this is the life he really wants.
Name: Chris Facey
Nationality: British
Dive Level: PADI IDC Staff Instructor
Years of Experience: 8
Current location & job role: UK due to Covid-19, lost role as Marine & Dive Manager at Treasure Island Resort in Fiji because of the Pandemic.
We've got a fresh full tank, so lets buddy up with Chris and dive right in.
I left school in 2008 with a headache and didn't go to University or anything. I worked full time for Morrisons Supermarket and ended up working my way up onto the first rung of the managerial ladder. After a few years in this role I realised I might be wasting my life a little bit. I knew I wanted to travel and decided to quit everything, sell my car and go for it. I started with a small "tester" trip to Vietnam where I was part of a group of 15 or so 18-25 year olds, all of us on a 28 day bender across the north of Vietnam. Upon returning to the UK I knew I wanted to travel again but I didn't want to just party all my money away for a few months and be forced into returning to my old job. I saw an advert for a company call Global Vision International (GVI) offering a 6 month internship to become a PADI Divemaster. This is the trip I ended up booking, but I completed my PADI Open Water Course with the Birmingham Underwater Exploration Club (BUEC), a dive club in my local area. I had actually booked my Divemaster internship before breathing underwater which left my instructor, Adrian, slightly confused. I had a great time with BUEC and still visit from time to time.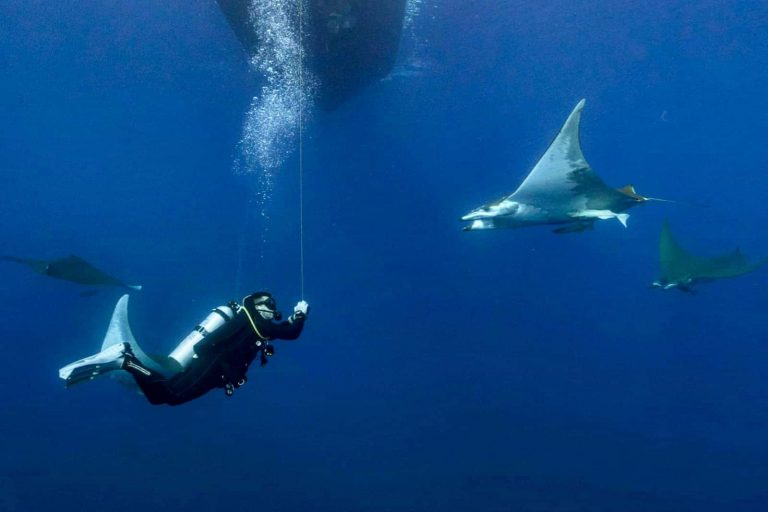 What locations around the world have you worked in?
For the past 8 years I have had the chance to work in some great places starting with my internship in the Seychelles before moving onto my 2nd home Koh Lanta, Thailand where I did my DM and IDC with Hidden Depths Diving. I earned a spot as a full time instructor for Hidden Depths Diving and helped the team become the number 1 dive centre in Koh Lanta over 4 Seasons in Koh Lanta from 2014-2018. I dabbled in commercial diving as a pearl diver in Australia before moving onto Tenggol Island in Malaysia. Back in the UK I worked for The Bear Grylls Adventure. This was very different as it was strictly Discover Scuba Experiences (DSDs). After just under a year of DSDs I moved on to Tobago in the Caribbean where I learned the hard way that Dive Instructors can sometimes be put in difficult situations by dive centre owners. With out of service cyclinders, compressors and attempts to force me into breaking WRSTC standards, I lasted about 2 weeks. Luckily, as I was leaving Tobago I was given the chance to join a great team in Fiji at Treasure Island Resort. This was the best job I have ever had and I would still be there now if it wasn't for the pandemic. Since coming home from Fiji I have also given the chance to help finish up the season in the Azores, Portugal for 4 weeks which was amazing and I'm planning to return in 2021.
Can you recall a particular profound diving experience?
This is a tough one. I have dived in some of the best spots around the world but I don't really have profound moment. I put that down to being from Birmingham. We are not the most excitable people in the world as people who know me will probably agree.
I think the moments that stand out are the firsts. My first Manta Ray, Whale Shark, Mako Shark etc. Those moments are special but for me the dives I always remember are the last ones I do wherever I am in the world. Its always bitter sweet but I always savour every last second on those dives.
You mentioned you did a stint in pearl diving – what was that like?
Interesting to say the least. Australia has some crazy places and I think i ended up in one of them. I was an hour flight north of Darwin in Arnhem land on a small remote base. We didn't use cylinders when diving, we had a 40m hose connected to a compressor that sat on the boat. We worked at depths of around 20m for a few hours per day. The work was grueling and I have never sweated underwater until working there.
More hard work than the actual job was the exposure protection we had to wear. The area we were in is littered with irrakandji Jellyfish. These things require 30+mg of morphine if your caught with their almost invisible tentacles. For this reason we had to wear a full suit and a special hood called the Ned Kelly mask. It covered every part of your face even the lips! Oh and I didn't mention the Saltwater Crocodiles!
Considering the work-life balance, what has been your favourite place to live and work?
Koh Lanta, Thailand. I could not have typed that any faster. Everything about the island and the Thai culture was great. If it was easy to get a work permit I would go back tommorow. The diving off Koh Lanta is also some of the best I have done even to this day. There is Koh Haa which has Whale Sharks throught the season, the Bidas which has reef sharks and Leopard (Zebra) Sharks and the famous Hin Daeng/Hin Muang which usually has oceanic manta rays.
Also working for such a good dive centre played its part. At the time, Hidden Depths Diving were run by a really tight knit team and I was lucky to learn everything I know from two great instructors over the years I was there in Rich and Gary.
If you could be one marine creature, what would it be?
Orca, king of the ocean. I wouldn't want to have to look over my shoulder the whole time and I think Killer whales are the only thing in the ocean that don't have to worry about predators. It would also be cool to see just how intelligent they are.
You're looking to become a PADI Course Director – what does that training entail?
To get to PADI Course Director from where I am now I just need to teach specific courses and build up the right number of each course to qualify for the next step which is PADI Master Instructor. When I get there I will need to join up with a PADI Course Director and work on as many Instructor Development Courses as possible.
It would be possible to achieve this quickly and I do see lots of people fly up the ranks without really putting in the real world work. There are a lot of internships that are great for people who a desperate to get there. For me I would rather enjoy the process and get real world experience teaching my own courses and developing my own style. I think that eventually that will make me a better Course Director when I finally get there.
It's about time we turn the dive Chris, let's fly through these final questions…
What dive locations are on your bucket list and why?
Galapagos would have to be number one for me. From what I have seen it is a place where everything you can think of congregates. I am desperate to see a Hammerhead Shark and Galapagos is where most of the famous shots from below of hundreds of them are filmed. I have looked at the price and the only way I will dive there is if I get a job.
Another spot would be Norway for the Orca snorkel. Although there is no diving involved this is very high on my list. Being in the water with Orcas would be like my "completed it mate" moment.
COVID – 19 aside, if you could be anywhere right now, where would it be?
I would want to finish the job in Fiji. I really didn't get to end things the way I would have liked. I didn't get to say goodbye to my favourite dive sites and the staff I worked with either. In fact I would have most likely extended my stay for another year if possible.
What advice would you give to Scuba newcomers?
Buy a mask. Thats number one for me because if you cant see then what's the point. I have taken people on dives to some of the worlds most beautiful spots but they miss most of it because of their rental mask. Its one of the cheapest pieces of equipment you can buy. Also concentrate on diving more than certifications. Some people collect certification cards and rush through the process. It seems a bit contradictory because I booked my DM before booking my Open Water course but for most recreational holiday divers I would say just take your time and dive as much as you can without the added pressure of being on a course.
For people that want to join the professional ranks I would say to make sure you go somewhere out of your comfort zone and put yourself in front of real customers. Simulating your Divemaster course will get you the certification but you cant replace real world experience.
Where do you see the future taking you?
 2020 has been a tough year for everyone and from the outside it can look like life is amazing but in reality it has been difficult for me too. I wasn't happy with the way things had to end in Fiji because of the Pandemic and I really have been evaluating whether or not I even want to continue in diving as a pro. It isn't the most well paid job in the world and at my age I have had my doubts about the future. However after going out to the Azores I have found my passion for the sport again and realised that I still have a lot to learn and a lot of diving to do before I stop. So in June 2021 I plan to return to the Azores for a full season for Pico Sport.
I will also be taking my dive career a little deeper as I want to look at some entry level technical diving courses before returning. Also I will be looking to begin training as a boat captain. After 2021 who knows where I will end up. As far away from the robots as possible I hope….