For my first in a new series of blog posts titled 200 Bar With… I speak to Jasmine Carter, a PADI Master Scuba Diver Trainer currently living and working in Fiji.
Let's get our pre-dive safety checks completed and go for a dive into Jasmine's world!
Name: Jasmine Carter
Nationality: Australian (dual citizenship in the UK)
Dive Level: MSDT
Years Experience: 20 years recreational, 7 years professional
Current Role & Location: Dive & Watersports Manager , Treasure Island, Fiji
WE'VE GOT 200 BAR, LET'S GO
How Did You Get Into Scuba Diving?
It was a sport at my High School. So when everyone was our playing football or basketball or soccer every Wednesday afternoon we were learning how to dive for six months. We were certified pretty quickly so most of that time was then fun diving all around the coast.
What Has Been Your Most Memorable Dive Experience?
Oooh I would have to say diving with dolphins in Tobago! This only happened last year so over 20 years of diving and never seeing dolphins; I saw them plenty of times from the boat, but they would disappear once you got in.
For this dive I was on dive 3 of an open water course, the student was a natural so we were just cruising along and I hear a sound and stop to look and listen more  carefully, I signal to my student I thought I heard something and we see nothing, so I turn back around and as I do, there they are!! Zooming past us! There would have been nearly 30! Going past in little pods of 3 or 4, they were so close I could have reached out to touch them! You could make eye ccontact with them and they would all the time be making noises like they were saying hello or laughing to each other about these weird fish haha. The last pod was super playful and swam around us and under us and did twists and turns, it was so amazing!! I had to tell my student that this dosnt just happen on every dive let alone your third ever! And of course I didn't have a camera on me… but that's the way it works, all my best dives are just pictures in my mind.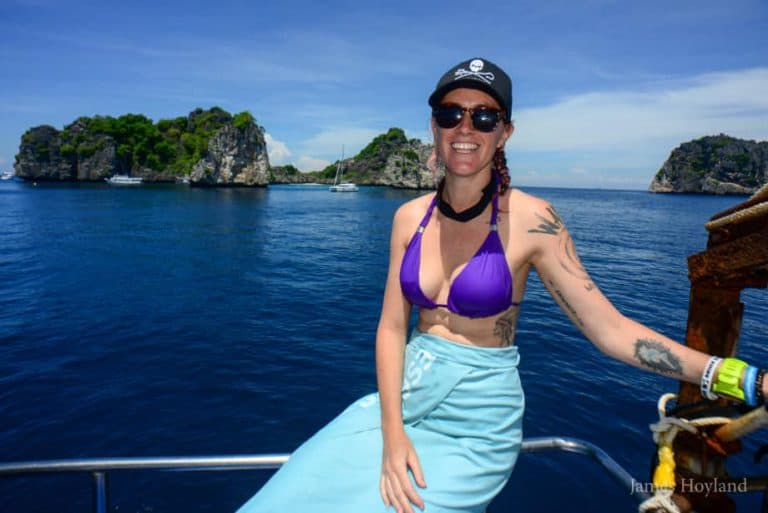 WE STILL HAVE LOTS OF TIME WITH 160 BAR IN THE TANK….. 
LET'S GO DEEPER INTO JAS' JOURNEY
What Destinations Are On Your Bucket List And Why?
Galapagos! It has literally everything I want to see in one place. Plus I doubt we could ever get work there so that would be a holiday one for sure.
Also Palau, as one of the largest marine protected areas in the world, I would just love to see that biodiversity there. To see what its like when we aren't there to ruin their natural habitat.
My list goes on and on, the more divers I meet the more places I find out about. Phillipines, Egypt, Iceland, Azores, Costa Rica, Maldives, etc etc
What Advice Would You Give To New Divers?
Dive often! Keep diving as much as possible so you can hone your skills. Don't worry about the certifications or the cards you can get, just dive without all that until your completely comfortable to do everything yourself. Only then look at the next course. I see people rushing all the way through all their courses and they get to Divemaster or even Instructor and their basic skills just aren't there.
Is There One Thing You Wish You Had Done Differently In Your Career As A Dive Instructor?
Nothing I can think of no, I am happy with where I am today and all the things I've been able to do with my dive career. If anything, maybe learning a language sooner as that's the only thing that stopped me from being able to apply for dream  jobs.
If You Could Be One Marine Creature, What Would It Be?
I love octopus' so I think that would be cool, I could interact with divers etc but they get eaten a lot :-/ …  If I was thinking along the lines of survival, I would probably go for like a killer whale and get to cruise the oceans and say hi to people and have no predators.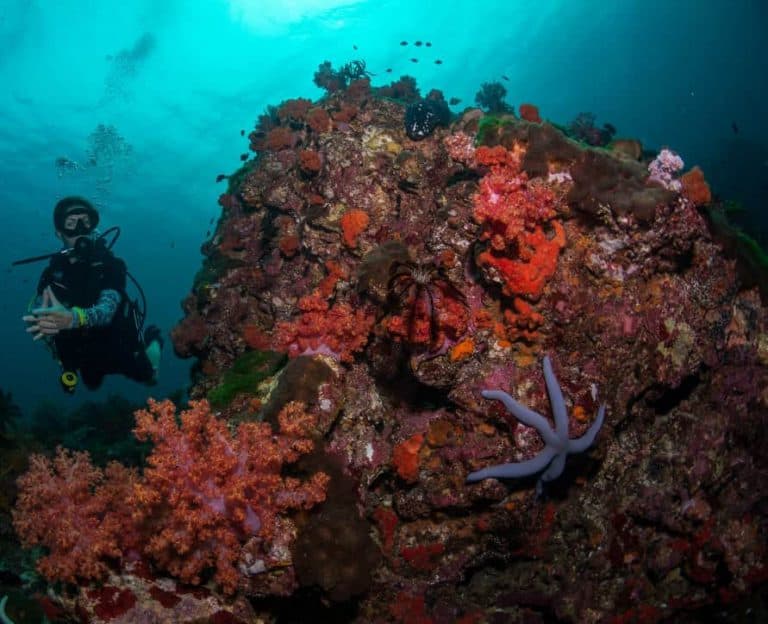 What's Your Best Piece Of Advice For People Looking To Help Protect The Oceans?
Stop eating seafood. You can say stop using straws or plastic bags as much as you want but the demand for seafood is what is killing the ocean. The bycatch just from prawns is tonnes of 'unwanted' sea life, including sharks which are super important for the ecosystem.
What Does A Typical Day Look Like In Your Current Job?
Pre-covid?…
Starting work at 8am to get ready for the 8:30am double dive, getting kit ready, loading the boat, paperwork if the guests haven't done it already, raiding the breakfast buffet for the snacks and fruit for the trip, getting water and ice for the cooler box.
Our first dive is usually always at our shark dive site, unless the divers have already been there. I usually get an easy dive at the back, as we have 3 local staff members completing their Divemaster course , so I just get to supervise.
Once we get back we are washing kit and filling tanks, then lunch. We get to eat anything we want off the menu or the buffet.
After lunch I'm in the office replying to emails and getting paperwork done.
We may have a free try dive session/dive course in the pool in the afternoon, or, we may have another trip going; like snorkeling, island hopping, a jetski trips, banana boats etc
In the shop we are also signing out kayaks, SUPs and snorkel equipment to guests.
At the end of the day we are pulling everything up off the beach and washing the returned snorkel equipment. Getting the sales completed and taken to reception so the costs can be added  to the guests bills.
When we close at 5pm (if there are no night snorkels or dives) we often have a guest cocktail party to attend.
We are also on call 24hrs which you think would just be for emergencies but is often for guests when they call us drunk and want to go fishing or boating at 6am!!!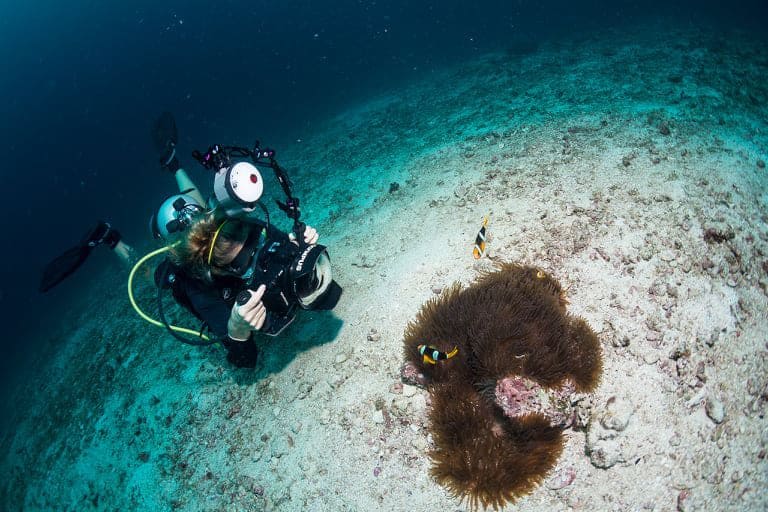 IT'S TIME WE EXIT THE WATER..
WE HAVE TWO MORE QUESTIONS TO ASK ON THE BOAT!
What Is Your Favourite Course To Teach?
Sometimes a PADI Discover Scuba Dive, its quick and easy and such a great experience for newbies, I've never had an unhappy guest at the end.
Or teaching Peak Performance Buoyancy, part of the advanced course or as specialty. I think that's just a good laugh! Teaching them how to swim backwards and upside down and through hoops and playing with their weight.
From Your Experience, What Is The Best Way To Get A Job In The Dive Industry?
Everything other than diving! Your diving experience and the courses you teach are obviously important but its all the other stuff that you can add to your CV that will make it stand out.
Languages, cylinder/kit servicing, boat engine maintenance, management experience, social media marketing, photography/videography, freediving instructing, kite surfing etc. The more you can do for the dive centre/resort the more they will want to snap you up quick.
THANK YOU JASMINE! WHAT AN INSPIRATION 🙂
Recent Posts