My Dad took me out freediving as of the age of 5 in the Mediterranean already and I even got my own first mask and snorkel. I was always in the water…a true water lover!
Next in the series of 200 Bar With…I speak to Elisabeth Lauwerys, a PADI Master Scuba Diver Trainer and owner of an underwater video and photography production company.
Name: Elisabeth Lauwerys (Lis)
Nationality: Belgian-Dutch
Dive Level: PADI MSDT
Years Experience: 22 years professional diver (25 years of diving)
Current Role & Location:  Owner Oceans Below Underwater Video Productions and Training – Teaching people how to do UW photography and video, working on several uw productions. Koh Tao
Instagram: oceans_below
WE'VE GOT 200 BAR
 LET'S HELP LIS WITH HER CAMERA EQUIPMENT AND DIVE IN…
How Did You Get into Scuba Diving?
It all started when I went for a practical training to The Philippines back in 1995 and did my OW and Advanced Open Water. Before I went there I wanted to do these courses, because the uw world always fascinated me. My dad took me out freediving as of the age of 5 in the Mediterranean already and I even got my own first mask and snorkel. I was always in the water…a true water lover!
What Has Been Your Most Memorable Dive Experience?
I have filmed so many great encounters in amazing locations over the years, and every single one was memorable. All my shark encounters in the Bahamas, False Killer whales, Humpback eye contact in the Dominican Republic, Manatee hugs from the babies… and so many more but, if I had to choose one story, I'd say it was when I started figuring out how to capture fluorescent night dives back in 2012. My short film "Visions in Blue" was the result of this new technique. In the beginning, we taped blue torches to the cameras and improvised to be able to get the shots. Later, with more sophisticated equipment, I filmed numerous fluo sequences for productions from the BBC, France 3 and other production houses of Scorpionfish hunting, coral spawning etc. Every fluo dive is as exciting as the first. You always see new colors, behaviors or inexplicable, other-worldly stuff!
What Locations Around the World Have You Worked In? What Was Your Favorite Place and Why?!
I think my favorite place to shoot was "Macro Heaven" Pom Pom Island in Sabah, Borneo. It is a remote little island with only 2 resorts on it. For a number of years I was conducting my Underwater Video and photo courses there a few months each year. The island is stunning and the best turtle encounters happen here with up to 30 turtles per dive. Most of my dives were between 90 minutes and two and a half hours! The fact I got to know the macro marine life so well there made it easier to shoot. However, I still have an ever growing bucket list of new dive destinations. Other destinations I always want to go back to are Mexico for the Chinchorro crocodiles and then my second favorite place in the world to shoot: Tiger Beach Bahamas. Next stop is Tonga though to hopefully swim with more Humpback whales!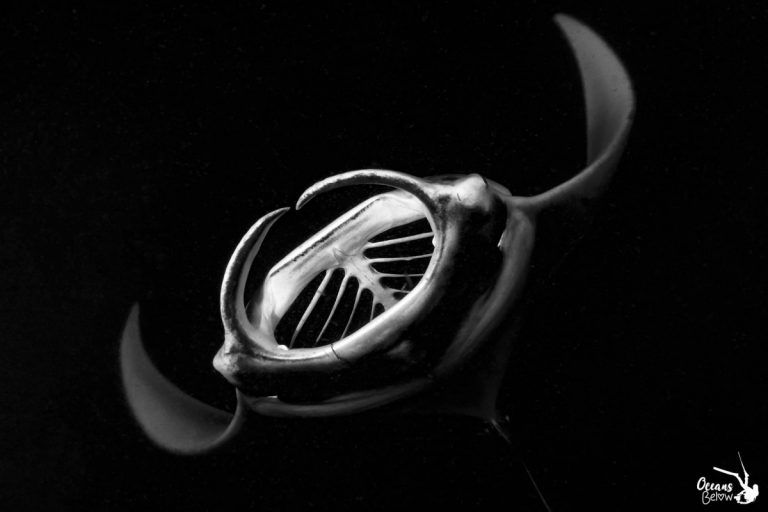 WE HAVE 160 BAR LEFT IN THE TANK…
LET'S FIND OUR PICTURE PERFECT SHOT!
How Did You Get into Underwater Photography?
I took the optional photo dive for my Advanced Open Water and instantly fell in love capturing this underwater magic on film with uw photography. Complete different story in 1995 because we used film. Within a few years I had saved up enough to buy my own camera and was shooting away. In 2003, I rolled entirely by accident into underwater videography, and I realized what an inspiring activity underwater videography could be. I felt that with video, I could express my creativity more and capture the best moments in my dives. I love recording the emotional connections and interactions with marine life.
You've Captured Some Great Shots of Creatures Underwater, which Species is the Most Difficult to Photograph and Why?
Manatees in Open Ocean are super shy so you'll have to approach super carefully and gain their trust. But once that happens it is so rewarding.
What Do You Love the Most About Underwater Photography?
I love everything about it. It's my life, love and livelihood. My passion lies beneath the ocean's surface. I am a creative camera operator and film maker with thousands of hours behind the camera. For me, underwater filming and photography is simply a force that guides me. As an experienced Dive Instructor, I have travelled all over the world. My life has been devoted to freediving, scuba diving and filming, and my journey has been long and winding. From Humpback Whales and Great Whites in the open oceans, to the tiniest Nudibranchs on tropical coral reefs, the sea's vast riches have fallen under my lens. And my journey continues….
Is There a Creature that is Easy to Capture on Camera? Like a Natural Poser?!
Tiger sharks are great to capture, so curious and they love to come close. I have great footage and photos of these great predators. And Mantas…ever so graceful. Love seeing them do barrels in the water column and seeing them feed at night!
Note: You can read more about Liz's views on shark eco-tourism's role in ocean conservation here.
IT'S BEEN AN INTERESTING DEEP DIVE..
WE HAVE 100 BAR LEFT IN THE TANK.
If You Could be One Marine Creature, What Would it Be?
Probably a giant pacific manta roaming the open seas.
What's Your Best Piece of Advice for People Looking to Get into Underwater Photography?
Think outside the box. Be as creative as you can, and make a difference. We are the ambassadors of the sea. It is our duty to protect and fight for the environment in which we work. Edit your footage or photos for the world to see. What people love, they will protect. Make it your mission to not only bring out your work and talent, but use this gift to save our oceans.
If You Could be Anywhere Right Now, Where Would it Be?
Right here! I am so lucky to be living on Koh Tao during these strange Covid-19 times. I have had the freedom to hike in the mountains, snorkel with baby Blacktip reef sharks and see them grow up and the turtles around the island. And now I am already back diving on our empty from people reefs with a new uw video student. The weather and visibility are amazing. For now this is the best place to be!
Recent Posts