If you're likely to go diving or surfing a lot, then there's a really good chance you're going to need a rash guard.
Rash guards are brilliant at helping to protect us from the cold, they offer amazing UV sun protection, and some may even help prevent bites and stings.
There are plenty of rash guard brands and rash guard features out there, so choosing the best fit for your budget can seem a little tricky! Do you need something form-fitting, or looser? Should you buy a long sleeve rash guard or a short sleeve option?
In this guide, I'll be taking a look at why wearing a rash guard is a must-do when diving or swimming in ocean waters. I'll also take you through the best rash guards available for you to buy right now, the best budget options, and some FAQs about why wearing the right rash guard matters.
I'm Katy - author and owner of KatyJaneDives.com, KJD has my name and reputation attached which is super-important to me. Why take my word on scuba diving? I am a PADI Master Dive Instructor with 100s of dives under my belt and a passion for the underwater world.
What is a Rash Guard Used For?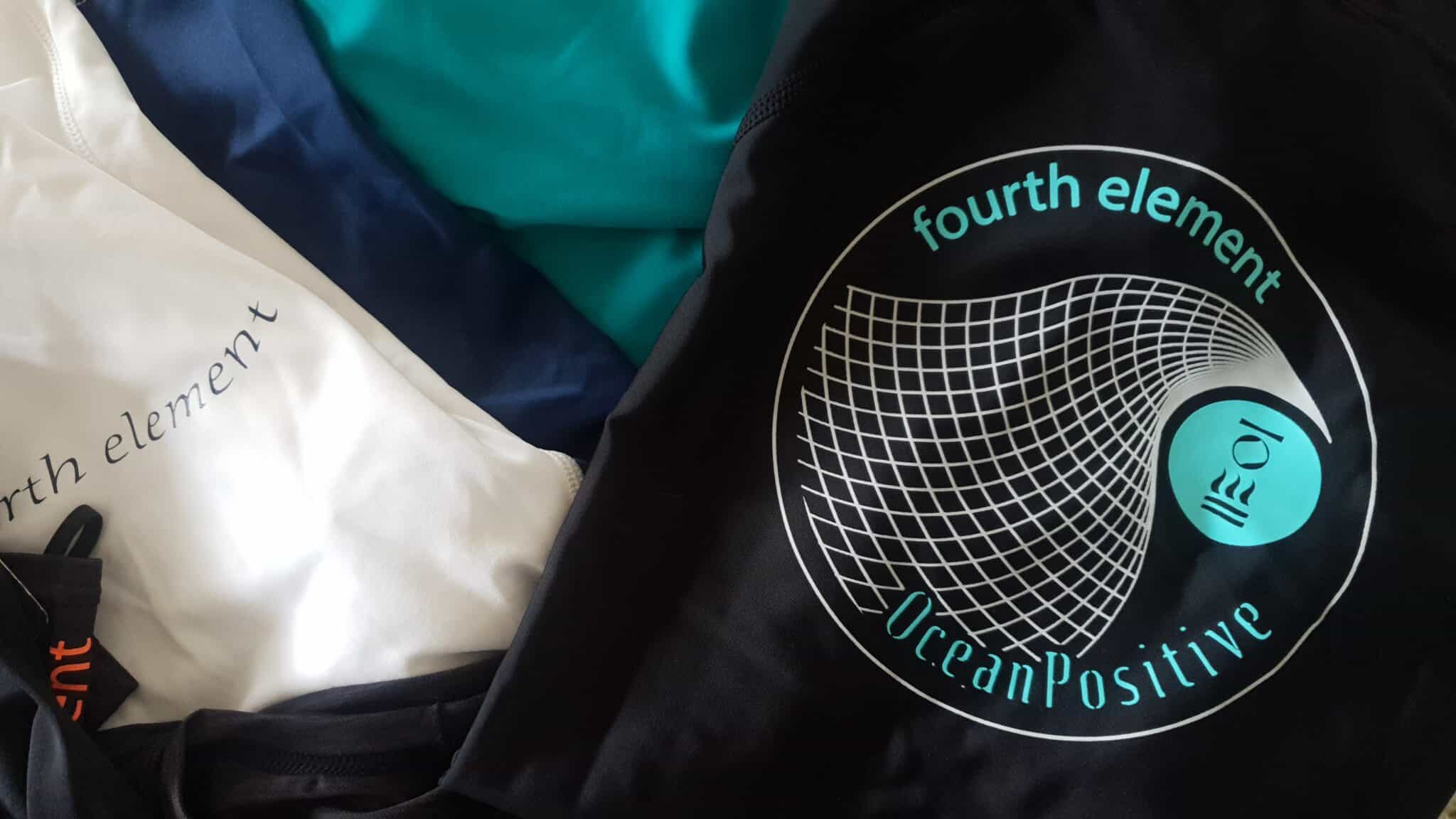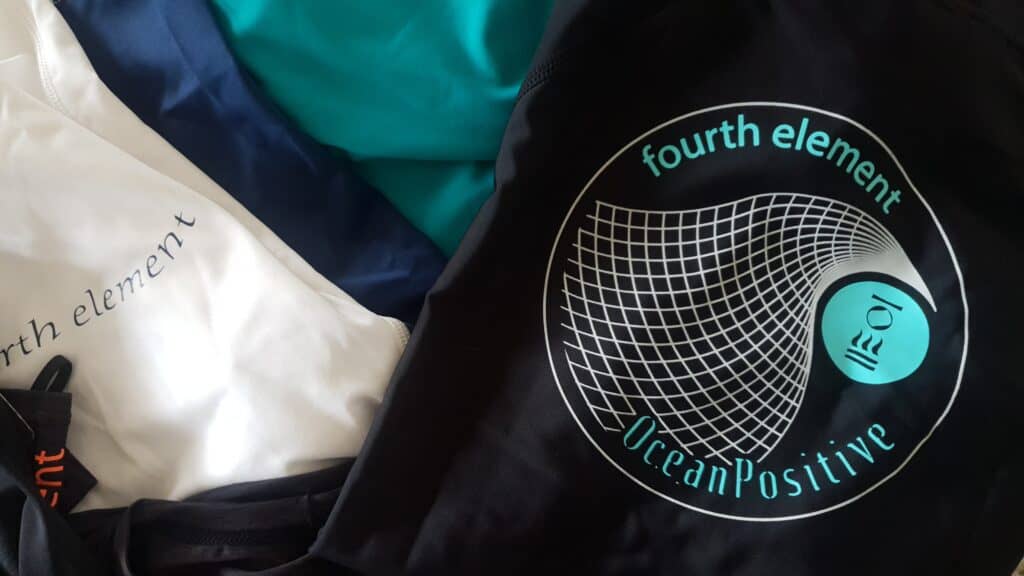 Rash guards are used to protect divers and swimmers when they head out into the sea. They are, essentially, like a second skin.
You'd normally wear a rash guard to help protect your body against anything likely to cause you irritation or even harm when swimming. As it turns out, you're going to need quite a bit of protection when you go diving!
Here are a few reasons why people choose to wear rash guards.
Sun Protection
UV rays are extremely harmful, even when you are swimming, surfing or diving in the deep. If you are going to spend a lot of time in the open water, you will need a rash guard with a good UPF rating. This will prevent you from feeling the nastier effects of the sun's rays.
Comfort
The clue is in the name, as rash guards are designed to protect your skin from rashes and rubbing! Men, women and children may find that swim suits and their fabrics aren't very breathable. Friction can cause all kind of burns and rashes. That's why the best rash guards are designed and made with fabric such as polyester and spandex, and even neoprene. Flatlock seams, too, help to make things that bit more comfortable on the dive.
Heat
Rash guards aren't designed to warm you up, however, rash guards do allow you to go swimming and diving in cold waters when you can't use a wetsuit or swimsuit on its own. Surfers will often use a rash guard to lock in the body heat, for example, when they end up falling into the drift off a chilly beach or two.
Quick Drying
One of the biggest pains of coming out of the sea is, of course, getting dry. Quick drying rash guards can help you to change back into a swim suit or trunks and enjoy the beach – without getting too soggy.
Pair your rash guard with one of the best changing robes and you'll be dry in no time!
The Top 10 Rashguards Available Online
Quiksilver Men's Heritage Long Sleeve Rashguard 

Speedo Men's UV Swim Shirt 

Fourth Element Hydroskin Rash Vest

Waterproof R30 Mens Rash Vest 

Waterproof R30 Womens Rash Vest 

OMGear Rashguard Swimsuit MMA BJJ Rash Guard

CharmLeaks Women's Short Sleeve Rash Vest 

Platinum Sun Unisex Fleece Rash Guard 

Cressi Unisex Hydro Premium Rash Guard 

Kanu Surf Men's Rash Guard Shirt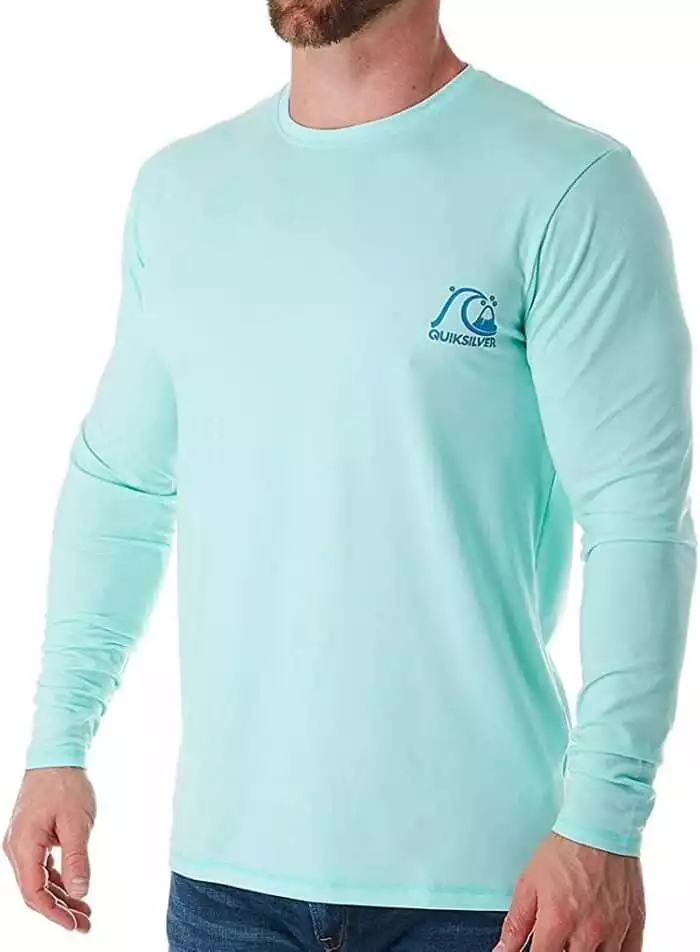 Easy on the skin and with 50 UPF + sun protection, the light fabric in this long sleeve rash guard is always likely to be comfortable and stylish in the surf. It's nice and easy in the wash and comes in four sizes – a great value surf shirt that's 90% polyester.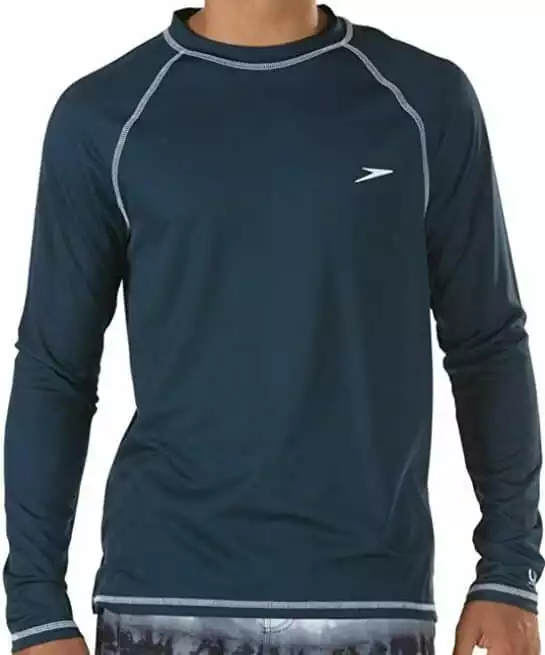 Speedo Mens UV Swim Shirt
Pros:
Super quick dry system​

Easy to clean and wash​

Great sun protection system​

Very easy to move around in​
Check Price on Amazon
We earn a commission if you make a purchase, at no additional cost to you.
Speedo is a brilliant brand, and this quick dry, regular fit shirt is one of the best rash guard picks for sun protection. It pulls on and off really cleanly, and is a big seller online. Clean, simple and protective, it's great for surfing and diving in.
Fourth Element continue to lead the way in dive gear, for both men and women.  They reach out to the dive community when designing new products, so you can be sure that they are of excellent quality and suit your scuba needs.  This rash guard offers 98% UV protection and helps stop chaffing from ill-fitted suits.
Fourth Element also offer a womens Ocean Positive short sleeve Hydroskin – check it out here.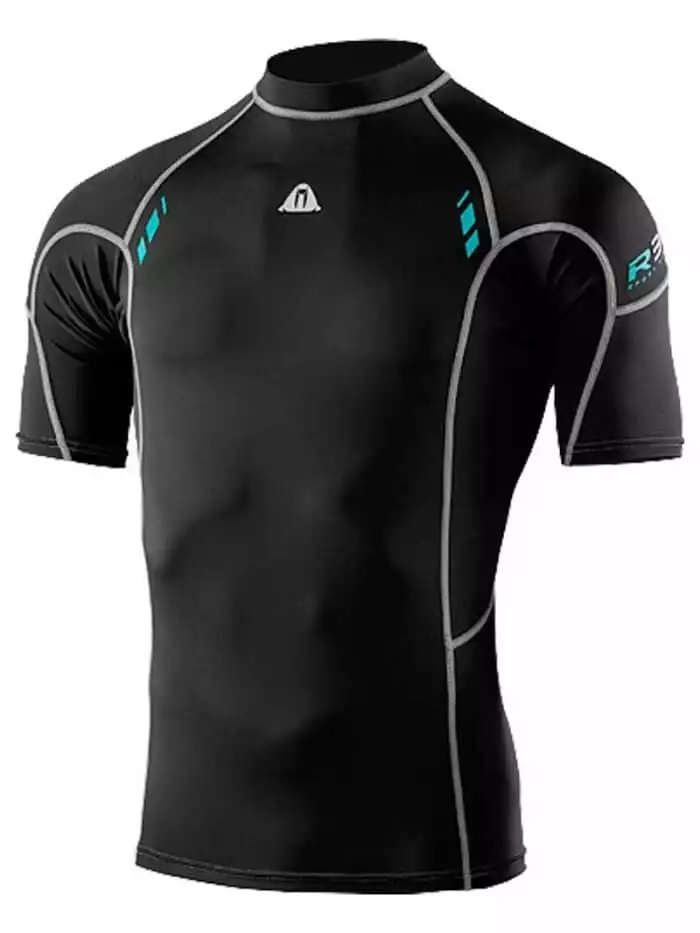 Waterproof are one of the best retailers of surfing and scuba diving kit in the UK. This men's fit, spandex lycra rash guard gives you flat seam stitching for friction free swimming and +50 UV block. This short sleeve option dries quickly and is very easy to clean in the wash.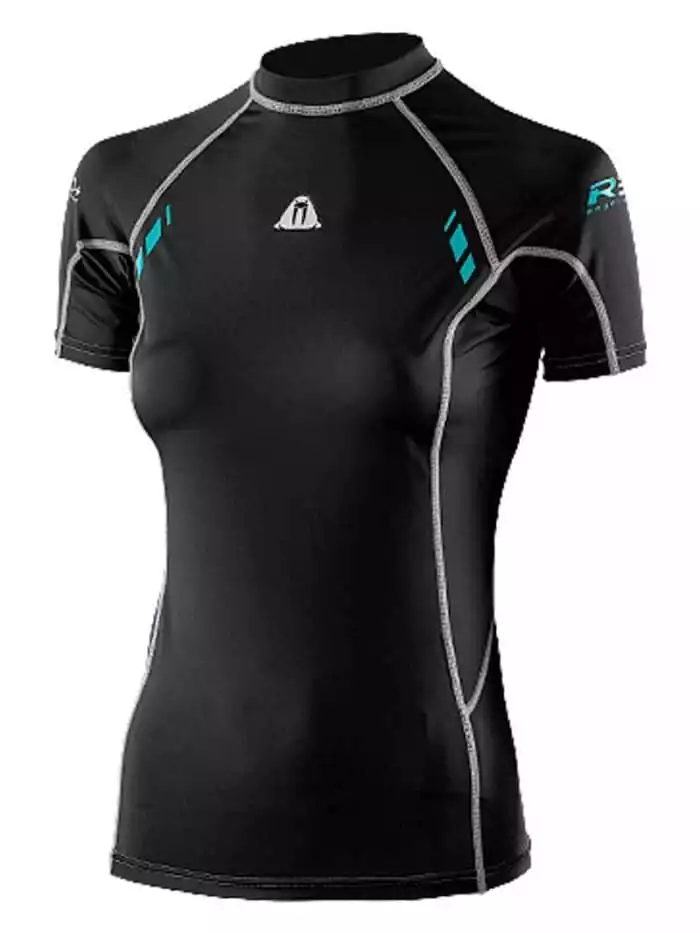 This super-stylish Waterproof rash vest is UPF 50 +, giving you all the sun protection you need when out in the open. This short sleeve rash guard is lightweight and made from spandex lycra, again, a machine wash option that you can wear on its own.  They do a long sleeve option too, for that extra protection.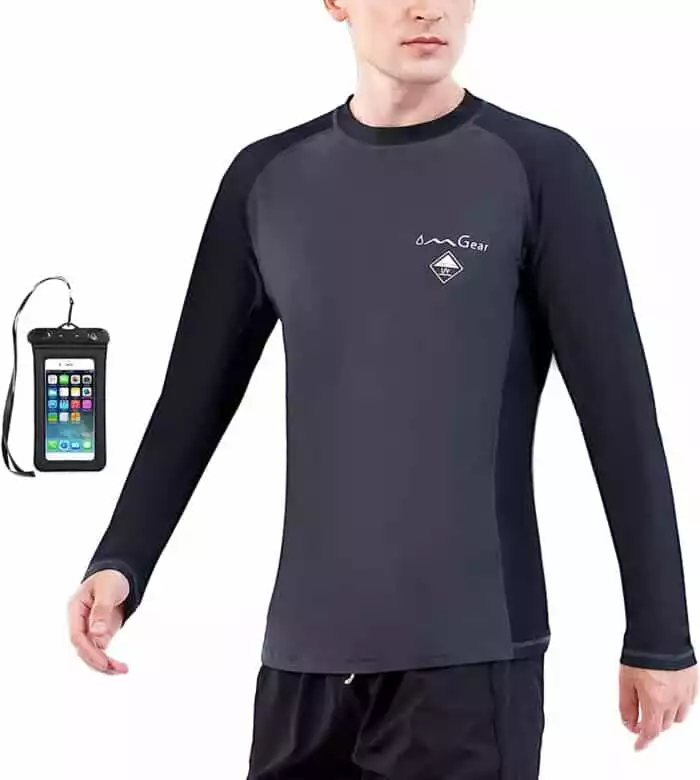 OMGear Rashguard Swimsuit
Pros:
Super quick dry system​

Easy to clean and wash​

Great sun protection system​

Very easy to move around in​
Check Price on Amazon
We earn a commission if you make a purchase, at no additional cost to you.
This superb all-around rash guard is smooth and comfy yet extra tough – and really well priced. It'll keep you protected while diving and surfing with 88% polyester and 12% spandex in the fabric. However, it's also a big choice for BJJ lovers, ideal if you find yourself thrown onto the mat quite a lot!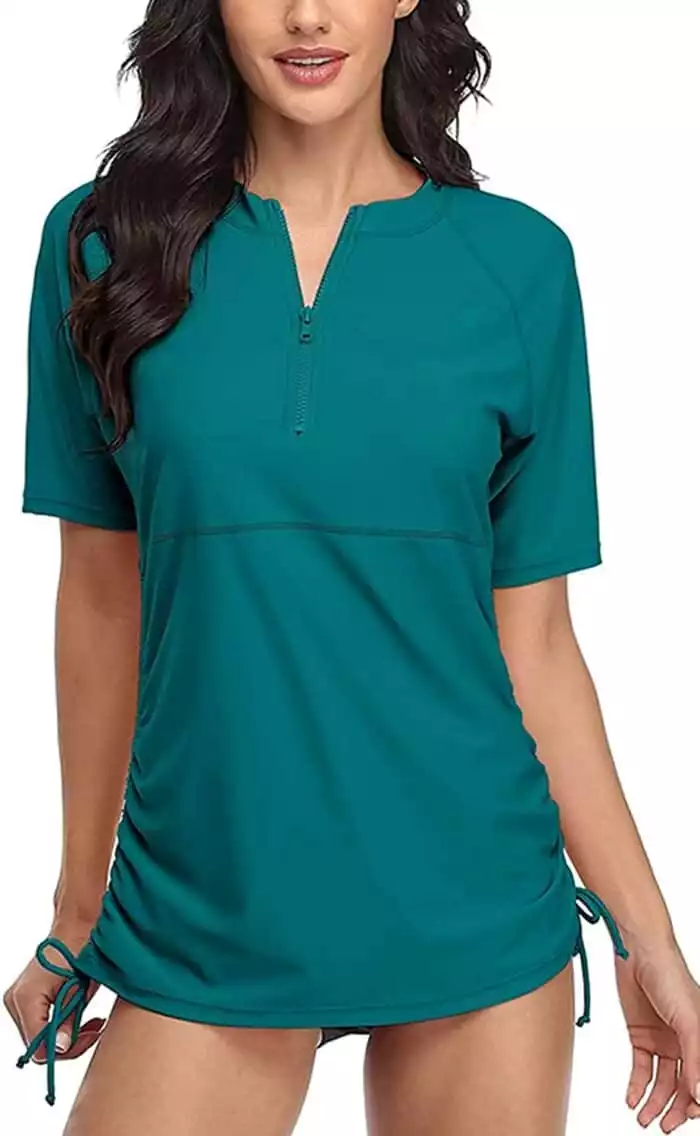 Charmleaks Rash Vest
Pros:
Super quick dry system​

Easy to clean and wash​

Great sun protection system​

Very easy to move around in​
Check Price on Amazon
We earn a commission if you make a purchase, at no additional cost to you.
One for the bargain hunters! This well-priced rash vest is made from four way stretch material for maximum flexibility, and is quick drying on your skin for ease of removal. It's also got impressive UPF rating, and is a lightweight option that's very popular online. It offers a crew neck and is available in various styles.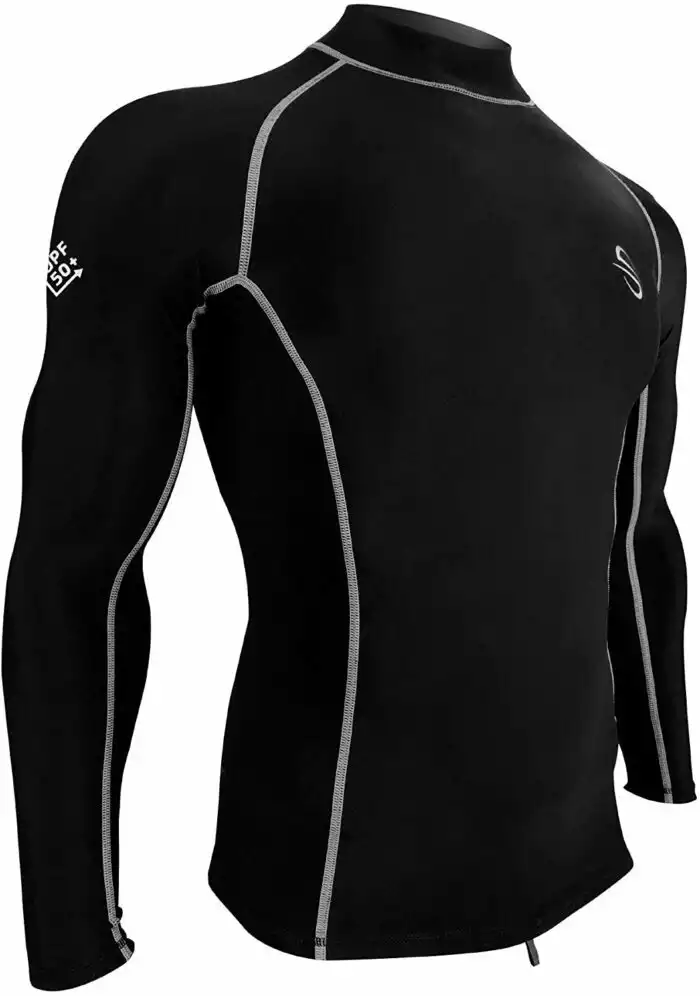 This long sleeve rash guard is one of the best-loved for extreme sports, specifically designed by kite boarders! The long sleeves will give you plenty of protection in the sun, and the polyester elastane blend should give you more than enough flexibility. It's a tie fasten, and it'll protect your skin during all kinds of activities. It's also unisex.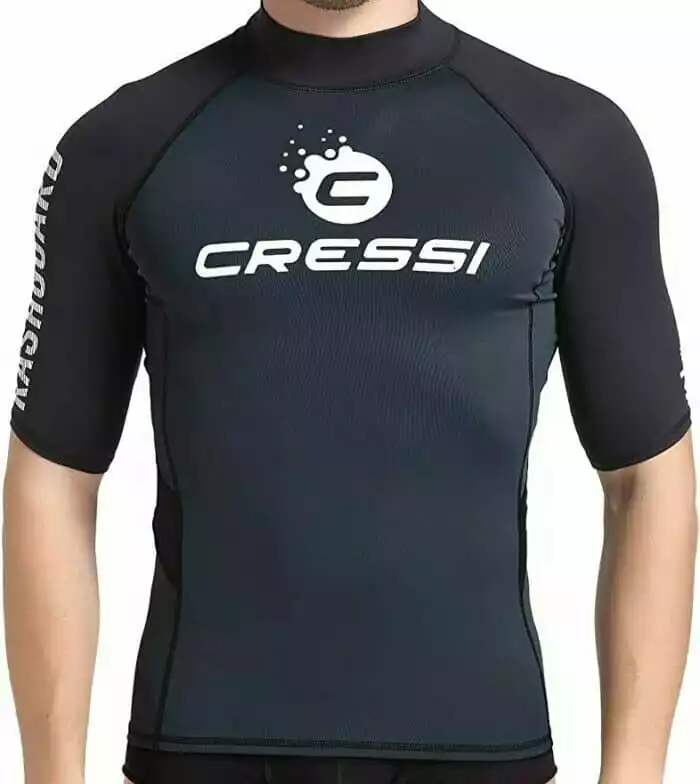 Cressi is a top diving brand I personally love – they provide some of the best protection for men and women at the beach, and this flatlock shirt is both really affordable as well as super protective. The material is extra breathable and offers weather durability across the board. It's a super high quality make!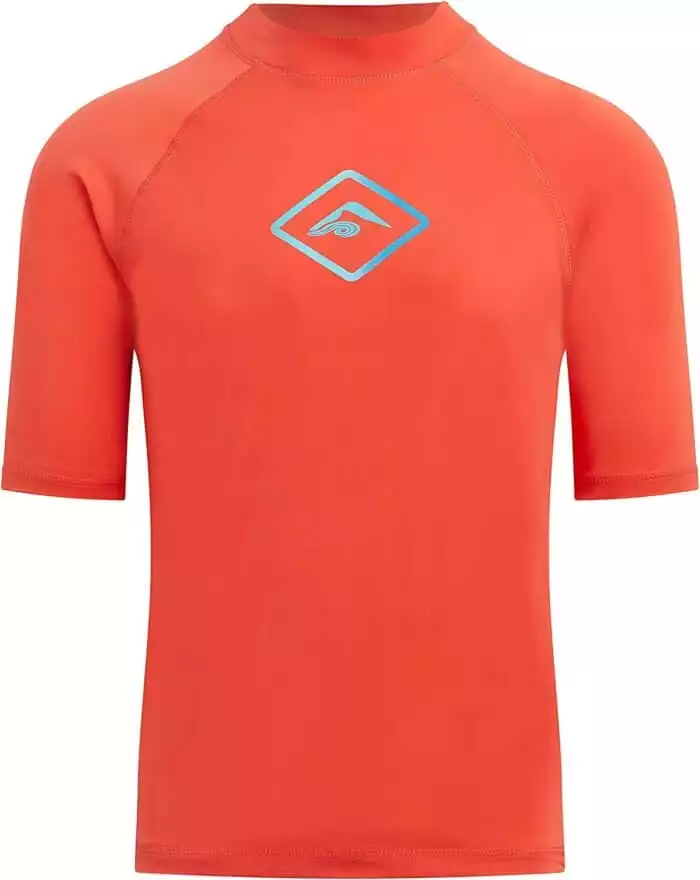 Kanu Men's Rashguard
Pros:
Super quick dry system​

Easy to clean and wash​

Great sun protection system​

Very easy to move around in​
Check Price on Amazon
We earn a commission if you make a purchase, at no additional cost to you.
This loose fitting short sleeve rash guard is pretty much a shirt you can wear in the sea! However, it offers amazing sun protection at UPF 50 +, is machine washable, and is made from 14% elastane, 86% polyester. It's nice and comfortable and comes in some pretty snazzy styles.
What Features Do the Best Rash Guards Have?
As you might imagine, different rash guards offer different features and perks. There's never a one-size-fits-all option, and many come with different enhancements you'll want to keep an eye out for. Here are some of the top features in your average rash guard worth holding out for.
UPF Protection
As mentioned, your rash guard should give you some sun protection by default. However, this is measured in UPF, so you need to make sure your lightweight swim shirt is designed to protect you against the most intense rays. Check out rash guards that are generally UPF 50 and above for the best protection.
Moisture Wicking
Things can get clammy and moist when diving and swimming. Pretty gross – so you'll want a rash guard offering some form of fabric that will wick moisture away. These rash guards also tend to be pretty quick drying, meaning you can pretty much get a two-for-one perk here.
Built-in Hoods
You don't have to buy a rash guard with a hood. In fact, hooded rash guards are best suited for divers with long or wayward hair. If you've ever tried diving without tying back long hair before, you're in for a bad time. Hoods can help you to tie back your hair so that you can easily swim around without restrictions.
Neoprene
Neoprene is a great material that many rash guard brands lead with. Thick yet flexible and adaptive to wide movements, neoprene is preferred by divers and training swimmers who want a bit of extra warmth, or even extra protection in the deep. Neoprene is long lasting and can be form fitting.
Sleeve Choices
The old debate – short sleeves, or long sleeves? The choice is yours. Wearing a rash guard with short sleeves will give you maximum movement and comfort. A long sleeve rash guard, meanwhile, will give you extra sun protection and sea protection. It's all about what feels best on your skin.
Thumb Hooks
You'll never know the benefit of thumb hooks on your rash guard material until you actually put your guard on for the first time. Thumb hooks are there to stop things riding up – so that when you're wearing a wetsuit as well, you don't get too uncomfortable.
Flat Lock Stitching
Flat lock stitching and flatlock seams are absolute musts if you want maximum comfort. The best rash guards incorporate this stitching as standard as it allows for lots of manoeuvrability, as well as less friction on your skin. Personally, I think top quality flatlock seams are essential.
Four Way Stretch
A rash guard with four way stretch will more or less do what the name suggests. This means your fabric – be it polyester and spandex, neoprene or other material – will easy stretch and morph with you as you move around in the water.
Best Rashguard for Snorkelling
The best rash guard for snorkelling is likely to be a choice that protects your body in the hot sun, while it gets you nice and dry – wetsuit included – when you head up the beach. A lightweight, spandex option is a safe choice if you're only going a short way into the water.
Some of the best brands offering rash guards specifically for snorkelling include those made by O'Neill, Kanu Surf and Lavacore. In fact, the loose, short sleeves on the Kanu Surf guard listed above is likely to be a great choice. It's durable, it'll keep you safe from the sun – and dry on the beach.
Best Rashguard for Scuba Diving
The best rashguard for scuba diving is going to travel further down with you as you dive. Look for long lasting material kind to your skin, and that offers incredible performance in terms of flexibility. Fabric that's likely lightweight yet tight will give you that second skin experience.
Fourth Element Hydroskin, listed above, gives you flatlock stitch manufacture and a lot of ease of movement – great for combining with a wetsuit when you are travelling further down than most. Do also keep your eyes peeled for specialist guards made by ScubaPro as, well, the clue's in the name.
Best Rashguard for Surfing
Given surfers need sun protection more than anything else, top rash guards for surfing and other water sports will need to have a high UPF rating, at least 50+, amongst other features. Surfing rashguards should be breathable, quick dry and lightweight for ease of movement.
Some of the top UPF rash guards for surf performance include the brilliant range offered by Roxy, as well as the top features presented by Musto. These lines tend to produce premium choices, but they are well worth the money. For the real high end surf gear, look at Orlebar – but be prepared to part with almost £200! The Platinum Sun long sleeved rash top listed above is also one of my favourites for its sheer innovation in design!
A rash guard is an absolute must-have if you are diving, surfing or swimming regularly. The best rash shirt or vest, too, will help to enhance your performance in the surf, and will protect your skin against the elements. A great rash guard should be durable, flexible, quick drying, and offer lots of sun protection.
Rash guards are a lot of fun, too. They look great – some of the biggest brands offer different colors, insignias and styles, meaning it's never been easier to show off your personality at sea.
Take it from me – there's a great rash guard out there for every diver and BJJ expert – and the options I've listed here give you a great cross-section to shop around for in your own time!